TALA Launches Court, a Vintage-Inspired Athleisure Range
You'll Want To Live in Tala's New Vintage-Inspired Court Collection All Autumn Long
As POPSUGAR editors, we independently select and write about stuff we love and think you'll like too. If you buy a product we have recommended, we may receive affiliate commission, which in turn supports our work.
Last week, when Tala founder Grace Beverley posted an Instagram story of herself wearing pieces from the brand's new limited-edition Court collection, fans went mad trying to find out if and when the vintage-inspired activewear would go on sale. Well, it didn't take long to confirm that yes, they would be launching, and the limited-edition athleisure range drops on Tala's website today at 12 p.m. BST.
The Tala Court collection is made up of seven pieces that have a vintage feel courtesy of muted colourways (navy, grey marl, and white) and nostalgic bouclé branding. Included in the range are the Ixia Seamless Zip Sports Bra, the Zinnia Seamless Leggings, and the Hosta Seamless Shorts, all of which are silhouettes and styles we've seen from the brand before. There are also four brand-new styles: the Volley Sweatshirt, the Metro Sweat Shorts, the Deuce Oversized T-shirt, and the Dusk Side Stripe Jogger.
"An important part of the whole collection was that it was meant to go together as outfits naturally," Beverley said about the Court launch on her Instagram Stories the morning of the drop. "This is my favourite part about this ... I hate when there's really nice activewear but you can't necessarily fit it with [other pieces]. If you're going to wear activewear everywhere, or if you want to throw something after the gym or whatever, I hate when it can't fit with other things, so I wanted to make a whole cohesive collection where it was — it's a capsule collection, it's made as outfits, all of this."
On her Instagram Stories, Beverley talked through each piece in the collection, starting with the Ixia bra. "This is the best bra ever, I really wanted to make something that was super supportive but that also looked nice so that you could wear as a cute set," she said. "This Ixia bra, every time we've had it in stock, it's sold out within in seconds, so I wanted to bring it back."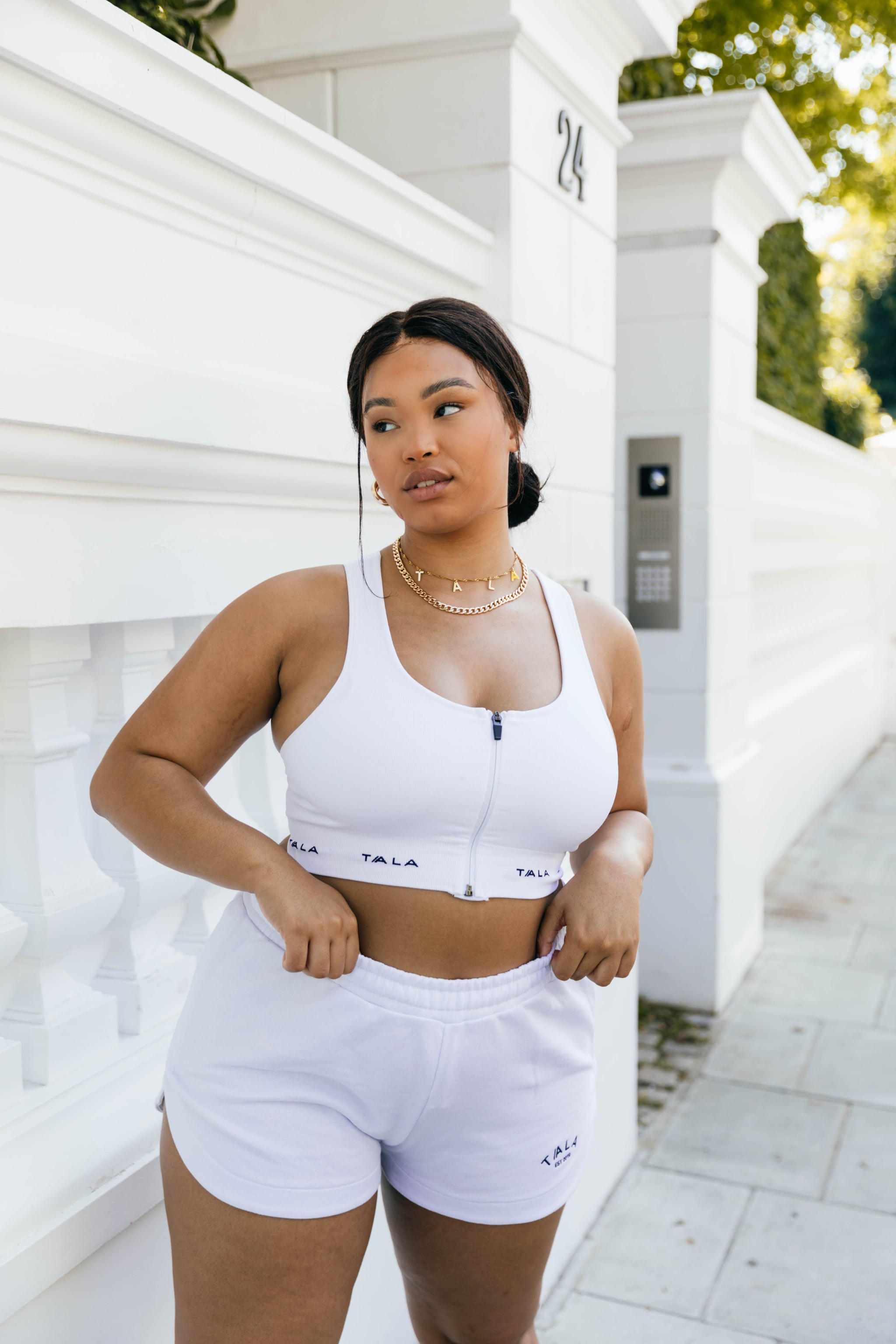 The Zinnia Court Leggings and Hosta Court Seamless Shorts only come in vintage navy for this collection, as do the the tracksuit bottoms, which Beverley explained have a slightly oversize fit to them. "I cannot express enough how soft and beautiful they are, I will living be in them for autumn/winter," she added. If we can get our hands on them, we're sure we will, too.
The Deuce Oversized T-shirt, which is brand-new for the collection, comes in white, grey marl, and vintage navy and is meant to have an oversize baggy fit that you can tie in the middle if you want to, but can just wear down as well. "It goes so well with cycling shorts and the leggings," Beverley explained, adding that "it's more of us trying to do things that aren't just cropped and fitted."
The Metro Shorts, according to Beverley, are the perfect sweat shorts. "They are so flattering on the bums and legs and I'm conscious of wearing shorts, always have been," she said. Unlike the majority of the collection, the Metro Shorts fit true to size, so if you wear a large normally, buy a large — don't size up or down.
Prior to the launch, the response to the Court Collection has been so enthusiastic that we have a feeling the pieces are going to sell out fast. Whilst the range becomes at available at midday, if you miss out, or if you wish you could have nabbed something in an additional colour, don't despair — there's a good chance we may see them again, especially if you make it a point to contact the brand via its website or social channels. "Based on the response, we aim to bring everything that's people's fave into the continuity line, so into things that are on the site all the time," Beverley said. "So if this sell out quickly, we do aim to get them into the continuity line."
Keep reading to see and shop the entire Tala Court Collection.