Texas Southern Is First HBCU to Win NCA Cheer Nationals
The Texas Southern University Cheerleaders Just Made HBCU History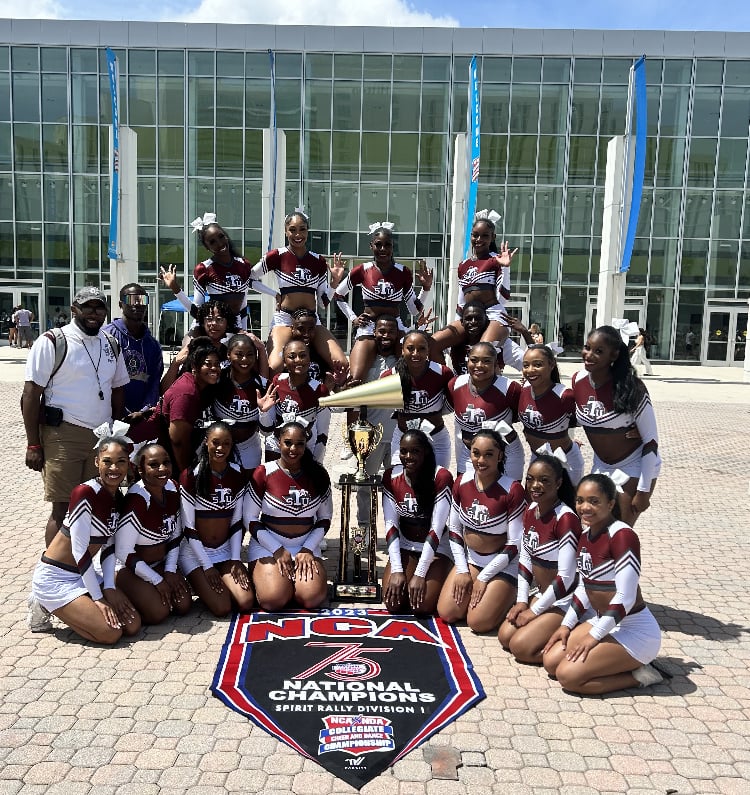 Image Source: TSU
The Texas Southern University cheerleaders made history this weekend, becoming the first historically Black college or university to win at the NCA & NDA Collegiate National Championship in Daytona Beach, FL — that's the competition affectionately known as "Daytona," for college cheerleaders and anyone who watched Netflix's docuseries "Cheer."
The TSU cheerleaders won in the Cheer Spirit Rally Division I with a score of 95.5875 — more than 10 points ahead of the second-place team, Niagara University. This division is a more traditional cheer format than other cheer routines or what you saw on "Cheer," focussed on crowd-leading skills and entertainment value, without any outside music or choreography, and using material from game sidelines, according to Varsity, the company that runs the competition.
Though it's a more traditional style, TSU's advanced routine will wow you just the same. In addition to throwing up impressive stunts and sticking tumbling passes, these athletes are tasked with holding up signs spelling out their mascot "T-I-G-E-R-S," swinging huge flags showing "T-S-U," and yelling their hearts out while powering through those skills. The Tigers' routine was seemingly flawless, so it's no wonder it earned them a national title.
"When I first came to TSU, I told the team we're going to Nationals . . . I knew this was the year and the team to get the job done. I'm so proud of them and where we're going to take the cheer program next," head coach Shontrese Comeaux said in a press release from TSU.
"Like I told my teammates, we didn't just do this for us. This is for all of the HBCUs, every HBCU around the world," team captain Hailey Walker told KHOU 11 in Houston.
"Words can't express how proud I am for our cheer team's national championship," Vice President of Intercollegiate Athletics Dr. Kevin Granger said in the release. "They've worked very hard for this moment over the past several months. To see the long hours they've dedicated come to fruition in the form of a national championship is amazing as I want to commend the coaching staff and team members for their efforts. This team has made history at Texas Southern and everyone apart of TSU nation is proud of their accomplishments."
Not only was Texan Southern's win a high moment for the team, but their victory also meant a lot for former TSU cheerleaders and other Black women who used to cheer. "Let's gooo!! I grew up in cheer and I WISH I could've been on a team like this. They didn't even know what hit them. Congrats TSU!!" one Instagram user commented on their winning routine. Another wrote: "As a former cheerleader, this was SO exciting and heartwarming to see! This was something previous teams only IMAGINED doing and y'all made it real. I'm feeling so proud right now. Congratulations ladies, beautiful performance."

And the TSU cheerleaders aren't the only HBCU athletes making history this year. Earlier this year, Fisk University became the first HBCU gymnastics team to compete at the NCAA level.
The school showcased on "Cheer," Navarro College, also won first place in Daytona. They took home the championship trophy for the Advanced Large Coed Junior College division, marking their 16th national title.

Watch Texas Southern University's full first-place routine below.