The USWNT Has a "Kindle Crew" Who Read While Recovering
The USWNT's Favourite Recovery Tool Is So Wholesome and Currently on Sale
As POPSUGAR editors, we independently select and write about stuff we love and think you'll like too. If you buy a product we have recommended, we may receive affiliate commission, which in turn supports our work.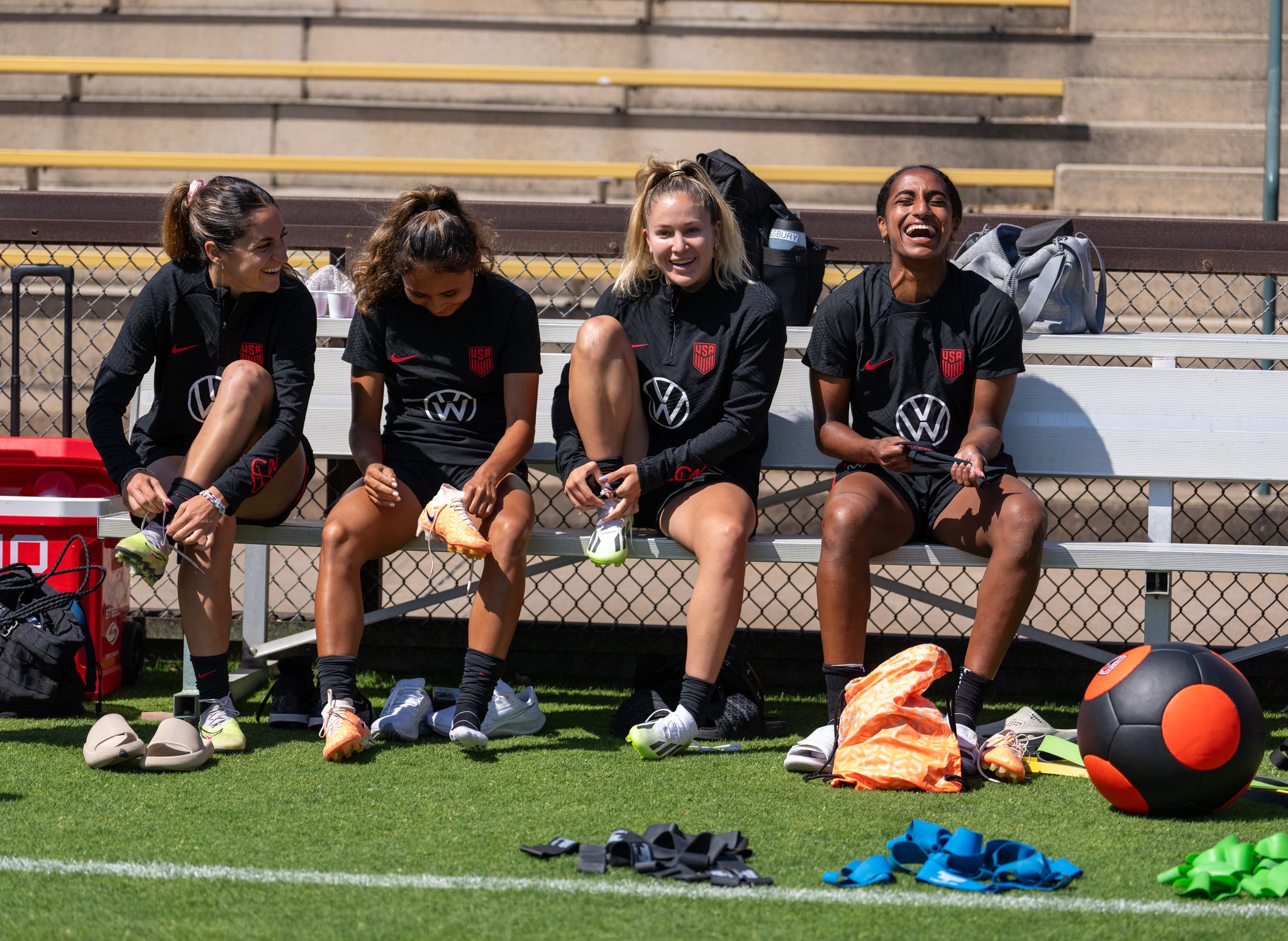 As the US Women's National Team ramps up for the 2023 FIFA Women's World Cup (which kicks off on July 20!), the players are certainly focussed on optimizing their performance. Turns out, one of the ways they recover from training is endearingly wholesome: among the team, there's a "Kindle crew" who sit around reading while they're spending time in Normatec compression boots.
In a series of interviews shown in a TikTok posted by Just Women's Sports, defender Emily Fox shared that she's part of this super-exclusive book club, saying, "I'm part of the 'Kindle Crew' with our Normatec recovery boots and stuff, reading." Fellow defender Alana Cook chimed in, adding that teammates Rose Lavelle and Naomi Girma have converted her into a Kindle user, and now her goal is to "read as many books as I can." Apparently, the team used to swap books, but now that some players have gone digital, it's slowly turning the whole team onto ereaders. "Maybe I need to just get a Kindle," midfielder Ashley Sanchez said in the TikTok, "because we were, like, swapping, and now you have like this little, like, tablet, and I'm like, what am I supposed to do with that?"
At one point in the TikTok, Sofia Huerta also admitted that she isn't part of the Kindle crew but wants to be — "I have FOMO," she said — and TBH, we're feeling the same way.
The players are referring, of course, to the Amazon Kindle ereader. If you want to join the USWNT's Kindle Crew, now's actually the perfect time. For $100, you can get a 2022 Amazon Kindle ($100), or you can score an Amazon Kindle Paperwhite Essential Bundle ($168, originally $265) for nearly 40 percent off as an early Prime Day deal. (Yes, Amazon Prime Day is coming up next week!)
The other half of their recovery practice isn't quite so affordable to replicate. Hyperice Normatec Compression Boots ($771) — those inflatable space boots you've probably seen on other athletes and celebrities — are a bit more of a splurge. If you're invested, you can certainly grab a pair for yourself, cue up your Kindle, and take heart that you're recovering just like the best football players in the country.
We're with the TikToker who commented: "i would join the USWNT book club/ kindle crew in a heartbeat". If any players are reading this, know that we want in! We'll be here, patiently awaiting your book recs.