USWNT Wants US Football to Repeal Its Anthem Policy
USWNT Players Want to Repeal an Anthem Policy Telling Players to "Stand Respectfully"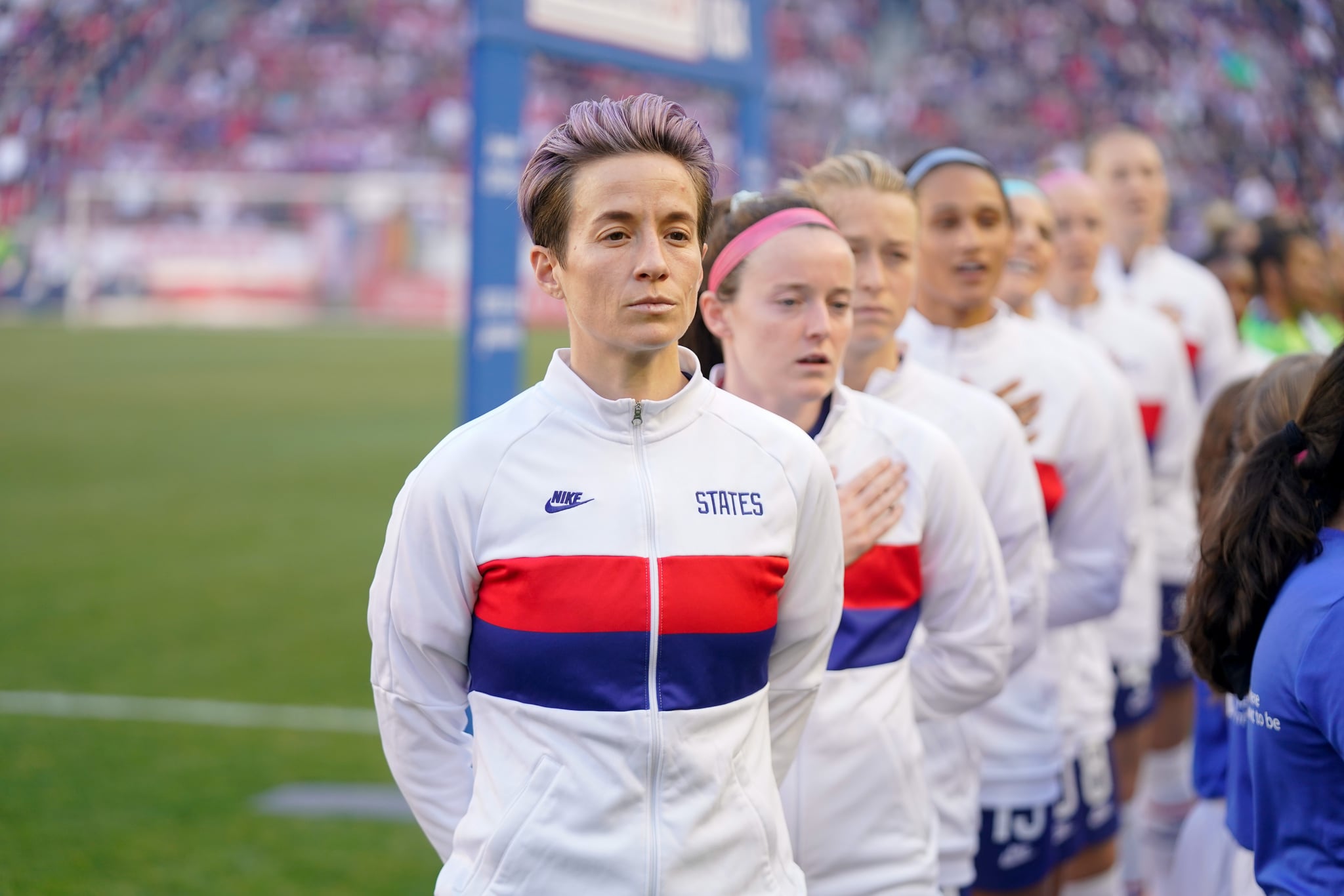 Image Source: Getty / Howard Smith / ISI Photos
The US women's national football team is speaking out about a policy put in place by the US Football Federation (USSF) requiring players to "stand respectfully" during the national anthem. Though no player who violated the policy faced penalties after the policy was adopted in February 2017, emails obtained by BuzzFeed News showed that US Football initially sought to suspend any national team player who didn't stand for the anthem with a three-game suspension for a first offence and a twelve-month suspension for a second offence.
In 2016, Megan Rapinoe started kneeling during the anthem prior to matches to show she supported San Francisco 49ers quarterback Colin Kaepernick, who did the same before football games to bring awareness to police brutality and racial injustice in America. As Rapinoe wrote in The Players' Tribune at the time, "I haven't experienced over-policing, racial profiling, police brutality or the sight of a family member's body lying dead in the street. But I cannot stand idly by while there are people in this country who have had to deal with that kind of heartache."
After Rapinoe began kneeling at matches — but before the policy was passed — she was kept off the team roster for more than six months, though coach Jill Ellis insisted it was performance-related. In March of 2017, one month after the policy was introduced, Rapinoe said she would stand for the anthem and was invited back to the national team camp. Kaepernick has gone unsigned since the 2016 season and filed a lawsuit against the NFL, claiming that they blacklisted him. The league denied this, and they reached a settlement in 2019.
The official account for the USWNT Players Association tweeted out a statement on June 8 that reads, in part, "We believe the Federation should immediately repeal the 'Anthem Policy,' publish a statement acknowledging the policy was wrong when it was adopted, and issue an apology to our Black players and supporters." The policy, they believe, continues to "perpetuate the misconceptions and fear that clouded the true meaning and significance of Colin Kaepernick, Megan Rapinoe and other athletes taking a knee — that Black people in America have not been and continue to not be afforded the same liberties and freedoms as white people and that policy brutality and systemic racism exist in this country." See the full statement below.
USWNT Player's statment re: @ussoccer's "Anthem Policy" pic.twitter.com/Jd4OtRDhRJ

— USWNT Players (@USWNTPlayers) June 9, 2020
Unions for the men's and women's national teams said they believed the anthem policy could never "formally apply" to players, according to BuzzFeed News, because USSF had not properly approved it with them. Still, they want the policy revoked. A lawyer for the men's national team union stated, "The Federation now absolutely needs to acknowledge they were wrong to issue it, to apologise for it, and rescind it." A USSF board meeting is set June 9 to discuss steps moving forward. If repealed, that decision would take affect immediately, according to ESPN, but it would need to be voted on during the next annual general meeting next February or March for a permanent repeal.