Vans and CoppaFeel! Create Breast Cancer Collection
Vans and CoppaFeel! Created a Beautiful Collection For Breast Cancer Awareness Month
As POPSUGAR editors, we independently select and write about stuff we love and think you'll like too. POPSUGAR has affiliate and advertising partnerships so we get revenue from sharing this content and from your purchase.
In honour of breast cancer awareness month, which kicked off on Oct. 1, Vans partnered with UK-based breast-cancer-awareness charity CoppaFeel! to create a supercute collection that we need in our wardrobes immediately. The line includes clothing and footwear, and each piece is decorated with one of four breast-themed illustrations or the positive affirmation "You've Got This," which is a subtle nod to the charity's message that stresses the importance of self-examinations.
CoppaFeel! is dedicated to educating people on the signs and symptoms of breast cancer, promoting early detection, and encouraging young people to get to know their bodies. The charity was founded in 2009 by Kristin Hallenga and her twin sister, Maren, after Kris was diagnosed with breast cancer at the age of 23. At the time, she was unaware that the disease even affected people in their 20s. This campaign with Vans will help them spread their message further.
Every piece in the line, which includes Vans's classic slip-on shoe, lace-up shoe, a cap, and denim jacket, feature one of four breast-themed illustrations — all hand-drawn — showing women of all shapes, colours, and sizes. "The illustration style uses simple shapes and minimal line work to highlight the bold use of colour and the unity of interlocking figures," said Vans footwear designer Diandre Fuentes. "Breast Cancer is a disease that affects everyone regardless of their race or status, and we wanted the women in the illustrations to reflect this reality."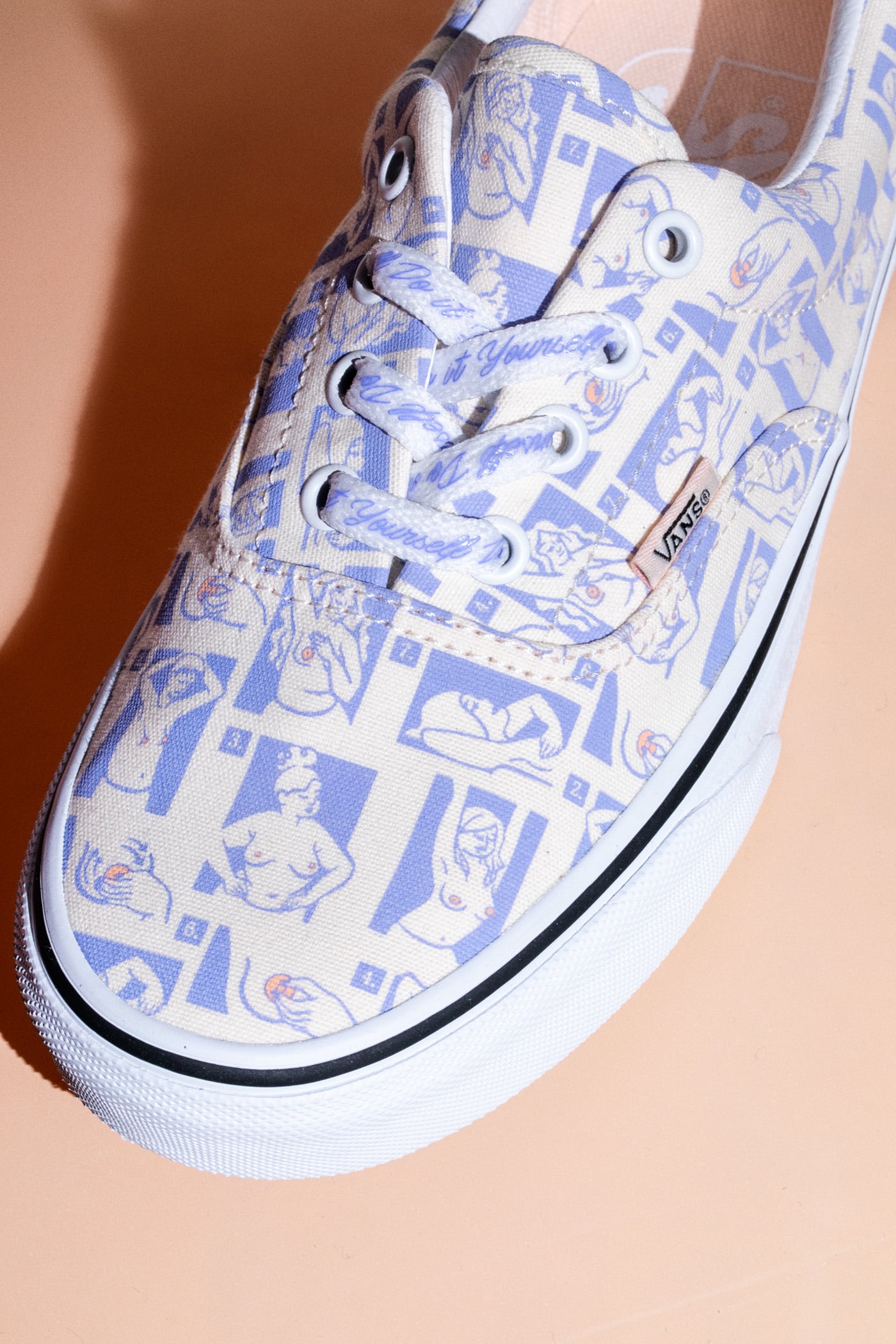 One of the designs is a literal blueprint, showing people how to check their own breasts at home, tying in with CoppaFeel!'s early detection ethos. "This partnership will allow us to tell more people why checking their boobs is so important, and in return, save lives," says Kris Hallenga. "CoppaFeel! exists to stamp out the late detection of breast cancer by educating everyone — girls, boys, and non-binary pals about their boobs and encourage them to get anything abnormal checked out."
The collection goes on sale in Vans stores and their website from today, and will raise over $200,000 USD for CoppaFeel! If you're based in London, you can also support CoppaFeel! this breast cancer awareness month by purchasing a ticket to their annual Festifeel (get it?) on Saturday Oct. 12. There'll be live performances (from James Bay, for one), and comedians throughout the afternoon, and it's all for a good cause.