What Is Narcan?
Over-the-Counter Narcan Is Approved by the FDA — Here's What to Know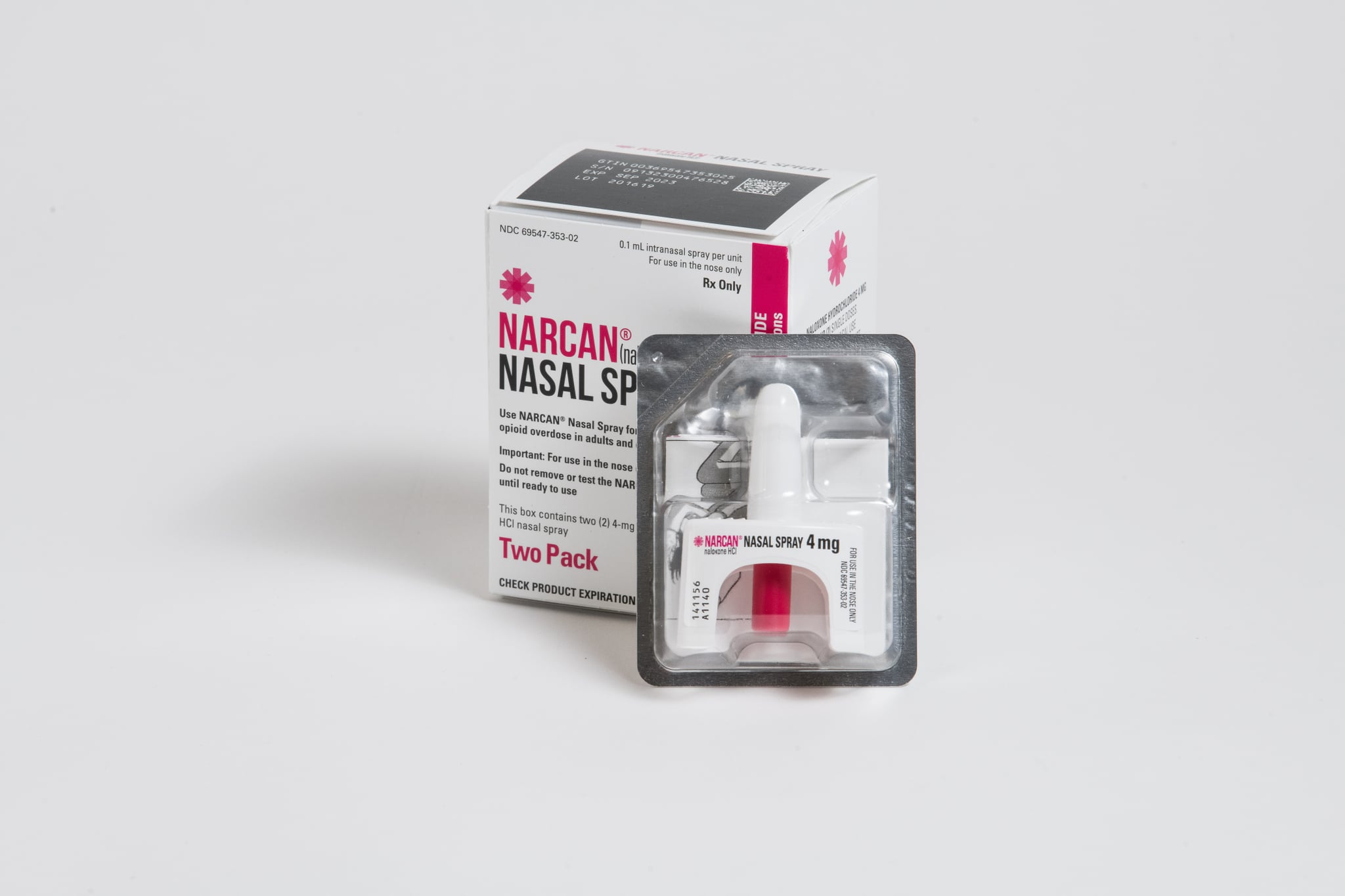 Narcan nasal spray — a medication that can help to stop an opioid overdose — will soon be available over the counter, the Food & Drug Administration (FDA) announced today. The FDA just approved Narcan, a 4 milligram (mg) naloxone hydrochloride nasal spray, making it available to the public without a prescription for the first time. The spray will be available in drugstores, convenience stores, grocery stores, and gas stations, as well as online, according to a news release from the agency.
The news comes as the country continues to grapple with an opioid crisis. According to the National Institutes of Health (NIH), overdose deaths related to opioids such as heroin, fentanyl, oxycodone, and morphine rose from 21,089 in 2010 to 80,411 in 2021.
Making this drug more widely available is a direct effort to help curb the opioid crisis and provides an opportunity to bolster access for people who might not have prescription coverage. In a statement from the HHS, Health and Human Services Secretary Xavier Becerra noted, "We can prevent overdoses and save lives by making naloxone more accessible, and at the same time, we can ensure equitable access to essential health care."
But what exactly is Narcan, how is it administered, and when will it be available for over-the-counter use?
What Is Narcan?
The opioid blocker Narcan — which is the brand name for a naloxone — can reverse an overdose of heroin, fentanyl, and prescription opioid medications, according to the Centres for Disease Control and Prevention (CDC). If a person's breath has slowed down or even stopped, Narcan can restore normal breathing within two to three minutes. Depending on the type of opioid that a person has overdosed on, they may need to be administered more than one dose of Narcan.
How Does Narcan Work?
The medication works to reverse an opioid overdose. "It is an opioid antagonist. This means that it attaches to opioid receptors and reverses and blocks the effects of other opioids," according to the National Institute on Drug Abuse (NIDA). That being said, the drug does not work on someone who does not have opioids in their system, meaning it doesn't work for other drugs. And it is not designed to be a treatment for those with opioid use disorder, the NIDA emphasises.
How Is Narcan Administered?
Narcan, or naloxone, "should be given to any person who shows signs of an opioid overdose or when an overdose is suspected," per NIDA. It can be administered as a nasal spray or injected into the muscle, under the skin, or into the veins. The Substance Abuse and Mental Health Administration's (SAMHSA) Opioid Overdose Prevention Toolkit includes a step-by-step guide on what to do if someone you know is experiencing an overdose.
Where Can You Buy Narcan?
As it currently stands, "naloxone access laws in every state allow pharmacists to have a standing prescription so they can dispense Narcan or a generic brand to anyone who requests it," according to The New York Times. "But many pharmacies choose not to do so, preferring not to engage customers around illicit drug use, especially without a doctor's oversight."
It is currently possible to get Narcan from some community-based distribution programs, local public health groups, and local health departments, free of charge, according to NIDA.
But the new FDA ruling would make accessing the medication even easier. When the FDA ruling goes into effect, it will make Narcan available in drugstores, convenience stores, grocery stores, and gas stations, as well as online. The timeline for its availability will be set by manufacturer Emergent BioSolutions, the agency noted. It's reportedly aiming for late summer. In the meantime, the FDA plans to ensure that naloxone nasal spray products will continue to be available while it transitions from prescription to OTC status, which "may take months." It also bears noting that certain formulations and dosages of naloxone remain available by prescription only.
If you or someone you know is struggling with an substance use disorder, the Substance Abuse and Mental Health Services (SAMHSA) has resources available including a national 24/7 helpline at 1-800-662-HELP (4357). You can also send your zip code via text to 435748 (HELP4U) for treatment referral and information services.