Women Are Going Private Due to NHS Endo and PCOS Wait Times
Why Women With Endometriosis and PCOS Are Going Private With Their Healthcare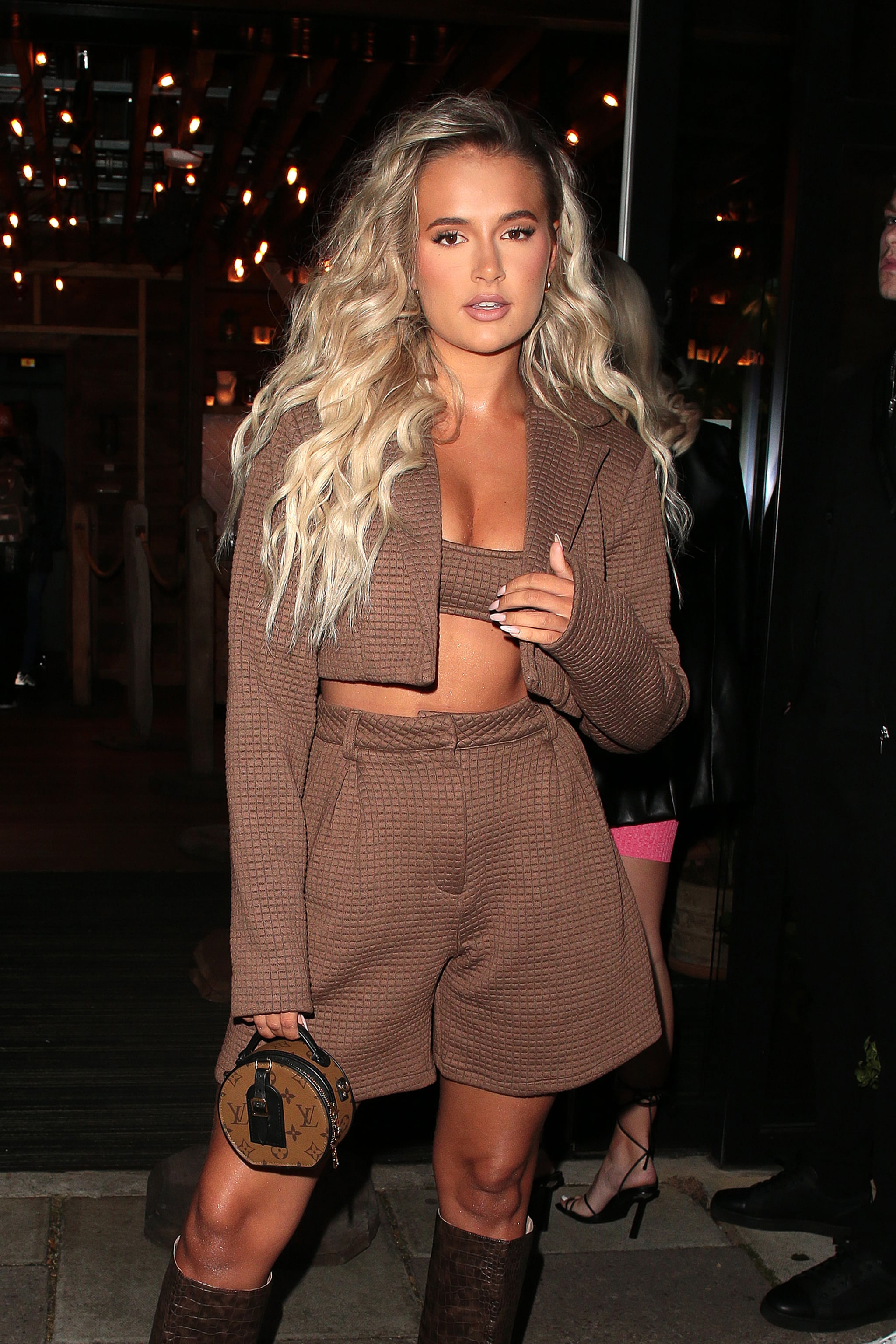 Former "Love Island" star Molly-Mae Hague has spoken of her endometriosis diagnosis in her new book, "Becoming Molly-Mae", detailing that the "excruciating pain" was affecting all areas of her life. Revealing that her sex life with boyfriend Tommy Fury "became non-existent" and her periods left her "feeling like I'd been stabbed in the stomach", she struggled to get the appropriate help via multiple doctors. It was only after seeing a specialist that she was diagnosed with endometriosis and offered keyhole surgery to help alleviate some of the symptoms.
Yet Hague's story is nothing new. It takes on average seven and a half years to be diagnosed with endometriosis and more than two years for PCOS diagnosis. Women are commonly being misdiagnosed with conditions like irritable bowel syndrome (IBS), leaving many feeling like they have no choice but to explore alternative options.
It's no secret that the UK is dealing with a women's health crisis. The wait times in gynaecology increased by a staggering 60 percent during the pandemic — which is only steadily rising with staff struggling with the extra workload. Couple this with the fact that the government denied extra funding for endometriosis and polycystic ovarian syndrome (PCOS) — conditions that affect one in 10 and one in five women, respectively — during a debate in November 2021. This is all despite former Secretary of State for Health and Social Care Matt Hancock declaring that women have lived with a healthcare system "that is mostly designed by men, for men, which has resulted in a lack of knowledge about conditions that only affect women" in the "Women's Health Strategy: Call for Evidence" report just months earlier. While it's undoubtedly a positive step that England has recently announced its first ambassador for women's health, it will be some time before her impact is felt.
Dr James Hopkisson, medical director at TFP Fertility Group, acknowledges the impact the pandemic has had on women who suffer from endometriosis and PCOS. "During the height of the pandemic, very few 'nonurgent' clinical appointments or surgery was performed," he tells POPSUGAR. "Many gynaecologists were redirected due to carrying out emergency work or went back to supporting obstetrics."
What Is Endometriosis and Polycystic Ovarian Syndrome (PCOS)?
Let's rewind for a second, though, and cover the basics of what these conditions actually entail for those unfamiliar. The truth of the matter is, little is known about endometriosis and PCOS, even today. Endometriosis is a chronic condition where tissue that is similar to the lining of the womb grows in other places of the body, commonly the fallopian tubes or ovaries. However, endometriosis can grow in many other areas of the body, but due to a lack of research, these are far less reported on and treated. Symptoms vary dramatically from person to person, but common symptoms include pelvic pain (and other pain), which may get worse during your period; irregular periods; difficulty getting pregnant; pain during or after sex; problems with your bladder; pain with bowel movements; and many more.
PCOS is a condition that affects how the ovaries work, and its causes are still unknown. It can disrupt the menstrual cycle, leading to fewer periods, and cause difficulties getting pregnant; excessive hair growth (commonly on the face), which can be caused by excess androgen; and polycystic ovaries (not everyone with PCOS will have polycystic ovaries).
Although the conversation surrounding these conditions is far less taboo than in previous years, these potentially debilitating conditions aren't being taken seriously enough. Often, only until a woman is trying to conceive are they given decent treatment, leading to many women with endometriosis and PCOS choosing, or considering, going private with their treatment.
Women's Experiences With Endometriosis
Providing timely and effective, long-term treatment for endometriosis and PCOS is often an afterthought, as many label the illnesses as "nonserious" due to the fact that they aren't considered life-threatening diseases. Writer Tori Crowther was officially diagnosed with endometriosis in 2016, although she had been experiencing various symptoms for years before. Her main symptoms include chronic pelvic pain, bladder pain, bowel pain, nausea, and fatigue.
While Crowther assures that she has received positive treatment from the NHS in previous years, she believes more needs to be done. "Medical professionals have been kind, but my treatment has always lacked a plan. Endometriosis is often treated as an acute condition, rather than a chronic one. I have been waiting almost two years for surgery that I desperately need, and I have no idea how much longer I'll have to wait," Crowther says.
PR executive Emily Kehoe has had the condition since she was 15. Multiple medical professionals dismissed her concerns, even though her period pains were becoming unbearable. "I've spent years trying to find a solution, because all doctors have done is put me on the pill. Endometriosis has nothing to do with contraception," Kehoe says. At present, there is no cure for endometriosis, and hormonal contraceptives are used as treatment options due to their ability to help regulate hormones. Whilst this works well for some, it isn't a solution for everyone.
In the space of a year, Kehoe has attended just one medical appointment. Although she had been prescribed medication to stop her bleeding, she still experiences severe lower stomach and back pain and finds it difficult to continue with her day-to-day life during her period.
Communications manager Emanuela Achelles has had a similar experience. "My symptoms included heavy bleeding and intense cramping, which got progressively worse over time," she tells POPSUGAR. After passing out in the middle of the night due to intense bleeding, Achelles was advised to go on contraception after receiving a blood transfusion and iron infusion in hospital. As her symptoms began to worsen, Achelles decided to go private and had surgery booked within a month. "Upon examination, my doctor was shocked to find out I was advised that there was nothing wrong, when I was, in fact, filled with fibroids and had signs of endometriosis," she says.
Women's Experiences With PCOS
PCOS can be diagnosed via various tests, including a physical exam, ultrasound, and blood tests. "I suspect I've had PCOS since my late teens. I had a scan, and cysts were found on my ovaries," project manager Reisa Malaj explains. However, she experienced feelings of dismissal and was told to make lifestyle changes instead of tackling the issue. "I'm 5'5" and weigh nine stone, so I was surprised when my GP suggested I lose weight. I was also tested for a series of health issues that weren't affiliated with my symptoms. The whole experience was disappointing, and I wouldn't go back for any advice on how to treat my condition," Malaj says.
As far as primary care for women with PCOS is concerned, they have "struggled to access care services for endocrine assessments and referrals for symptom management of periods or fertility," Dr Hopkisson says. "During the pandemic, more women started to use emergency gynaecological services for conditions that would have been seen in the regular clinics."
Cost-of-Living Impact on Ability to Go Private
There's no doubt that the deprioritisation of endometriosis and PCOS is making life unbearable for many sufferers. In a survey carried out in 2017, it found that just 12 percent of women had private healthcare, proving that many don't have the privilege of doing so. With the cost-of-living crisis continuing to take hold, it's sadly not possible for every woman to seek private care.
"Nobody [in the NHS] was helping me get to the bottom of my diagnosis," Achelles explains of the overstretched health service. "Everything was blamed on my periods, even when I knew something wasn't right. I was lucky because my partner has private healthcare through his work. I was able to go on that."
The impact of this is felt on fertility services, too. Dr Hopkisson notes that pandemic-related setbacks mean they've "seen further delays for fertility patients with endometriosis, ovarian cysts, and fibroids who need surgery before embarking on their chosen fertility treatment," which can be utterly devastating.
Malaj's PCOS symptoms began to impact her fertility, and after a medical professional led her to believe she had diabetes (when she didn't), she decided to go private. "I knew that if I could seek out a specialist, I could get all my symptoms under control and make sense of what was happening to me," Malaj says.
"I've been doing some research over the past six months into going private, even though I cannot afford to," Crowther notes. "I've been dealing with endometriosis for 10 years and waiting for my current treatment for two years with no end in sight," she adds. Kehoe echoes this: "I experience so much pain on a monthly basis, and every medical professional I see justifies it." She notes that everyone she knows who has gone private for endometriosis has seen significant improvement following keyhole surgery, also known as a laparoscopy, in which small incisions are made in the stomach so the tissue can be destroyed.
The Issue With Private Healthcare
As seamless an option as private healthcare appears to be, Crowther and Kehoe still have reasonable reservations. "Many companies offer private medical care, however, women's health concerns and procedures are often not covered, which is something I've experienced," Crowther says.
Kehoe adds: "It makes me upset that [going private] is what it has come to, as one of the major health benefits of living in the UK is free healthcare, but the majority of endometriosis sufferers are being failed. We have to pay to be heard." The same can be said for those living with PCOS, too. While it's important to note there is compassion for the NHS, which has undeniably been pushed to its limits, funding from the government for women's health needs to become a priority.
Inequalities When It Comes to Women's Health in the UK
In addition to closing the gender gaps that exist in the healthcare space, inequalities also require much-needed attention in order for Black women with endometriosis and PCOS to receive the same treatment as their white counterparts. "As healthcare professionals, we are aware of the poorer health outcomes in BAME women. We have team members working with Human Fertilisation and Embryology Authority (HFEA) to increase the uptake of healthcare in marginalised communities," Dr Hopkisson explains. The government recognises this as a major issue, too. In the Women's Health Strategy, it was noted that "we know that women have been under-represented in research, particularly women of ethnic minorities, older women and women of child-bearing age, those with disabilities, and LGBT+ women." The aim of the report is to bring all women's voices and priorities to the heart of the research, but evidently there is still a lot of work to be done.
The Future of Endometriosis and PCOS Patients Going Private
The truth is, more and more women are considering going private with their healthcare because the support just isn't there at present. Biases, the pandemic, and a lack of guidance or support for medical professionals mean the care women need for debilitating conditions isn't there. Many women are stretching themselves thin financially to explore alternatives to the NHS.
To restore endometriosis and PCOS sufferers' faith in the NHS, advances in the medical management of both illnesses is a must. However, with waiting lists only increasing and no plans to invest more money into research and management, it leaves little hope that these issues will be resolved quickly.
Having said that, there are charities doing great work to improve the lives of women who are affected by endometriosis and PCOS.
Endometriosis UK provides information and support to those who have the condition, with the aim of enabling them to understand the disease and take control of their condition in addition to actively campaigning and fundraising. Verity is a self-help group for women with PCOS. It aims to educate, support, and empower those living with PCOS. It's also launched PCOS UK to improve the awareness and knowledge of PCOS and related conditions among healthcare professionals in the UK. Both charities were behind November's parliamentary debate and continue to be forces for much-needed change.