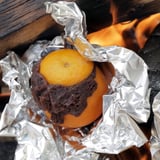 Ingredients
1 package brownie mix
2 eggs
1/2 cup vegetable oil
1/4 cup water
8 oranges
Directions
Build a campfire, or preheat your grill to 350ºF.
Mix the brownie mix according to the directions on the package.
Slice the top off of each orange and scoop out the inside of each orange. Save the fruit to eat later. Spoon the brownie mixture into each orange and place the top of the orange back on top of the mixture. Wrap tightly with foil and place in the campfire.
Bake until the brownie is cooked through, about 35 minutes.
Use tongs to carefully remove the baked orange from the fire and then carefully unwrap. Serve immediately.
Information
Category

Brownies, Desserts

Yield

8 Servings

Total Time

44 minutes, 59 seconds