Celebrity Chef Hot Cross Bun Recipes
How All Your Favourite Chefs Make Hot Cross Buns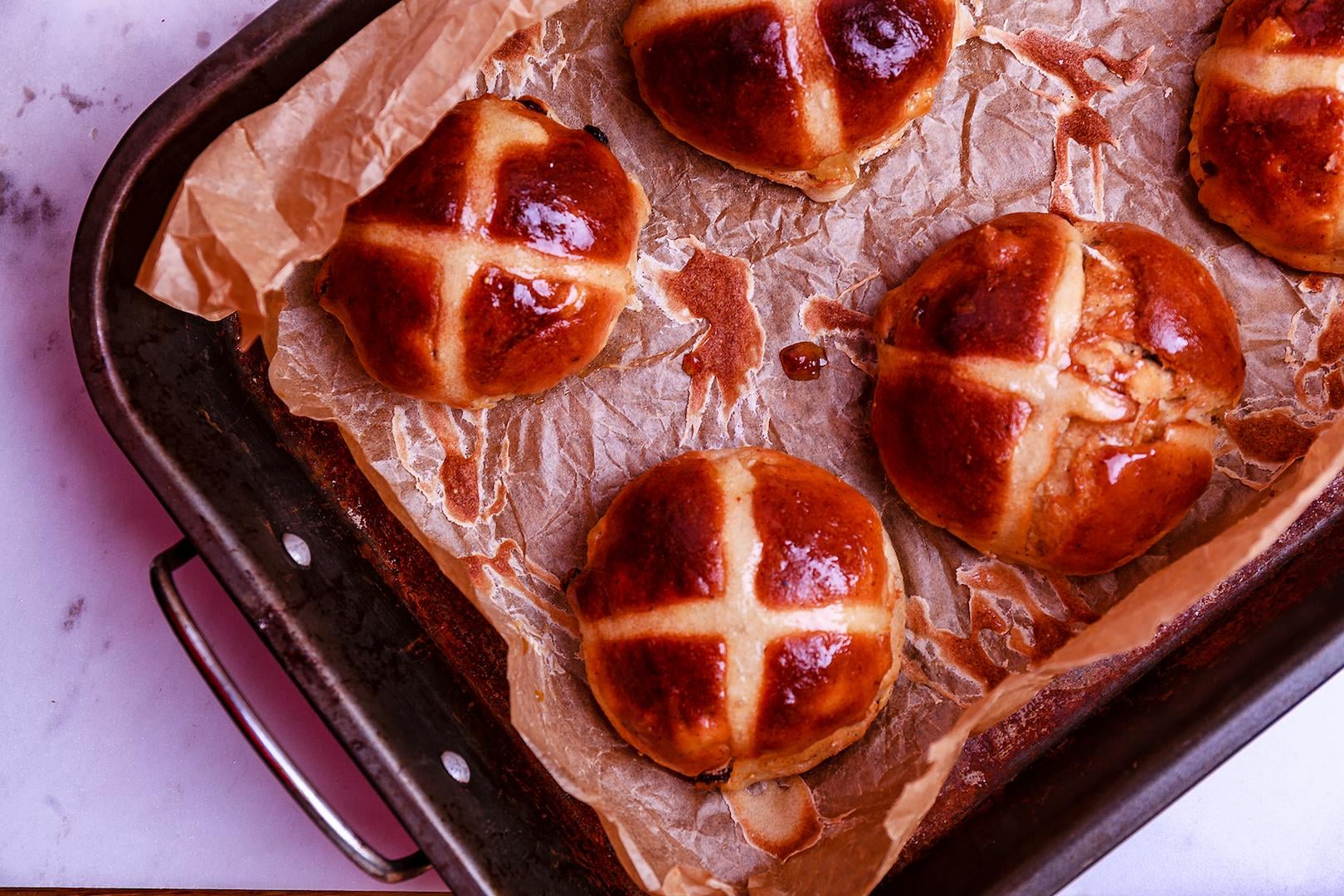 Easter wouldn't be Easter without hot cross buns, and your favourite chefs have each got their own twist on this traditional bake. We've rounded up interesting versions from 14 chefs, including extra flavours, alternative ingredients to suit different dietary requirements, and mashups with other Easter favourites such as simnel cake and Brit classics like hot cross bun bread and butter pudding. Check them out below, and don't miss out on the fun if you're totally committed to healthy eating — we've got a healthy hot cross bun recipe just for you, too.
Paul Hollywood: Fresh Fruit
The Great British Bake Off judge has been making these "real" hot cross buns since he was 9. What makes them the proper ones? A chopped dessert apple and orange zest. Paul has revealed that the "original recipes used fresh fruit, it's only quite recently we've started using dried fruit."
You can make gluten-free hot cross buns using this version of Paul's recipe, which uses a gluten and wheat-free white bread flour.
As you'd expect, Nigella's sneaked in a few extra ingredients to her hot cross buns to make them more glam. She's done this in the milk, infusing it with orange zest, clove, and cardamom pods, because it provides a "heavenly scent".
Jamie brings some extra warmth to his hot cross buns with the addition of stem ginger alongside the standard mixed spice, cinnamon, and nutmeg.
Mary Berry: Syrup Glaze
Mez Bez is about as traditional as they come, but her hot cross buns recipe does have a bit of a twist, using golden syrup in the glaze instead of the standard sugar and water mix.
Tom Kerridge: Bread and Butter Pudding
Tom has married together two British classics in his hot cross bun bread and butter pudding, which covers the buns in homemade custard, butter, and orange zest.
Heston Blumenthal: Bread and Butter Pudding With Lemon Custard
Heston's also done a hot cross bun bread and butter pudding mashup, but his version uses lemon custard, white chocolate sauce, and caramelised white chocolate.
Delia Smith: Breadmaker
You might think of Delia as an old-fashioned cook, but she's well into 21st Century kitchen gadgets with her breadmaker hot cross buns, which, she says, cuts all the "tedious bits out of making an enriched dough." She also has a traditional recipe, too, of course.
Edd Kimber: Fig & Cranberry
The first ever GBBO winner Edd brings a fruity twist to tradition with his fig and cranberry hot cross buns, which he serves with maple bacon butter.
John Waite: Simnel Swirl
Another GBBO winner John mashes up two Easter favourites to create his simnel swirl easter buns — a cross between simnel cake and hot cross buns that includes marzipan.
Martha mixes up the dried fruit element of the traditional recipe with her hot cross buns with dried cherries.
The Hairy Bikers: Dutch Version
Si and Dave discovered the Dutch version of hot cross buns on their travels — luilakbollen, which means lazybones buns, are served at the Luilak festival the day before Whit Sunday.
Lisa Faulkner: Chocolate
Actress turned Celebrity MasterChef winner Lisa has done what we all dream of with the Easter bake and added chocolate to her choc chip hot cross buns.
Dan Lepard: Stout
Award-winning Australian baker Dan brings a few twists to the classic recipe with his spiced stout buns, most notably the tin of stout (preferably Mackeson) to give them a boozy kick.
Deliciously Ella: Zesty Scones
Ella's zesty Easter scones are inspired by the flavours from hot cross buns, and contain ingredients like oat flour, almond flour, raisins, cinnamon, cloves, nutmeg, lemon zest, orange juice, almond milk, maple syrup, and a chia egg.