How Chefs Cook Brussels Sprouts
How All Your Favourite TV Chefs Cook Brussels Sprouts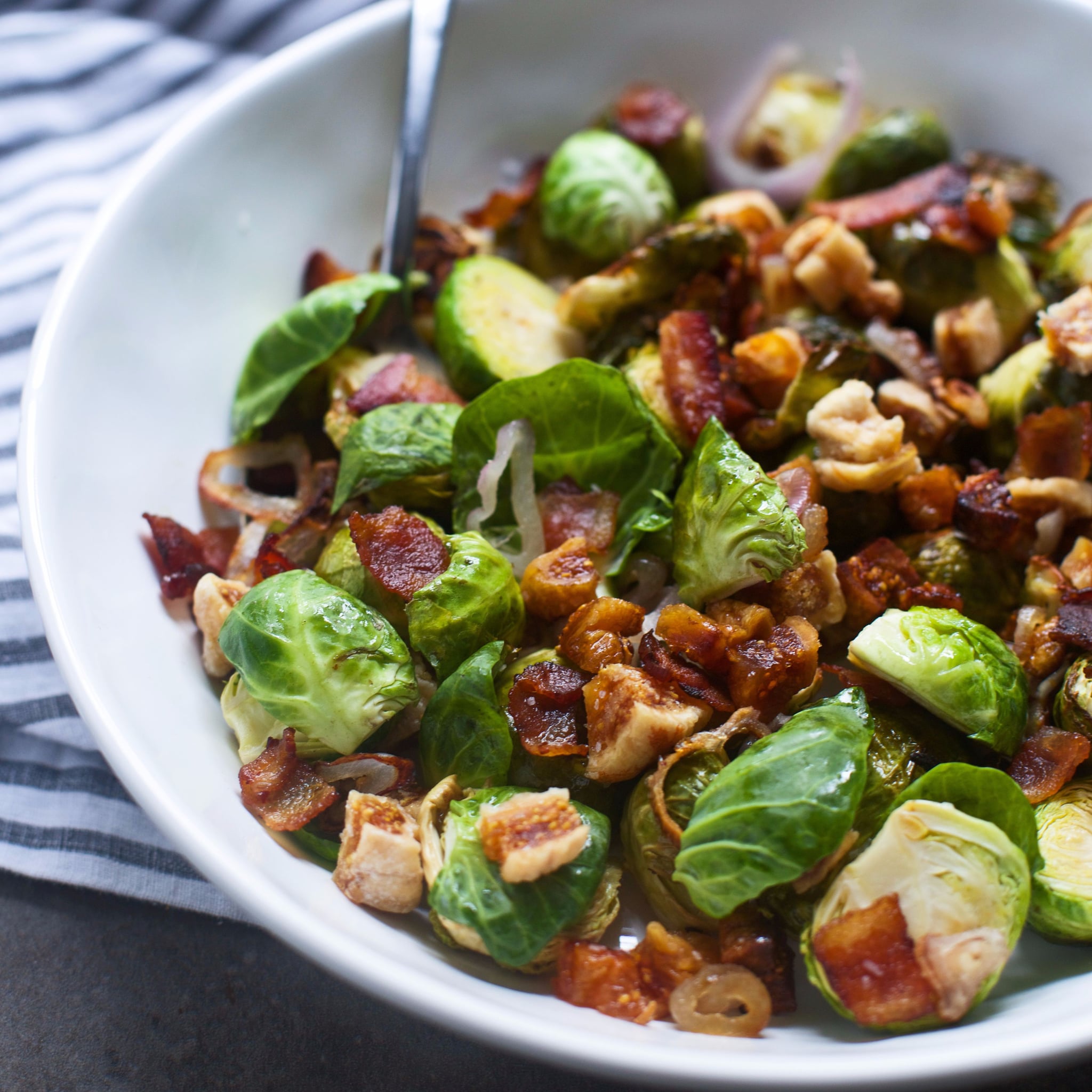 If you've spent years avoiding sprouts during Christmas dinner, it could be because they've just not been given a proper chance to shine. The tiny, bitter vegetables have a bit of a reputation for being the most disliked part of the festive spread, but cooked properly, they can be transformed into something really special. Here's how all your favourite famous chefs take sprouts to new levels of deliciousness.
Delia Smith: In White Wine With Bacon
Delia looks to Alsace in France for inspiration for her Brussels Sprouts in Riesling With Bacon. The sweetness of the Riesling wine offsets the bitterness of the sprouts, while the bacon adds some delicious saltiness.
It's a fact universally acknowledged that cheese makes everything better, so of course Jamie Oliver adds a little to sprouts, which he then bakes in the oven. He promises to win over even the biggest sprouts haters with his Parmesan Brussels Sprouts, which he claims are tasty enough to eat out of the bowl as a snack.
Gordon Ramsay: With Pancetta and Chestnuts
Gordon Ramsay relies on the tried-and-tested combo of sprouts and salty cured meat for his take on the Christmas classic. His Brussels Sprouts With Pancetta are topped with roasted chestnuts for crunch and a touch of extra Christmas cheer.
Mary Berry also favours this method of cooking the Christmas classic.
Nigel Slater: Roasted With Garlic, Then Tossed in Honey
Nigel Slater combines two of the more maligned Christmas vegetables to bring out the best in both. In his Parsnip Mash and Roast Brussels With Honey, the sprouts are roasted with garlic and thyme before being topped with parsnip purée. A drizzle of honey finishes the feast.
Hugh Fearnley-Whittingstall: Creamed, With Bacon
Another chef with a recipe that promises to convert sprouts haters, Hugh Fearnley-Whittingstall purées his with butter and cream to make the decadent Creamed Brussels Sprouts With Bacon. Chestnuts add texture, while the bacon is sprinkled over the top at the last minute for a salty flourish. A touch of nutmeg grated into the mix adds a festive element (and comes Martha Stewart-approved).
Like many other celeb chefs, Nigella opts for chestnuts and cured pork in her Brussels Sprouts With Chestnuts, Pancetta, and Parsley, but she adds an herby punch, too. She also adds Marsala wine to turn the chestnut and bacon combo into a syrup-like sauce. Is anyone else's mouth watering?
Gino D'Acampo: With Almonds and Lemon
Gino can always be relied upon to put a yummy Mediterranean spin on things, and that's exactly what he does with his Sautéed Sprouts With Almonds and Lemon. Sharp, tangy lemon zest and juice transform the vegetable, and almonds replace the traditional chestnuts for that much-needed nutty crunch.
Lorraine Pascale: With Chorizo
Lorraine swaps the standard pancetta or bacon for something with a bit more of a kick, adding Spanish chorizo to her Brussels Sprouts. She also adds the requisite chestnuts and thyme and bakes them in the oven for plenty of flavour.
Donal Skehan: Gratinated
Donal has come up with a cook-ahead recipe that's great if you have limited time on Christmas Day. Plus, cheese! His Baked Brussels Sprout Gratin cooks the sprouts in a cream sauce, topped with parmesan cheese. We're just putting this out there . . . maybe adding a bit of pancetta would make this even more amazing?
Heston Blumenthal: Separated Up and Cooked in Butter and Bacon
Heston's Brussels Sprouts are surprisingly straightforward for such an avant-garde chef, with his top tip being to separate up the leaves before gently cooking for only a few minutes. A generous amount of butter and bacon ensure there's plenty of flavour.
Gizzi Erskine: In a Salad
If you really want to shake things up this festive season, take a leaf out of Gizzi's book and serve sprouts as a salad! The Scottish chef has come up with Three Sprout Salads that'll encourage you to try the vegetable raw. It may not be traditional, but if you're short on space in the oven or on the hob, it could be a lifesaver!