How Chefs Make Scrambled Eggs
This Is How All Your Favourite Chefs Make Scrambled Eggs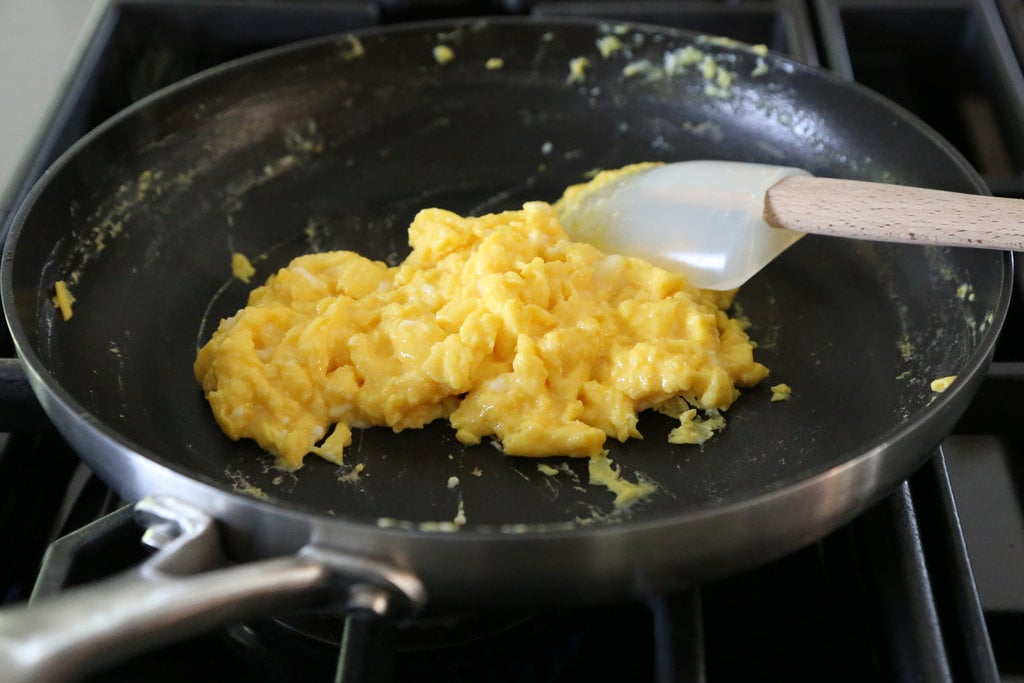 One of the most basic recipes everyone learns is scrambled eggs, but the truth is perfectly scrambled eggs are a lot trickier than they seem. Much like the classic omelette, scrambling eggs is one cooking method on which many chefs differ. To whisk in a bowl or in the pan? To add dairy or to not? Minor tweaks can make huge differences in something so basic, and we guarantee you'll want to change up your scrambled egg routine with tips from these experts — they know a thing or two about recipe developing. Here's how some of our favourite chefs scramble their eggs (we're not kidding when we say Gordon Ramsay's method is a game changer).
Alton Brown: Whisk With Whole Milk
Simple yet effective is the name of the game in Alton Brown's scrambled egg recipe. Adding whole milk isn't his only tip, though. "Odds are you're going to be serving these on a plate. If so, I strongly suggest you park an ovensafe one in a low oven or in hot water while you're cooking. Cold plates suck the heat right out of food," his recipe description reads.
Giada De Laurentiis: Frittata Cupcakes
Giada's preferred method of scrambling eggs involves a mini muffin tin — she likes to make frittata cupcakes. She told POPSUGAR in an interview, "I love making my little cupcakes — frittata cupcakes. I just stick whatever's left in the fridge. Whatever it is that was from the night before, whether it's leftover pasta, leftover meat, leftover vegetables . . . Another favourite is lox, scrambled eggs, and peas — for a little colour. For a Sunday morning, it's one of my favourite go-to breakfasts."
Gordon Ramsay

: Low and Slow (With a Secret Ingredient)

Gordon Ramsay's scrambled eggs recipe is one everyone must try at least once. The finished product looks more like custard, and thanks to his cooking method and a secret ingredient, they're melt-in-your-mouth good.
Chrissy Teigen: "Cheesy" Eggs, Hold the Cheese
Chrissy Teigen swears by her method of creating "cheesy" eggs without the cheese, thanks to her secret ingredient: heavy cream. Her tip for getting them as creamy as possible with no browned spots? "Don't stop gently stirring and scraping (edges and all) for more than a few seconds!"
Jamie's English scrambled eggs are cooked the truly classic way: whisked up with salt, cooked in butter, moved around with a spatula, and served on toast. No extra additions and no secret ingredients. The most important part? You must use free-range, organic eggs. As a bonus, he also shares tips on how to cook scrambled eggs the French and American ways in one of his Food Tube videos.
The Pioneer Woman: Smoked Salmon and Chives
Like most Pioneer Woman recipes, this one sounds delightful. Calling them the "best scrambled eggs ever", Ree Drummond suggests sprinkling in chopped smoked salmon after the eggs are cooked and then garnishing with chopped fresh chives.
Mario Batali

: Topped With Shaved Truffle

Leave it to Mario Batali to bring some serious culinary chops to such a basic recipe. To make scrambled eggs special, Mario suggests adding mascarpone or parmesan cheese, but to make them "spectacular," garnish with shaved truffle.
Delia Smith: The Slimmers' Secret
Delia knows a little something about classic cookery techniques, but she also has an incredible recipe for lower-fat scrambled eggs. Her "slimmers' scrambled eggs" use milk to moisten the pan, rather than butter, and she adds in chopped chives for a savoury touch.
James Martin: On a Crumpet, With Smoked Salmon
Fans of James won't be surprised to hear that his scrambled egg recipe features both butter and double cream (!) as well as smoked salmon, chives, and a toasted crumpet. It's the perfect way to start the day.
— Additional reporting by Gemma Cartwright
Image Source: POPSUGAR Photography / Anna Monette Roberts