How TV Chefs Make Gravy For Christmas
Which TV Chef's Christmas Gravy Recipe Will Be on Your Table This Year?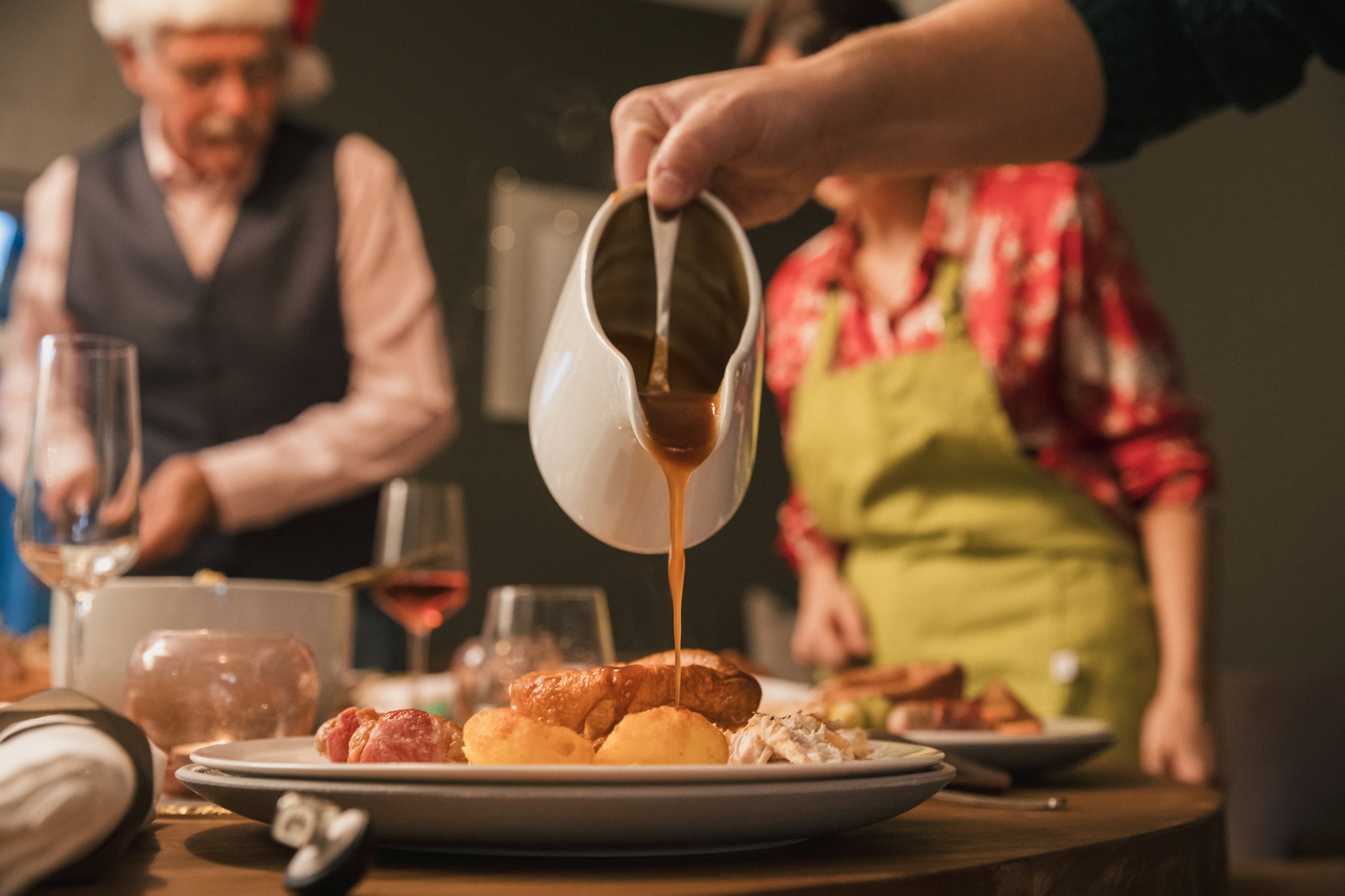 There's one easy way to turn your Christmas dinner skills up to 11. You might put all of your effort into the roast potatoes, and we've even found a way for you to make everyone at the table like brussels sprouts, but for compliments well into the new year (and a surefire way to bag you the Christmas chef job for years to come), you need to think about the gravy. To help you along the way, here's how your favourite TV chefs do theirs. You're going to need a bigger (gravy) boat.
Jamie Oliver: Get Ahead and Use Chicken Wings
For many, Jamie Oliver's "get ahead" gravy is where Christmas cooking begin. It's easy to see why when you find out that it can be made well in advance of the big day, which means no more stressing when everything is getting cold on the table. It's made with chicken wings and roasted vegetables, and can be chilled or frozen before being reheated in the turkey roasting dish on the big day.
Nigella: Get Spicy
With a normal roast making the gravy with the meat juices a treat, it's not as easy with a brined bird because of the extra salt. For this reason, Nigella is on board with the make-in-advance method, and she adds a allspice, cinnamon, and clementine to keep things festive.
Hugh Fearnley-Whittingstall: Go Vegan
If your main course isn't meat-based, that doesn't mean you need to settle for below-par gravy. Hugh knows his veggies, and his vegan gravy is full of flavour thanks to the mushrooms, soy sauce, and coffee granules.
The Hairy Bikes: Go Wild
Hugh isn't the only chef to opt for a meat-free recipe. The Hairy Bikers might be meat-lovers but their wild mushroom gravy sounds delicious. They serve theirs with nut roast, but it would taste just as good with turkey if you've got vegetarians and meat eaters around the table.
Heston Blumenthal: Go Classic (With a Twist, Obvs)
You don't expect Heston to go traditional, but his classic turkey gravy is a little more "normal" than we expect from the creative chef. That said, there's a lot going on — dry white wine, mushrooms, sherry vinegar. This might be one for chefs who don't really like sticking to recipes; just play about with it until it's your favourite recipe.
Delia Smith: Use Turkey Giblets
For Delia, it's the smell of her turkey giblet stock that really gets her in the festive spirit. Giblets might not sound appetising to everyone, but they're ideal for a classic Christmas feast and if they do come inside your turkey, this is a great way to get the most out of them. She suggests giving the cooked giblets to cats and dogs as a festive treat, too.
Mary Berry: Add a Splash of Port
Mary is fully on board with the classic giblet stock too, but she likes a Christmas tipple, and that means her Christmas gravy is finished with port and redcurrant jelly. Use red wine if you haven't got any port in, or if your Auntie Beryl drank it all on Christmas Eve.
Gordon's a big fan of the booze method, too, except he opts for a litre of cider.
Tom Kerridge: Use Ale (and Don't Stick to Turkey)
Kerridge isn't against giving turkey a miss on Christmas Day. If you don't have a house full of guests, it can be a lot of work. Perhaps a joint of beef or venison is a more appealing option? That means you can get creative with darker gravy flavours such as port or ale.
Nigel Slater: Do All of the Above
Booze, giblets, chicken wings, redcurrant jelly. Nigel Slater is very, very into his gravy and thinks it makes or breaks the Christmas dinner. Whether you agree with him or not, his onion turkey gravy is definitely going to be a winner.