KFC Innovation Kitchen Punk Chicken
KFC Teases Fans With Craft Brew "Punk Chicken", and They Go Clucking Wild
Fans have gone feral over KFC's latest tease teaming its signature Original Recipe fried chicken with craft beer. The beer in question? Brewdog's Punk IPA, resulting in *drum roll, please* "Punk Chicken". The Facebook post has gained a whoooole lot of attention, prompting such comments as, "oh my god this is the dream" and "best thing since bread and butter". A personal favourite? "Fried chicken and IPA... what could go wrong. This would be an alternate universe from which I may never return." It's practically poetry.
The KFC innovation kitchen isn't just considering boozy options for the menu either. There's also talk of chicken skins, loaded fries, and one for the hipsters: a "Shoreditch Shofaffle". The man with arguably one of the most enviable jobs titles around, "Innovation Director at KFC" Jack Hinchliffe, commented, "We're always looking at emerging food trends to help us develop exciting new menu items. We encourage our chefs to be creative in the kitchen, this is where the real magic takes place and showstoppers are born." Jack, something tells us Punk Chicken might just be a showstopper.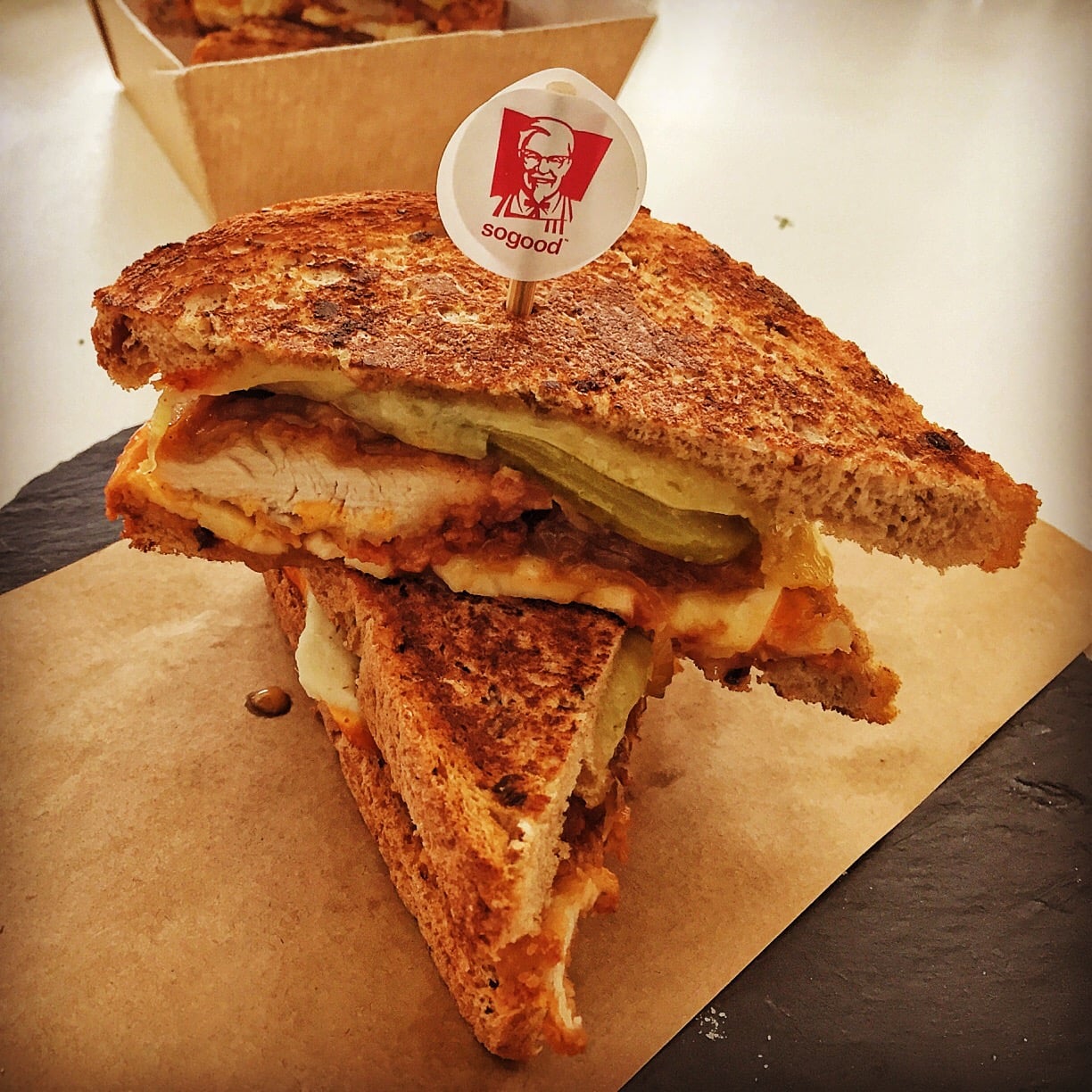 Top Ten Innovations from the KFC Kitchen
The Sloppy Po'Boy
Two mini fillets, sticky BBQ sauce, sweetcorn, chopped tomatoes, and fried gherkins. Served with gravy for dipping.
Shoreditch Shofaffle
An Original Recipe fillet, crispy bacon, and Emmental cheese sandwiched between two fluffy syrup-lathered waffles.
Chicken Skins
Self-explanatory (but no less delicious).
Kentucky Protein Box
Original recipe chicken, an egg, and sliced avocado on a bed of slaw.
Loaded Fries
KFC fries loaded up with bacon and avocado.
The 1939 Sandwich
Two slices of simple white bread and a juicy Original Recipe chicken fillet covered in ketchup.
The Kentucky Cheese Press
Doorstop bread, Original Recipe fillet, smoky melted cheddar cheese, gherkins, caramelised onions, gooey halloumi, and chipotle mayo.
Southern Roots Fries
A selection of carrot, parsnip, celeriac, and sweet potato fries with an assortment of dips.
Brew Craft Burgers
Classic southern burgers infused with IPA BBQ sauce, beer-battered onion rings, and beer-glazed bacon.
Punk Chicken
A hippy twist on Colonel Sanders's Original Recipe chicken, marinated in Brewdog Punk IPA.
Image Source: KFC