Rosé All Day Doughnuts
From Chrystal Baker, POPSUGAR Food
Notes
If you cannot find packaged, food-safe dried roses in your area or via special order, remove the petals from one organic, pesticide-free rosebud. Spread the petals over a baking tray, making sure they do not touch. Sprinkle with a little sugar, and dry in a 100ºC oven for 45-60 minutes. If your oven doesn't go that low, leave the door open slightly. The petals will have dried just enough to crack and crumble under pressure, but they will retain their colour, and if handled delicately, they will retain their shape. Use as desired.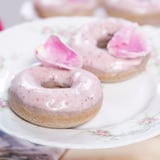 Ingredients
For the doughnuts:
Nonstick cooking spray
185g all-purpose flour
About 8 freeze-dried strawberries, finely ground
1/2 teaspoon bicarbonate of soda
1/2 teaspoon baking powder
1/4 teaspoon fine sea salt
100g granulated sugar
2 tablespoons vegetable oil
1 egg
3/4 teaspoon vanilla extract
125ml Rosé wine
2 tablespoons whole milk
For the garnish:
250g icing sugar
3/4 teaspoon freeze-dried strawberries, finely ground
2 tablespoons heavy cream
3 tablespoons Rosé wine
Edible dried rose petals
Special tools:
6-hole doughnut tin
Directions
Preheat oven to 180ºC and lightly coat the doughnut tin with nonstick cooking spray. Set aside.
In a bowl, whisk together the flour, ground strawberries, bicarbonate of soda, baking powder, and salt.
In a separate bowl, whisk together sugar, vegetable oil, egg, vanilla extract, Rosé wine, and milk until smooth. Slowly add the dry ingredients into the wet ingredients and keep mixing until combined.
Transfer the batter into a sealable plastic bag or piping bag to make it easier to pour. Snip the end and pipe the batter into the tin, filling each 2/3 of the way full.
Bake for 16 to 18 minutes, or until a toothpick inserted in the middle comes out clean. Cool in the pan for 2 to 3 minutes and then transfer to wire racks to cool. Repeat with the remaining batter, lightly coating with more nonstick cooking spray before filling.
In a bowl, whisk together powdered sugar with freeze-dried strawberries, heavy cream, and Rosé wine until smooth. Dip cooled doughnuts into the glaze and then garnish with dried rose petals.
Information
Category

Doughnuts

Cuisine

North American

Yield

8-9 servings

Total Time

59 minutes, 59 seconds