Southeast Asian Gazpacho
Savor Summer's Tomatoes in Southeast Asian Gazpacho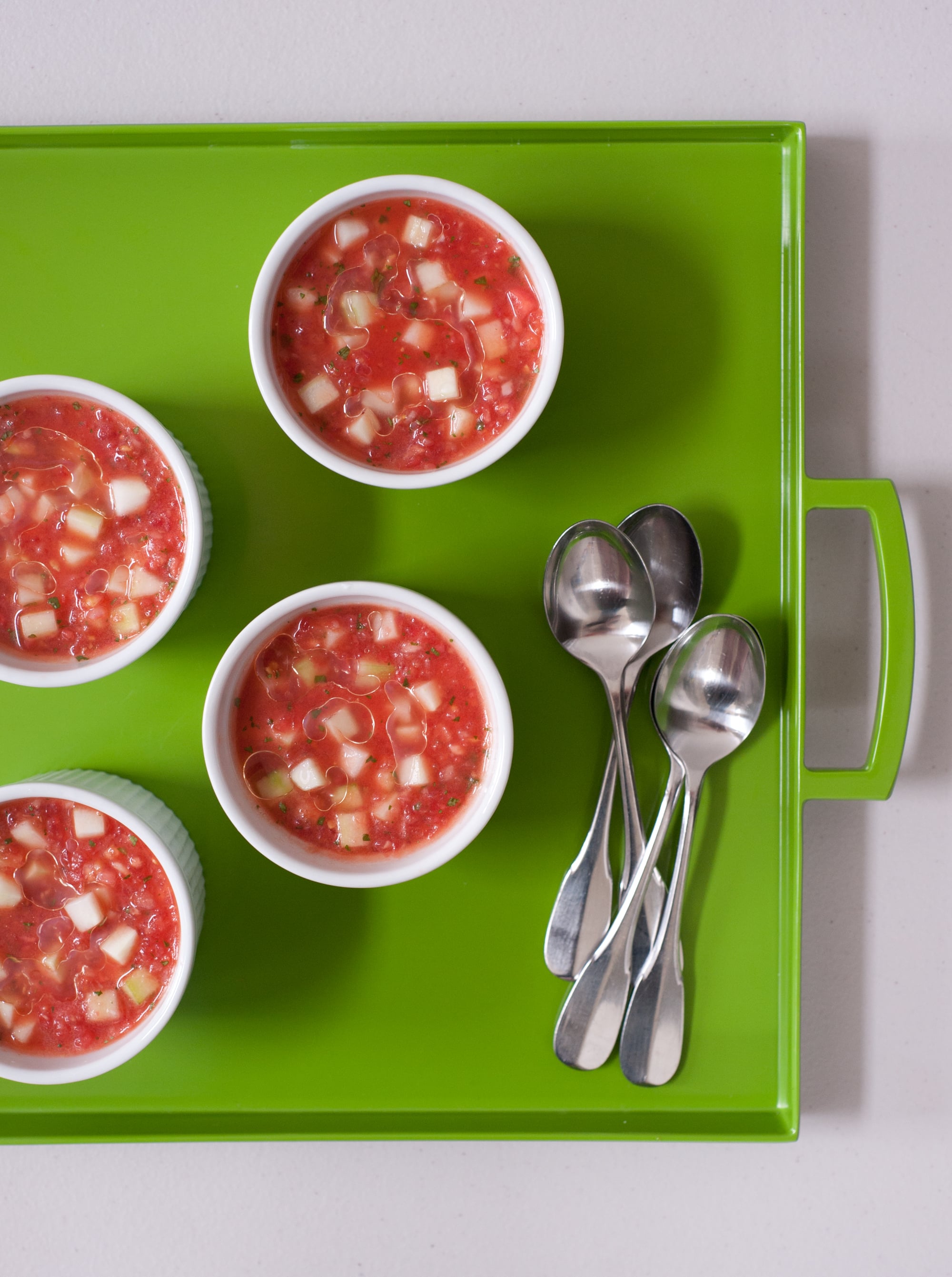 Hot days may zap your appetite and enthusiasm to toil in the kitchen over a hot stove, but that doesn't mean that you need to resort to a bowl of cereal for dinner. Served thoroughly chilled, light, bright gazpacho is a classic Spanish solution to the dog days of Summer, and for good reason. This recipe takes a subtle twist on the tradition by adding Thai basil, ginger, and rice wine vinegar for a Southeast Asian spin on this much-beloved style of soup. Try it now while tomatoes shine; it, and any other tomato-based gazpacho, isn't worth eating in the off-season. Get the refreshing recipe.
Ingredients
8 medium tomatoes, peeled and coarsely chopped
1 clove garlic, minced
1/4 cup coarsely chopped red onion
3/4-inch piece of ginger, peeled and grated (about 2 teaspoons)
2 tablespoons chopped Thai basil
1 1/2 tablespoons chopped cilantro
2 tablespoons neutral oil, such as grapeseed or canola
2 tablespoons rice vinegar
2 limes, juiced
3 medium cucumbers, peeled, seeded, 1/4-inch dice
Kosher salt, to taste
Directions
Add the tomatoes, garlic, red onion, ginger, Thai basil, cilantro, oil, vinegar, and lime juice to the bowl of a food processor, and process until well blended, but still slightly chunky.
Transfer to a large bowl and add the diced cucumber, stirring to distribute evenly. Cover tightly with plastic wrap and chill for at least 2 hours.
Before serving, season to taste with salt and vinegar.
Information
Category

Other, Soups/Stews

Cuisine

Other Asian

Yield

Serves 4