Coffee Cake Cookie Recipe With Photos
These Coffee-Cake Cookies Definitely Count as Breakfast, Right?
TikTok is, among many things, an excellent place to find new and creative recipes, particularly for delicious desserts. When I came across these coffee-cake cookies from The Palatable Life, a treat that combined two of my favourite things — desserts disguised as breakfast and freshly baked cookies — I knew I had to make them.
These cookies were inspired by the coffee cake at Luke's Diner in Gilmore Girls, and after making them, I can definitely confirm that they're worthy of our favourite Stars Hollow diner. I was amazed at how well these cookies mimic the soft, crumbly texture of coffee cake. The cookie base is delicious on its own, but adding the streusel topping really brings the coffee cake flavour home. And on top of that (literally), I'm never one to complain about an icing drizzle that's as decorative as it is delicious.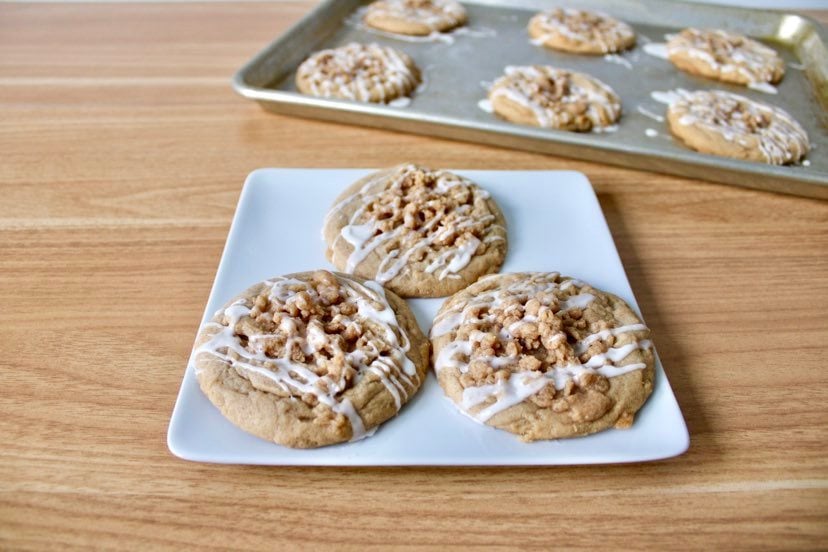 What I love about these cookies is that they stay big and soft after baking, even though there's no chill time required. Making the streusel and crumbling it on top of the cookies is a bit more work than your standard cookie recipe, but I promise it's worth it. Simply make your dough and use a large cookie scoop to scoop about 12-14 balls of cookie dough. Don't flatten them out; just use a spoon to make an indent for the streusel, and crumble the streusel on top of it — be generous with this step as the recipe makes plenty of streusel, and it spreads out nicely once the cookies are baked. I also recommend chilling the streusel for 10 minutes or so before you add it to the cookies because it's easier to work with when it's a little cold. Bake the cookies for just 12 minutes, and enjoy them warm out of the oven, or wait for them to cool a bit before adding that pretty icing drizzle. As soon as I tried these cookies, I knew I'd be adding them to my regular baking rotation, and I've already made them twice since that first batch. Trust me, these cookies are even better than they look, and they look pretty dang good.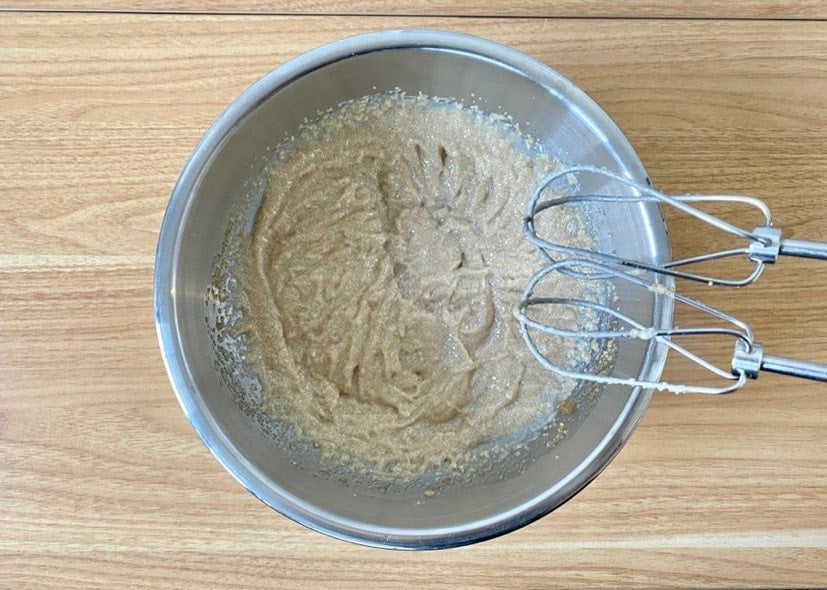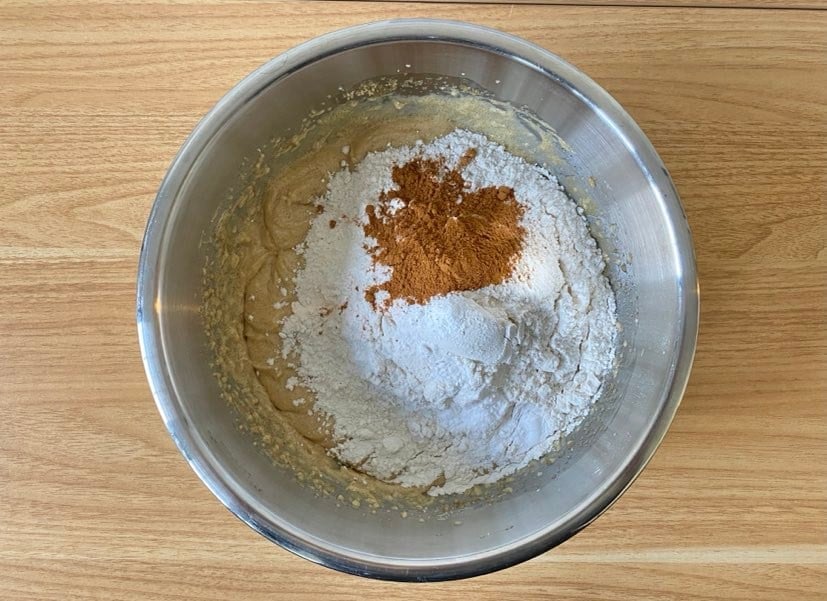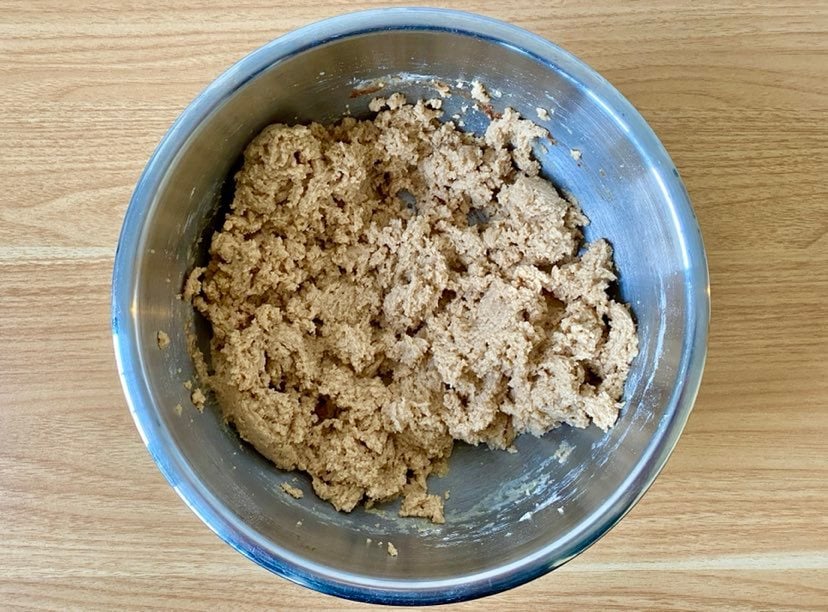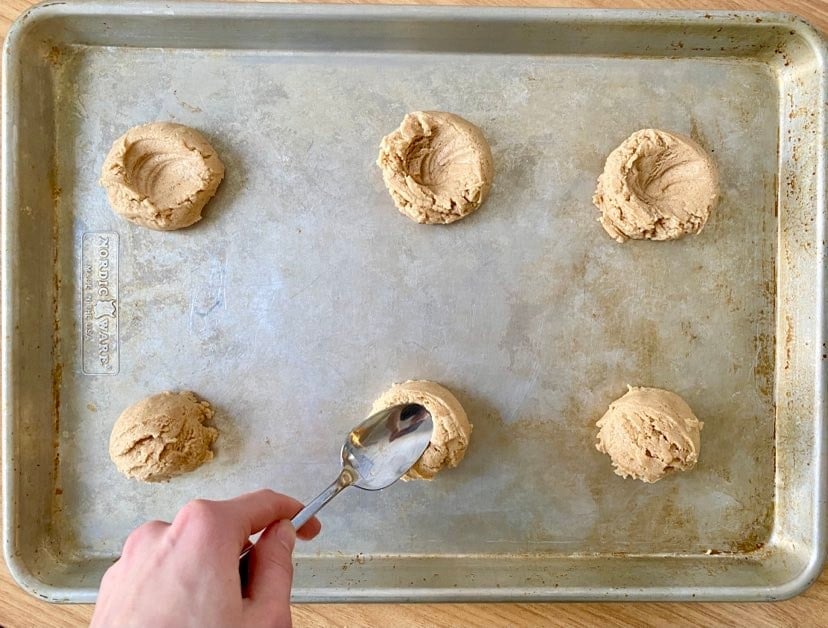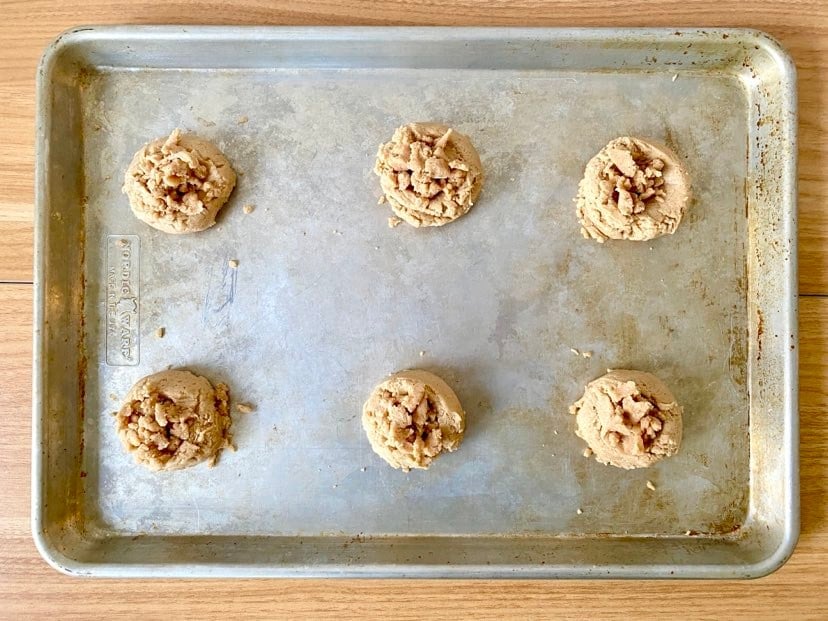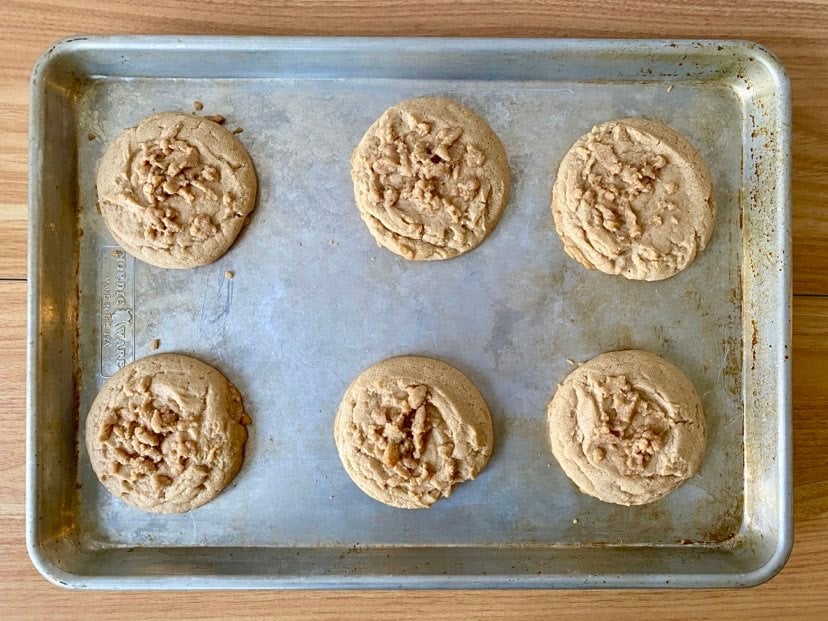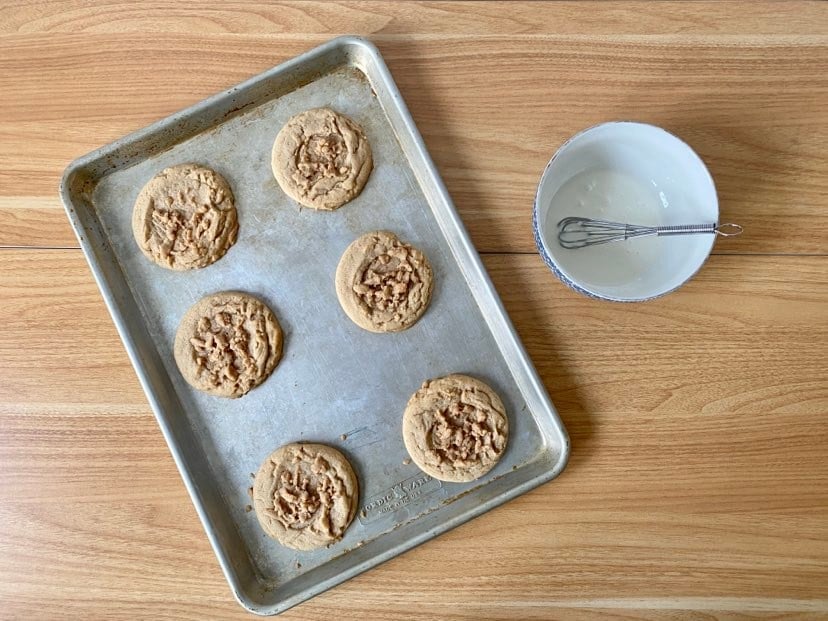 Coffee-Cake Cookies
The Palatable Life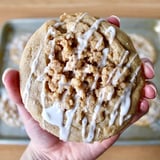 Ingredients
Dough
113g butter, softened
118ml vegetable oil
200g brown sugar
1 egg
1 teaspoon vanilla
2 teaspoons cinnamon
1/2 teaspoon baking soda
1/2 teaspoon baking powder
1/2 teaspoon salt
280g flour
Streusel
60g butter, softened
55g brown sugar
65g flour
1/2 teaspoon cinnamon
Pinch of salt
Icing
65g powdered sugar
1 tablespoon milk
Splash of vanilla
Directions
To make the dough, start by creaming the butter, oil, and brown sugar together.
Add the egg and vanilla, and mix well.
Add the remaining dry ingredients to the same bowl, and mix until just combined.
Next, make the streusel. Combine all the streusel ingredients together in a small bowl, and mix with a pastry cutter, spoon, or your hands until crumbly.
Once the dough and streusel are done, use a large cookie scoop to make 12-14 balls of cookie dough on a cookie sheet. Use a small spoon to press a divot in the top of each cookie, and crumble the streusel into it.
Bake the cookies at 180°C for 10-12 minutes.
Once the cookies are cool, mix the powdered sugar, milk, and vanilla together to make the icing. Drizzle the icing over the cookies and serve.
Information
Category

Desserts

Yield

12-14 cookies

Prep Time

20 minutes

Cook Time

12 minutes

Total Time

31 minutes, 59 seconds
Image Source: POPSUGAR Photography / Kaley Rohlinger