Dish Sponge Cake TikTok Video
This Cake Looks Exactly Like a Soapy Dish Sponge, and We Really Don't Know How to Feel
Sponge cake is delicate, light, bouncy, moist (I know, not the best word, but there is literally no other word to describe it), and a classic when it comes to baking. I've watched enough hours of The Great British Baking Show to know that sponge cake is pretty much always a fantastic dessert choice (if done right). But now, in a world where regular objects are transformed into lifelike cakes, I question everything: is it edible or not?! And this video from TikTok user @abimhn pretty much made me audibly gasp, because her literal sponge cake actually looks like a . . . dish sponge.
I can understand if the premise is confusing, but what's more confusing? I am now craving this dish sponge cake. It looks deliciously airy, seems to have the perfect texture, can be flavoured any way you'd like, and can even be paired with a "dish soap" made out of whipped egg whites and sugar. This dish sponge cake can be used to prank someone, to gift someone who maybe really likes washing dishes (anyone?), or just as a yummy, quirky snack. Now I'm just waiting for the paper towel roll cake (and you better believe I'll make it).
Check out the full recipe below and see for yourself how fun and surprisingly-weird (in the best way) a hyper-realistic cake can be.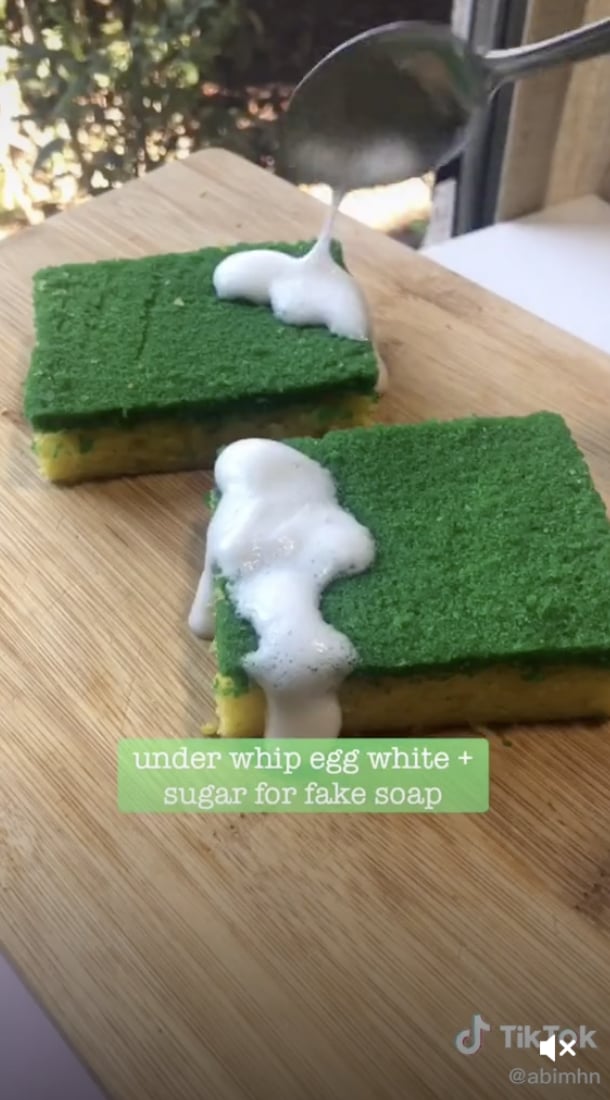 Dish Sponge Cake
TikTok user @abimhn
Notes
Some ingredients from the recipe are not specified in regard to measurement, but can be modified to your taste.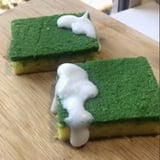 Ingredients
1 stick melted butter
1/2 cup neutral oil
1 cup sugar
3 eggs
1/2 cup milk
Some type of flavoring, as desired
1 teaspoon baking powder
1 1/2 cup all-purpose flour
1 teaspoon salt
3 drops green food coloring
2 drops yellow food coloring
Honey, maple syrup, or any other liquid sweetener, as desired
Egg whites and sugar for "dish soap," as desired
Directions
Preheat your oven to 350 degrees.
In a large bowl, mix melted butter, oil, and sugar. Beat with a whisk until just combined.
Add in the 3 eggs, mix thoroughly, and then gently beat in the milk.
Mix in your flavoring (if using).
Using a sieve, sift in the flour. Add the baking powder and salt, and mix until smooth.
Divide the batter into two smaller bowls, using a ratio of 1/3 and 2/3.
Using your food coloring, color the larger amount of batter with the green, and the smaller amount with the yellow.
Transfer the mixtures to two square cake pans.
Bake for 15 to 20 minutes, being careful that the cakes do not brown, and using a toothpick to make sure they are done.
Let cool before trimming.
Using a serrated knife, cut the tops of the cakes to create a "fuzzy sponge" effect. Cut them to the shape and size of a dish sponge.
With your honey, maple syrup, or liquid sweetener of choice, drizzle it on top of your cut-out yellow cake as an adhesive.
Place the accompanying green cake on top of the yellow cake to create a dish sponge effect.
Under-whip egg whites and sugar together to create fake dish soap. Drizzle on top of your finished product!
Information
Category

Desserts

Yield

Makes 2 sponge cakes

Prep Time

40 minutes

Cook Time

20 minutes

Total Time

59 minutes, 59 seconds