How to Make Disney's 4-Cheese Grilled Cheese Sandwich Recipe
Pardon My French, but This Homemade Disney Grilled Cheese Recipe Is Très Magnifique
You know that look of euphoria Remy gets on his face in Ratatouille when he takes a bite of the strawberry and cheese at the same time? Yeah, that was me after I came across this Disney-inspired sweet and spicy grilled cheese recipe. In a TikTok video, food blogger Brogan Wu, aka The Kitchen Witch, shared her take on the Disney Parks Grilled Cheese Sandwich — with a delicious twist. Made with cream cheese, two types of cheddar, and provolone, this grilled cheese is worthy of being added to Gusteau's menu — with a bowl of hot tomato soup on the side, of course.
"There were a few things about their original recipe I wanted to change, little things that probably won't matter to anyone but me (micro-planed garlic instead of minced, crustier bread choice, and a more even cheese to bread ratio) but the one thing I knew could make this better was some heat and some honey," Brogan captioned an Instagram post sharing photos of the four-cheese sandwich.
As if I wasn't already rummageing through my fridge for sharp cheddar, Brogan takes it a step further by adding in a few nontraditional ingredients, including red chili flakes and honey, making this a five-star sandwich in my book. The garlic mayo on the outside of the bread is the finishing touch that has me ready to send my compliments to the chef. See how to make the gourmet grilled cheese for yourself here, and check out this Disney ratatouille recipe if you're feeling truly inspired.
Sweet and Spicy Disney Grilled Cheese
Brogan Wu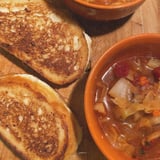 Ingredients
For the Mayo:
1/4 cup mayonnaise
1/2 clove garlic (zested)
For the Filling:
1/3 cup softened cream cheese
1/4 cup shredded white cheddar
1/2 teaspoon red chili flakes
1/2 teaspoon sea salt
For the Sandwich:
Tuscan bread (or bread of choice)
Sliced sharp cheddar
Sliced provolone
2 to 3 tablespoons hot honey
Directions
In a small bowl, add the mayonnaise and the microplaned garlic. Stir to combine and set aside.
In a separate bowl, add the softened cream cheese, shredded white cheddar, red chili flakes, and sea salt. Mix well and set aside.
To build the sandwich, grab one slice of Tuscan bread (or bread of your choice) and add a layer of sliced sharp cheddar.
Next, add 1 to 2 tablespoons of the cream cheese mixture and spread evenly over the sharp cheddar.
Add a drizzle of hot honey and a layer of sliced provolone.
Top the sandwich with another slice of Tuscan bread and coat both sides of the sandwich with a generous layer of the garlic mayo mixture.
Pan fry the sandwich over medium low heat until golden brown on each side and all the cheese is completely melted throughout. Enjoy!
Information
Category

Main Dishes, Sandwiches

Yield

2 to 3 sandwiches

Prep Time

15 minutes

Cook Time

5 minutes

Total Time

19 minutes, 59 seconds