Gordon Ramsay Shared His Sweet Corn Puree Pizza Recipe
Gordon Ramsay's Pizza Recipe Swaps Tomato Sauce For Sweet Corn Puree, So Colour Me Intrigued
Gordon Ramsay sees your basic cheese pizza, and he raises you this one-of-a-kind variation. The British chef recently shared the recipe for his Corn, Chorizo, and Chicken Pizza, which swaps a classic tomato sauce for a base made of — are you ready for this? — pureed sweet corn. Colour me intrigued! As someone who typically sticks to eating pesto or white sauce pizzas (tomatoes and I just don't mix!), I'm very much on board with this concept.
The flavourful dish is straight off the menu at his London-based restaurant Gordon Ramsay Street Pizza, and I can hardly say I'm surprised that Gordon's the mastermind behind such an untraditional creation. In addition to the whole corn puree situation, the pizza calls for shallots, strips of chicken breast, sliced chorizo sausage, and a smattering of coriander leaves. Get the full recipe ahead, and try not to drool all over yourself in the process.
Corn, Chorizo, and Chicken Pizza
Notes
All ingredient measurements have been roughly converted.
There will be leftover corn puree, which you can freeze and use for your next pizza-making adventure.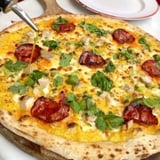 Ingredients
For the Sweet Corn Puree:
500g sweet corn (roughy 3 cups)
100mL water (roughly 1/2 cup, slightly less)
1 banana shallot, diced
30g butter (1/8 cup)
1 small garlic clove, chopped
1/2 teaspoon chili powder
1/2 teaspoon salt
1/2 teaspoon black pepper
For the Pizza:
1 ball fresh pizza dough (here's our go-to recipe)
100mL sweet corn puree (roughly 1/2 cup, slightly less)
50g diced mozzarella cheese (roughly 1/2 cup, slightly less)
1/2 chicken breast, cooked and cut into strips
1/3 cured chorizo sausage, thinly sliced
Sprig of coriander
1 spring onion, thinly sliced
10mL olive oil (roughly 2 teaspoons)
Directions
For the Sweet Corn Puree:
Melt butter in large saucepan.
Add diced shallot and chopped garlic, and cook on medium heat until soft and translucent.
Add sweet corn and cook on medium heat for 10 minutes.
Add water and simmer for 30 more minutes until corn is soft.
Once cool, blend the mixture in a food processor until smooth.
Season to taste, and set aside.
For the Pizza:
Dust hard surface with flour and semolina, and place pizza dough on top. Push down on dough with hands and gently stretch, keeping it round. In order to form a thicker crust, avoid touching the dough's outside edge.
Place the round pizza dough onto a 10- to 12-inch pizza baking tray.
Spread the sweet corn puree over the stretched pizza base.
Sprinkle on mozzarella cheese, sliced spring onion, chicken, and chorizo.
Bake at 220 degrees Celsius (roughly 430 degrees Fahrenheit) for 8-12 minutes or until crust is golden.
Sprinkle coriander on top, and brush crust with olive oil. Cut into slices, and enjoy!
Information
Category

Pizza

Yield

1 Pizza