Loaded Southwest Mac and Cheese Recipe
This Loaded Southwest Mac and Cheese Is Made Almost Entirely Out of Veggies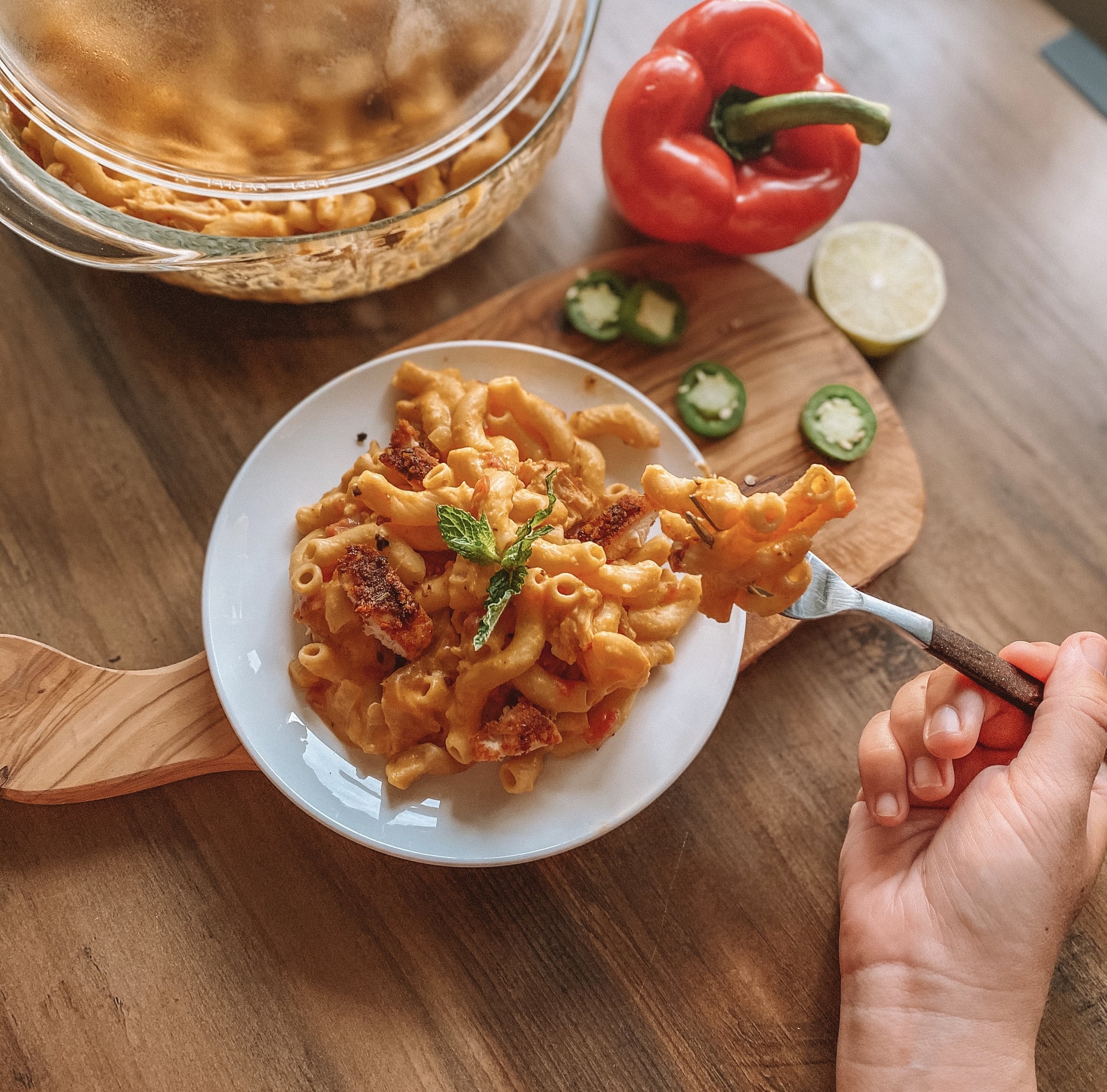 There is nothing more satisfying than a bowl of warm mac and cheese to comfort the soul, but would you believe me if I told you this mac and cheese is made almost entirely out of veggies?! The smooth, creamy texture comes from sautéed and pureed vegetables, the noodles are made from chickpeas, and the Southwest kick comes from the added taco seasoned chicken, jalapeños, Ro-Tel tomatoes, and green chiles. There's cheese added in, of course, but most of the "cheesy flavour" comes from nutritional yeast.
I love using Banza pasta or really any chickpea- or lentil-based pasta because the consistency holds well and it tastes great.
This recipe is a great alternative if you're craving comfort food, and it also doesn't hurt that it's packed with 23 grams of protein and eight grams of fibre. See the full recipe below, and get ready to meet your new favourite weeknight dinner.
Loaded Southwest Mac and Cheese
Original recipe by Taylor Celetano
Notes
You will need a blender on hand to puree your veggies.
Any kind of blender will do — nothing fancy required.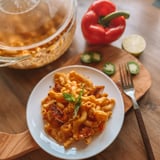 Ingredients
1 box Banza cavatappi noodles
2 small/medium sweet potatoes (cubed)
2 sweet onions (chopped and separated)
4 cloves garlic (minced)
1 red bell pepper (chopped)
3-4 chopped jalapeños (optional)
1 10-ounce can mild Ro-Tel
1 pound raw chicken tenders
1/2 packet taco seasoning
1/2 cup nutritional yeast
1 cup low-sodium chicken broth
1 cup canned coconut milk
1 cup shredded white cheddar cheese
1 cup yellow mild cheddar cheese
2 tablespoons grated parmesan cheese
1 1/2 tablespoons garlic powder
2 tablespoons onion powder
1/2 teaspoon salt
1/4 teaspoon pepper
3 tablespoons olive oil
2 tablespoons butter
Directions
Sprinkle the raw chicken tenders with packet of taco seasoning (both sides of the chicken), and bake in the oven at 400 degrees for 22 minutes.
Set a medium pot filled with water to boil.
Cube and chop all of the veggies.
Toss the cubed sweet potatoes into boiling water for about 12-15 minutes or until soft enough to stick a fork in easily.
While sweet potatoes are boiling, heat a deep sauté pan with 1 tablespoon olive oil and toss in the red bell pepper. Simmer with lid on for 5-7 minutes.
Add in one of the chopped sweet onions and the other 2 tablespoons olive oil, cover, and let simmer for another 5-7 minutes.
Add in the garlic and jalapeños (if you're using them), and let simmer for another 2-3 minutes.
Strain the sweet potatoes, and put them into a blender.
Add the sautéed red bell pepper, onion, garlic, jalapeños, and nutritional yeast to the blender.
Add 1 cup chicken broth, and blend until smooth.
Set a medium pot with fresh water for the pasta to boil.
Heat 2 tablespoons butter in a pan (same pan you used originally), and add in the second chopped sweet onion; cover and let sauté (mixing occasionally) for 5-8 minutes.
Add in the can of Ro-Tel, stir, and let sauté for another 3-4 minutes.
Add the chickpea pasta to the boiling water, and let cook (stirring occasionally) for 9-11 minutes.
Add in the veggie "cheese" purée, salt and pepper, garlic and onion powder, and 2 cups mixed cheeses.
Mix everything evenly, then add in the coconut milk and let simmer for another 5-7 minutes (or until pasta is done cooking).
Strain the pasta, and add right into the cheese sauce.
Shred the chicken with two forks, add into sauce, scoop a big helping onto your plate, and enjoy!
Information
Category

Main Dishes, Pasta

Cuisine

Mexican

Yield

4 Servings

Prep Time

10 minutes

Cook Time

40 minutes

Total Time

49 minutes, 59 seconds
Image Source: POPSUGAR Photography / Taylor Celentano