M&S's New Halloween Colin the Caterpillar Cake
M&S's New Yummy Mummy Colin the Caterpillar Cake Is a Must For Any Halloween Party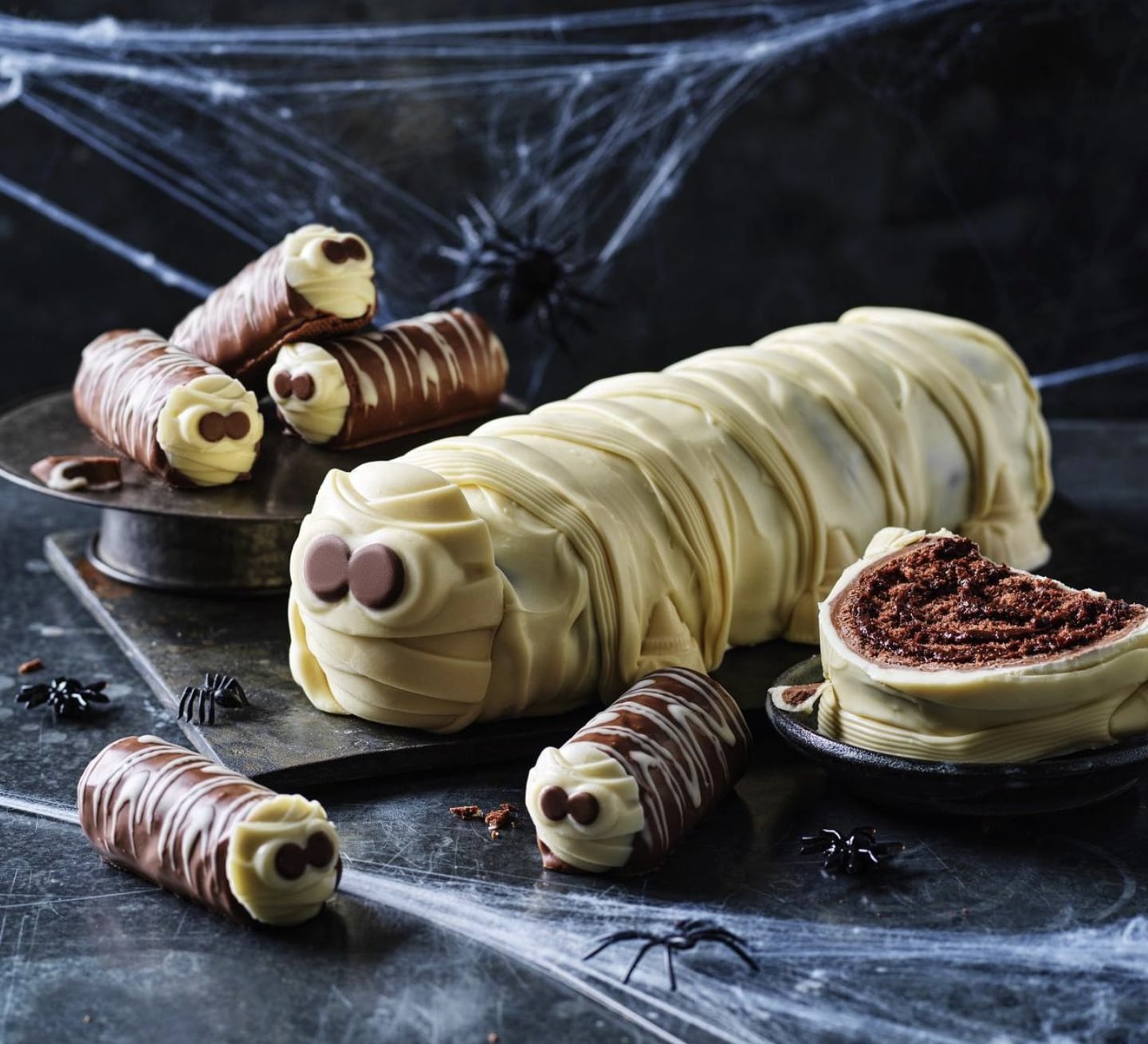 There's no denying that M&S's Colin the Caterpillar cake is elite — it's the vanguard of chocolate cakes, if you will. The light and fluffy chocolate sponge is filled with delectable chocolate buttercream and covered in (yep, you guessed it), more chocolate. While the standard Colin is more than enough in our eyes, he gets a little makeover every now and again, and Halloween is no exception.
For the annual spook-tacular event, M&S has brought back the mummy caterpillar that was a bona fide hit last year to join in with the fancy-dress theme. In addition to the usual chocolatey goodness, Colin can be found wearing milk- and white-chocolate bandages. Yes, that's double the chocolate coating. Plus, there are mini versions available too — perfect for any Halloween party you might be throwing or attending. Available now, the limited-edition Colin can be found on Ocado.com and in M&S stores up and down the country.
The food retailer, which is no stranger to a viral moment thanks to its magic coffee release earlier this year, took to Instagram to share the delicious announcement. "Stop what you're doing – Yummy Mummy Colin the Caterpillar is BACK! There's no denying you loved it last year, so we've brought it back for a limited time for Halloween 2023. He's our original Colin the Caterpillar cake *double enrobed* in classic milk chocolate AND a layer of creamy white chocolate... WOW. ", it penned.
Colin's loyal followers flocked to the comments section of the announcement to share their thoughts on the mummy makeover, with one writing: "Yesss! So glad he's back! ", while another added: "Arwww look at colin getting all spooky! What a lad".
Whether you're planning a Halloween party, looking to Colin for some Halloween -ostume inspiration, or planning to add him as a dessert after you've had your Halloween charcuterie board, a little Colin treat is the ultimate crowd-pleaser.