Pineapple Upside Down Pancakes Recipe
You Know What's Better Than Plain Pancakes? Pineapple Upside Down Pancakes, of Course!
It doesn't take much convincing for me to eat a plate of pancakes. I don't care if it's morning, noon, or night, I'm always down for pancakes. It took until my college years before I perfected the art of making them (thanks to a roommate who was a master at it), and I honestly still mess them up half the time. There's something to be said about being able to flip a pancake at the right time. Just saying.
Nevertheless, after I saw this recipe for pineapple upside down pancakes, I knew I had to try it. Pineapple upside down cake is also a favourite dessert of mine (I really just love pineapple), so this sounded like a fun twist on both dishes. After perusing the recipe, I decided to switch up how I made the pancakes a little bit, mostly because I live in an apartment with a gas stove that's older than I am. Thanks to its age, it only has two settings: off and screaming hot. The original recipe says to put the pineapple down first and put the batter over it, but I was low-key worried about how that would go on my skillet, so I did it backwards — and it worked just as well!
Keep in mind that the pineapple will make it take a little longer to cook the pancake through than you might be used to, so give it some extra time before you take it off the heat and enjoy it! I also added some extra maraschino cherries, because I can never have too many of those! Check out the original recipe ahead and try these for yourself at home.
Pineapple Upside Down Pancakes
Grandbaby Cakes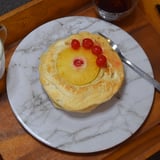 Ingredients
1 1/3 cups all-purpose flour
1 1/4 teaspoons baking powder
1/2 cup packed light-brown sugar, separated
2 large eggs
1 cup buttermilk or refrigerated coconut milk
4 tablespoons melted butter
1 teaspoon pure vanilla extract
1/4 teaspoon ground cinnamon
Extra butter for your griddle
20 ounces thin-sliced pineapple (or if fresh, use one medium-sized pineapple that has been peeled, cut, and cored into very very thin slices)
Optional: 8-10 maraschino cherries with stems removed
Directions
In a large bowl, whisk together flour, baking powder, and 1/4 cup of brown sugar until well mixed.
Next whisk in eggs, buttermilk (or coconut milk), melted butter, vanilla extract, and cinnamon until batter just comes together. Leave the lumps there. No need for a smooth batter.
Heat a griddle or nonstick skillet over medium heat and melt extra butter.
Once hot, add one pineapple ring to center of the griddle or skillet. Sprinkle the top of the pineapple with a little of the remaining brown sugar and turn over after browned a bit.
Optional: add a cherry to the center of the pineapple ring.
Pour about 1/4 cup of the batter over the pineapple, allowing it to go outside of the ring. Cook until bubbles form and the bottom is sturdier, golden brown, and crisp.
Carefully flip the entire pancake over, including the pineapple and cherry (use a large spatula since this process can be a bit more flimsy with the weight of the pineapple). Cook until golden brown and crisp on the other side.
Remove the pancake and place in a warm oven, pineapple side up (about 225 degrees), and repeat the process (starting with buttering the griddle) until all pancakes are done and you're ready to serve.
Information
Category

Breakfast/Brunch, Pancakes/Waffles

Yield

4 pancakes

Prep Time

5 minutes

Cook Time

10 minutes

Total Time

14 minutes, 59 seconds
Image Source: POPSUGAR Photography / Hedy Phillips