Slow-Cooker Pea Soup Recipe
Harry Potter Fans Know to Eat This Leaky Cauldron Pea Soup (Before It Eats Them)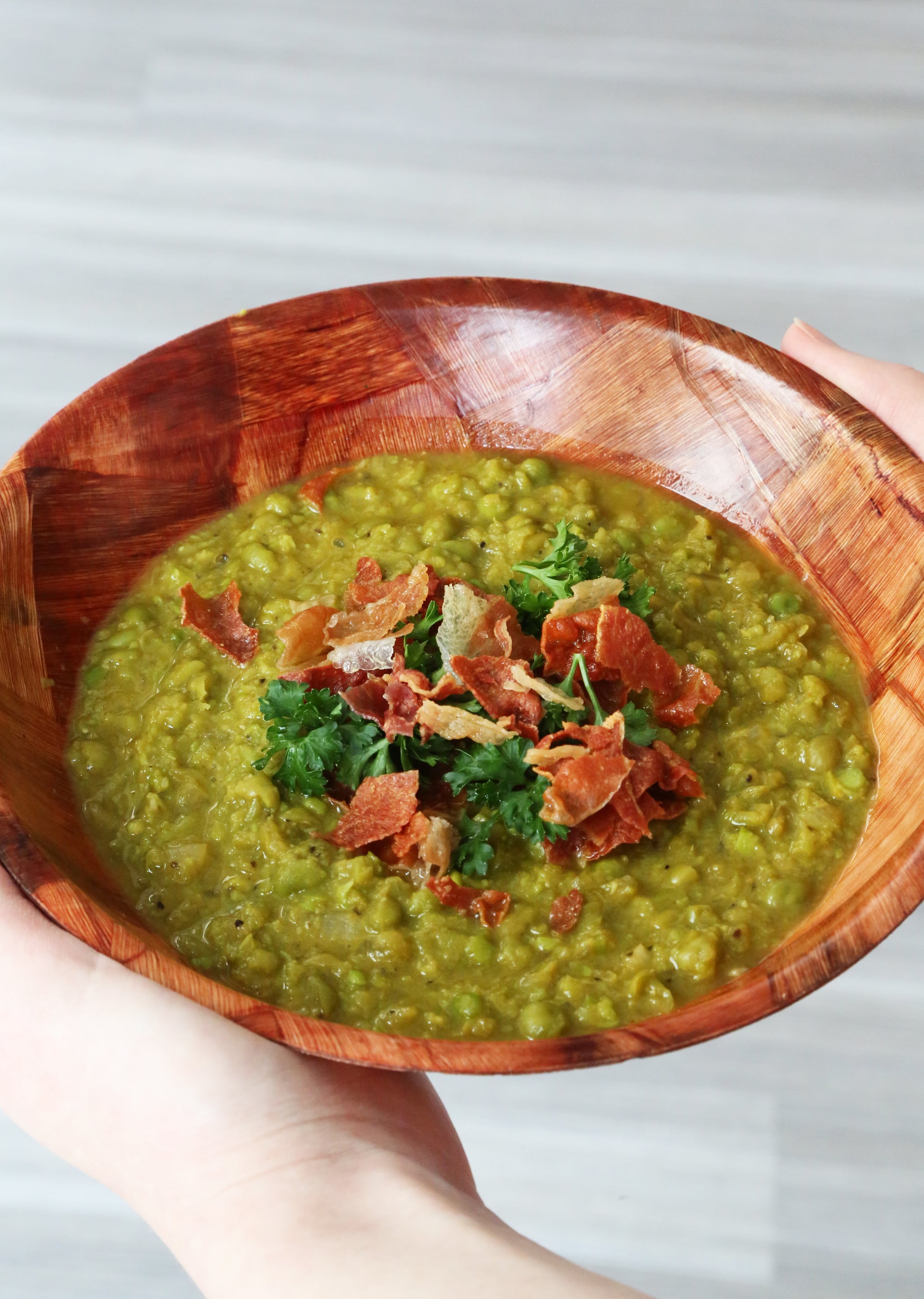 "If you have the pea soup, make sure you eat it before it eats you." Dre Head said that to Harry Potter on the Knight Bus in Harry Potter and the Prisoner of Azkaban as Harry approached the Leaky Cauldron. Harry was probably wise to decline the murky pea soup after Cornelius Fudge offered it to him at the pub, but I'm 100 percent sure he'd approve of this version. Spooky enough to serve for Halloween thanks to its monster-like green colour but comforting enough to serve on any Fall night, this hearty slow-cooker soup recipe will become one of your cold-weather favourites.
The soup is entirely vegan until you get to the garnish, which, if I'm being honest, is the best part by far. The crispy prosciutto chips add a textural contrast to the smooth soup, and their salty flavour really can't be beat, but you could substitute crunchy roasted chickpeas if you prefer. Ready for a pea soup that's definitely not your grandma's and that would turn Harry into a Leaky Cauldron regular? Accio, slow cooker!
Slow-Cooker Pea Soup With Crispy Prosciutto Chips
From Anna Monette Roberts, POPSUGAR Food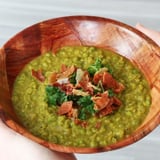 Ingredients
1 bag frozen peas
1 tablespoon olive oil
1/2 onion, chopped
1 garlic clove, minced
2 cups vegetable broth
Salt and pepper, to taste
Pinch cayenne pepper, or more to taste
1 (4-ounce) package prosciutto
Fresh parsley, for garnish
Directions
Place peas, olive oil, onion, garlic, and vegetable broth in a slow cooker, and stir to combine. Cook on high for two hours.
Using an immersion blender, blend until desired consistency is reached (you can make it really smooth or leave some pea chunks). If you don't have an immersion blender, transfer soup in batches to a blender and blend until smooth. Taste and adjust seasoning to your liking, adding more salt and pepper if necessary, and adding a pinch of cayenne pepper if you like it slightly spicy.
Meanwhile, place prosciutto on a paper-towel-lined plate in a single layer with a little space in between (2 to 3 pieces at a time) and cover with another paper towel. Microwave until crispy, 30 seconds at a time (this will take two or three times).
Divide soup into two bowls and top with crumbled prosciutto chips. Garnish with parsley. Serve warm.
Information
Category

Soup

Cuisine

North American

Yield

3 servings
Image Source: POPSUGAR Photography / Erin Cullum