Bruvi Coffee Maker Review
With This Advanced Coffee Maker, I Can Brew My Morning Espresso From Bed
As POPSUGAR editors, we independently select and write about stuff we love and think you'll like too. If you buy a product we have recommended, we may receive affiliate commission, which in turn supports our work.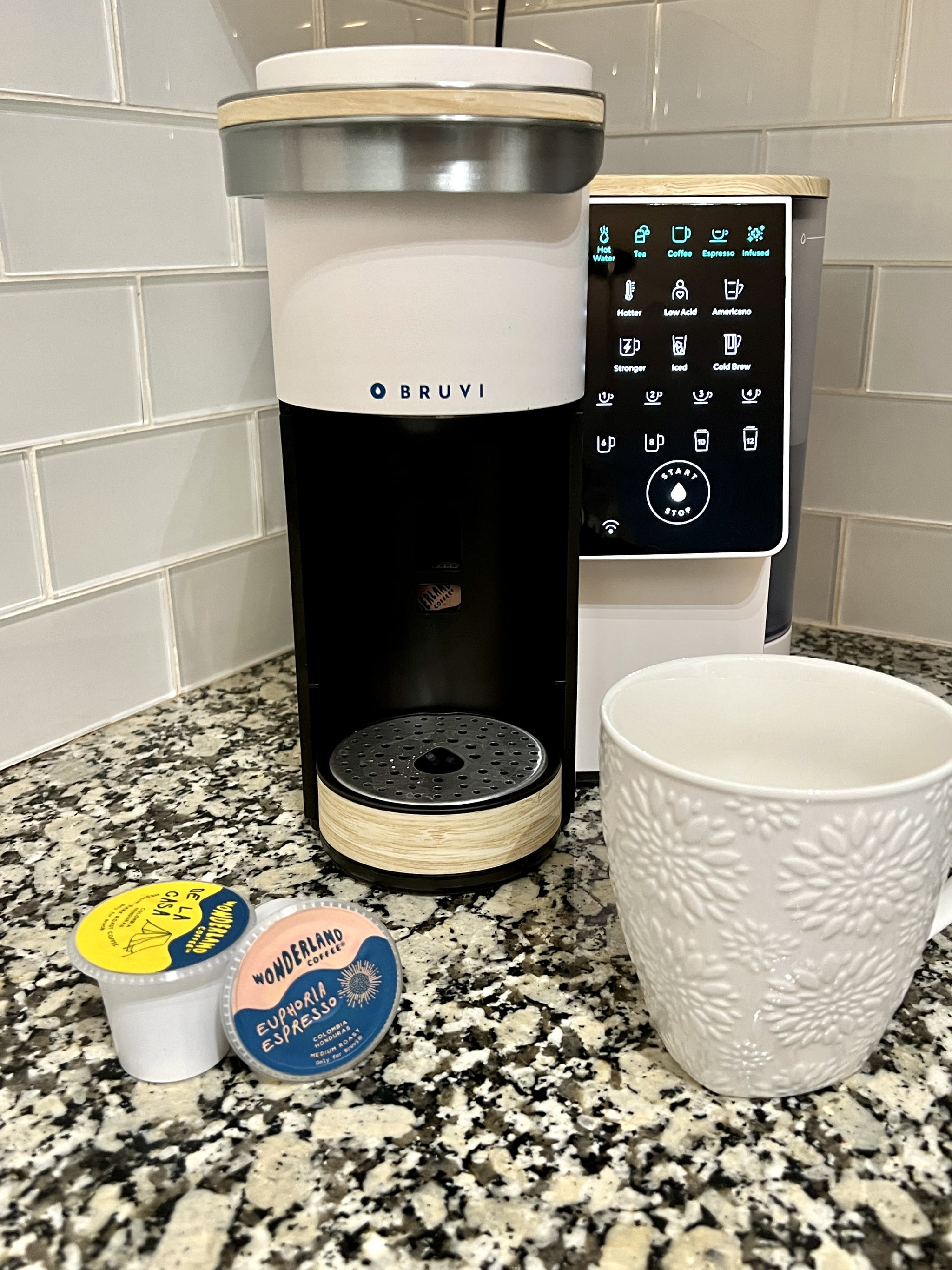 After years of obsessively downing cold brews and needlessly "treating myself" to a latte literally every time I left the house, my caffeine habits reached an embarrassing new level of addiction last month (or hit a new low, however you want to describe it) when I discovered that I'd spent nearly $90 on coffee over the course of only a few weeks. A quick scroll through my bank account showed endless transactions pending from Starbucks, Coffee Bean, and Dutch Bros., all revealing not only just how deep my coffee addiction actually goes, but also just how willing I've been to whittle my money away to support it. I realised immediately that I needed to change and rather than addressing the much larger issue of my day-to-day coffee consumption (I'll confront that one another day), I figured instead that it was high time I invested in a quality coffee maker for my home.
Since I live in a smaller apartment space, I knew I wanted something that had all-in-one capabilities which would allow me to brew up a hot coffee, espresso, or even an iced latte all from one single device. The machine needed to be high-tech and up-to-date, that way I wouldn't have to worry about needing to replace it within a year for something newer. And I was also holding out hope for a model that was stylish and sleek; preferably a cute coffee maker that would actually elevate my kitchen space rather than look like an eye sore in it. Much to my dismay, such a unicorn product actually does exist, and it comes in the form of the Bruvi Single Serve Coffee System ($248, originally $348) — which encompasses everything you could ever need in a traditional coffee maker (including the convenience of mobile app connectivity) in a chic and seriously adorable design.
The device has quickly become my favourite item in my kitchen, and ahead, I break down why I think it would be the perfect investment for any bonafide coffee-lover looking to curb their spending habits.
What I Like About This Bruvi Coffee Maker
The first word that comes to mind is convenience — and let me tell you, this Bruvi coffee maker has no shortage of convenient, user-friendly features. The bundle is delivered in full with the brewer and coffee pods, so you can essentially start brewing the moment it arrives to your doorstep (and after you run it through a quick cleansing process, with further instructions provided in the manual). Each Bruvi Bundle comes with a variety pack of B-Pods, including premium craft coffees and espressos that have been sustainably sourced from all around the world. Once you determine your brew flavour of choice, you can simply fill the machine's water tank and insert the B-Pod into the pod chamber. The device is designed to instantly recognise the type of beverage you're hoping to brew, and will pull up any relevant settings on the touchpad interface — including customization options like the cup size, temperature preferences, and even strength of the actual brew. From there, you can simply customise your cup of coffee via Bruvi's one-touch personalization options, close the handle, and click start. A full cup of high-quality coffee is poured out in under one minute (so decadent and rich, you'd think a professional barista actually made it) and with a level of convenience that's truly unmatched — at least in comparison to any of the other coffee makers I've used before.
Best of all, the coffee maker has smartphone connectivity capabilities, so you can even schedule your brew ahead of time — and if you're a decent planner, actually wake up to the smell (and taste!) of a fresh cup of coffee, with no wait time required.
What's Worth Noting About This Bruvi Coffee Maker?
My biggest qualm with this coffee maker is the fact that its B-Pods only work exclusively with the Bruvi coffee maker — and vice versa, the Bruvi can only brew coffee via the brand's B-Pods. This has been somewhat of an adjustment for me given that any of the previous coffee makers I've used were compatible with a wide range of coffee pods and grounds, most of which were never exclusive to a specific brand. Because Bruvi's B-Pods are sold exclusively through the brand's site and aren't yet available to shop at mainstream retailers, I find that I have to be more mindful of when I'm starting to run low on the pods so that I can order them — taking into account that it will likely be a few weeks before they're delivered. Bruvi certainly isn't alone in its practices — Nespresso's coffee machines are also designed so that they work exclusively with the brand's own brews and pods. This wouldn't deter me from buying a Bruvi coffee maker again or recommending it to a friend, but it is worth noting if you're someone who's as avid of a coffee drinker as me and goes through coffee pods fast.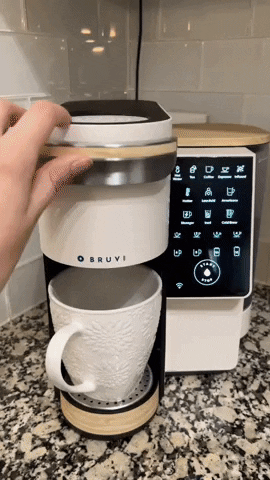 Who Is This Bruvi Coffee Maker Best For?
If you're someone who wants to take your coffee-drinking habits to the next level, you need this Bruvi in your life. The device is so thoughtfully made and truly every feature is designed with convenience in mind so that users can get to enjoying their coffee quicker — and with way less work required. If you find yourself short on time in the mornings, you can literally brew the coffee in bed thanks to the device's smartphone-compatible capabilities. The touchpad interface allows users to curate their own perfect brew within only a few taps, and even on the largest size setting, your cup of coffee is ready to go in less than a minute.
Additional Details
Bruvi's bestselling bundle system includes the brand's Bruvi BV-01 Coffee Brewer, 20 B-pods which come in a variety of flavours, a premium water filter, and reusable Japanese knot bag.
Unlike other companies, Bruvi is committed to creating more than just a quality cup of coffee — the brand also wants to ensure its practices are socially responsible and beneficial to the world. Bruvi does this by relying on a direct-to-consumer business model which emphasises the reduction of waste, using conscious packageing which is made from recycled materials, and producing B-pods in a certified food safe and low-carbon facility.
The brand offers a 60-day money-back guarantee, so if you don't love the machine or find that it's faulty for some reason, you'll still have the opportunity to return it for a full refund.
Where Is This Bruvi Coffee Maker Available to Shop?
The Bruvi Bundle is available to shop at Amazon and Bruvi ($348, originally $398).
Rating:
Image Source: POPSUGAR Photography / Kyley Warren