Chefman Electric Kettle Review With Photos
This Electric Kettle Is a Must-Have For Any Avid Tea Drinkers
As POPSUGAR editors, we independently select and write about stuff we love and think you'll like too. If you buy a product we have recommended, we may receive affiliate commission, which in turn supports our work.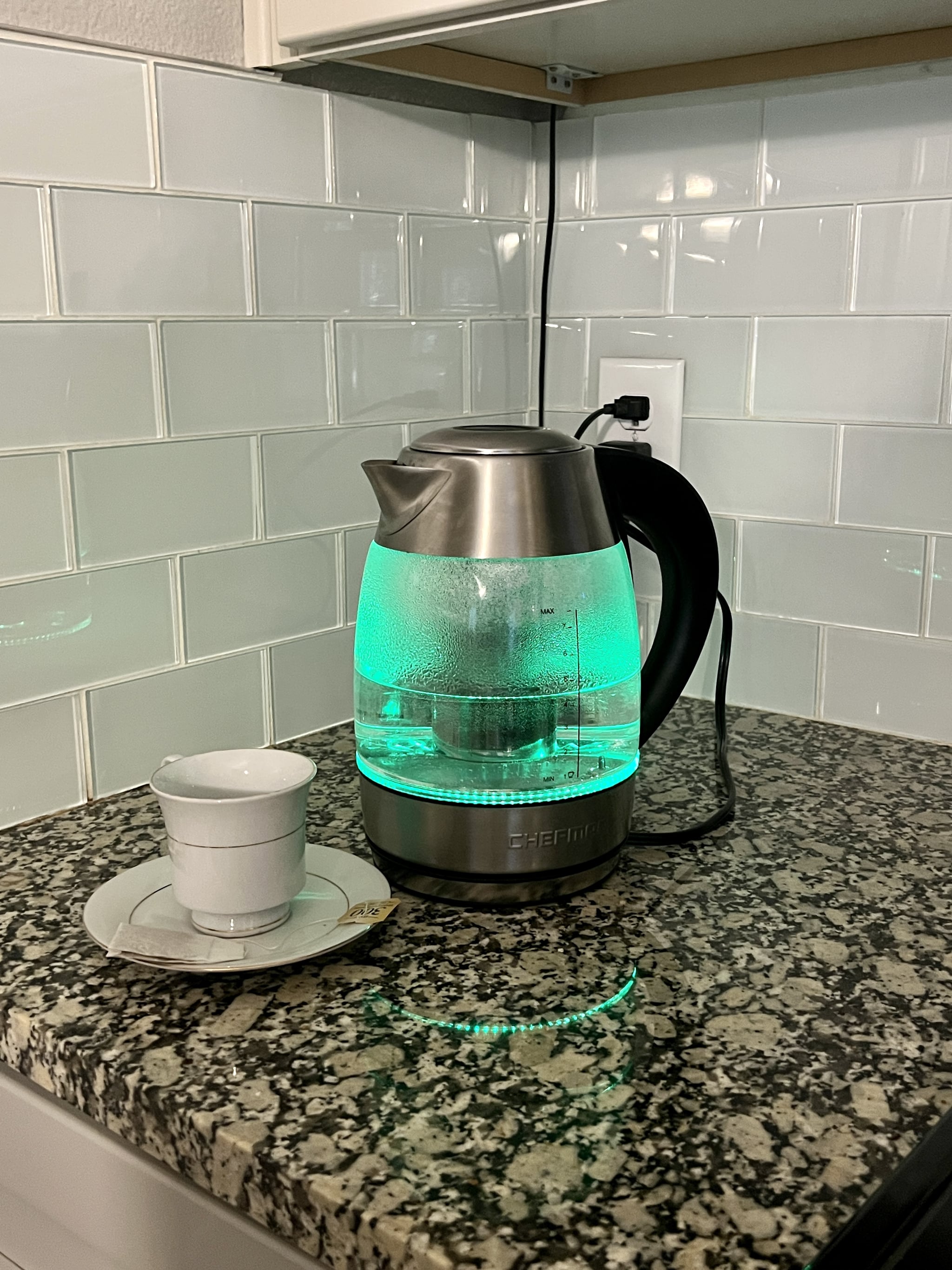 As much as I love coffee, I've found that my loyalty to the drink has shifted pretty drastically in recent years. Long gone are the days of needing to inhale two cups of coffee by noon — now I'm far more concerned with what my daily tea-drinking regimen will look like. And I feel like I've settled on a pretty good system: I like to enjoy a pick-me-up cup of tea in the mid-afternoon and another chamomile variation before bed to help me sleep. Believe me when I tell you that I never thought that I'd be a tea girlie instead of a crazed coffee fanatic (aka my normal state through much of high school and college) — but hey, growing up is full of surprises.
While I've long relied on a stovetop kettle or a coffee maker for hot water, I recently conceded to trying an electric kettle after using one for the first time at an Airbnb and completely falling in love with it. A family member gifted me this Chefman Electric Kettle ($26, originally $40), and it's already proven to be the most essential appliance in my entire kitchen — seriously. Ahead, I break down what exactly is so great about this electric glass kettle, including the product's design, heating details, and my best tips for keeping it clean (and free of limescale).
What I Like About This Electric Kettle
More than anything else, I appreciate that this electric kettle takes all the hassle out of having to boil water — whether it be for a cup of tea, hot cocoa, or even soup. I simply plug the product's swivel base into a power outlet, place the kettle (filled with water to the maximum line) on top of the base, and the appliance instantly turns on. The tool features a variety of settings and buttons on the kettle's handle, which allow you to adjust the temperature at which you'd like to heat the water, as well as the duration of time you'd like the water to stay warm after it's finished boiling. Since I'm typically just boiling water for tea, I like to keep my temperature fairly moderate — somewhere between 160 and 170 degrees is a good range. I then press the power button and let the kettle work its magic. The product features LED indicator lights, which help showcase the different stages of the water-boiling process — blue LED lights mean the water is boiling, while green LED lights mean that it's finished boiling and ready to consume.
Within less than three minutes, I have a pitcher-sized amount of hot water that I can seamlessly pour into a tea cup or leave sitting on the product's swivel base to ensure it stays warm. The efficiency and practicality of this kettle is what really makes it a winner in my book — according to the Chefman brand, the appliance is actually said to boil water 85 percent more efficiently than other traditional mediums, and that's certainly proven to be the case in my situation. Beyond its functional, easy-to-use design, I also appreciate that the tool is incredibly stylish and modern-looking, so I don't mind having it sit out on my counter.
What's Worth Noting
While not impossible to clean, this electric kettle does require a little extra work in order to ensure the inside of it is completely cleaned out after each use. Because the kettle's lid only opens up about a quarter of the way, you're limited with how much you can actually squeeze your hand into the product in order to scrub it or wash any lingering water out. I've noticed that water bubbles will start to pool along the sides if I'm not consistent with washing every bit of water out of it — and some shoppers have even reported issues with mold growing in the corners because they haven't been able to clean the appliance as effectively as they might need to.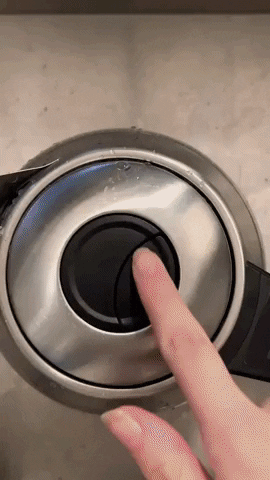 My solution to ensuring the kettle gets thoroughly cleaned is that I cut up a lemon, drop the wedges into the kettle along with a decent amount of water, turn the kettle on and boil the water, and then allow the acidity from the lemon to do its job on the inside. Lemon juice is a great tool for combatting limescale, and this method has proven to be effective for me so far in ensuring that every corner of my kettle is cleaned — even if my hand can't reach it directly.
Who Is This Electric Kettle Best For?
If you're someone who values convenience in your home, then this electric kettle is an absolute essential. While I love the classic nature of a stovetop kettle, even I can admit that it's so much more work to use in comparison to an electric model like this version from Chefman. With this kitchen tool, you can have a full pitcher of hot water boiled within less than a minute that's ready to pour and designed to stay warm for long periods of time — making it all the more convenient for people who like to enjoy multiple cups of tea at a time (it's me, hi) or are hosting guests for a more formal get together and want to ensure the water is kept warm for a few hours. The cleaning process is also pretty manageable, and the product itself doesn't take up too much storage space — even in my compact apartment.
Additional Details
This machine has a rapid boil technology that allows you to boil water faster than you could via a stovetop or microwave.
The kettle also comes with a removable stainless steel tea infuser which can be used to brew loose-leaf or bagged teas directly in the product.
Unlike other electric kettles, this model has an auto-shutoff and boil-dry protection setting, which allows you to leave it unmonitored even when the water is boiling.
It's made from a tempered, stain-resistant, and BPA-free borosilicate glass that's designed to withstand high temperatures.
Where Can I Buy This Electric Glass Kettle?
This Chefman kettle is available to shop at Walmart, Amazon ($35), and Target ($40, originally $45).
Rating:
Image Source: POPSUGAR Photography / Kyley Warren