Nutribullet Pro 900 Blender Review With Photos
This Nutribullet Blender Is So Chic, I Don't Mind Leaving It Out on My Kitchen Counter
As POPSUGAR editors, we independently select and write about stuff we love and think you'll like too. If you buy a product we have recommended, we may receive affiliate commission, which in turn supports our work.
I know it shouldn't matter, but I struggle with having unstylish (and oftentimes downright ugly) kitchen products cluttering my counter space. Whether it's coffee makers, toasters, you name it — if there's an option for me to invest in a sleeker or more aesthetically pleasing version of a product, I'll gladly pay the extra money to ensure I'm buying something that's as practical as it is pretty.
Naturally, when Nutribullet first announced its new muted minerals collection, my interest was immediately piqued. The web-exclusive line offers a major makeover to some of the brand's most coveted blenders — namely its Nutribullet Pro 900 Blender ($110) series — by introducing the product in a slew of new colorways like an earthy jade hue, a metallic blue, a stone brown colouring, and a peachy matte clay variation that's bound to brighten up any kitchen.
Unlike other blenders, this model has proven to be a welcomed addition to my kitchen countertop, and ahead, I break down everything to know about Nutribullet's new muted minerals collection — from the product availability and design to how the model actually works in comparison to some of the other at-home blenders I've tried, and more.
What I Like About the Nutribullet Pro 900 Blender
From a practicality standpoint, I love how functional the blender is and the fact that I was able to start using it from the moment the product was delivered. The model is incredibly compact and only comes with a few extra attachments, which makes it easy to assemble. For my first blend, I decided to test my go-to smoothie recipe, which includes ingredients like frozen pineapple, banana, and kale, plus chia seeds, eight ounces of water, and a couple small ice cubes. To start, I simply plugged the motor base portion of the blender into a power outlet, divided up my ingredients and poured them into Nutribullet's included cup — which is equipped with an extractor blade, for more seamless blending. I then capped off the cup with a lid (also included with purchase), flipped it over and ensured the cup was securely pushed into the blender's base, and then pressed down on the top of the cup to ignite the motor and get the blending process started. Within not even 15 seconds, my smoothie was evenly blended all throughout, with thicker ingredients like my frozen pineapple chunks completely broken down into a smooth liquid form. I was blown away — my usual smoothie-making process takes at least 30 to 40 seconds, and this Nutribullet model cut that time in half (even more).
I also can't get over just how cute this blender is. I have pretty decent storage space in my kitchen (decent for an apartment, that is), but because I already have so many different products and cooking tools, I'm always looking for more stylish appliances that are elevated enough to leave out on my kitchen counter, that way I don't have to worry about packing them up or concealing them when they're not in use. Since I received this blender, it has been sitting out on my counter 24/7 — I've yet to put it away or even bother to find storage space for it because the product is just that adorable, and Nutribullet's entire mineral collection is made up of versatile, earthy tones that are designed to fit in a wide range of kitchens — regardless of your aesthetic or design preferences.
What's Worth Noting About the Nutribullet Pro 900 Blender
This muted mineral collection is sold exclusively on Nutribullet's website, meaning that you can't buy the blender (at least in these unique colorways) from other retailers for the time being. Per reviews on Nutribullet's site, there's also some speculation as to whether or not these shades are limited-edition, or if they'll eventually be introduced as permanent additions to the brand. All of this to say, if you're interested in buying the blender in one of these cool pastel tones, I'd recommend doing it sooner rather than later as the collection is bound to sell out quickly. There are also options to buy the blender in one of its staple colorways from retailers like Amazon ($100) or Target ($100).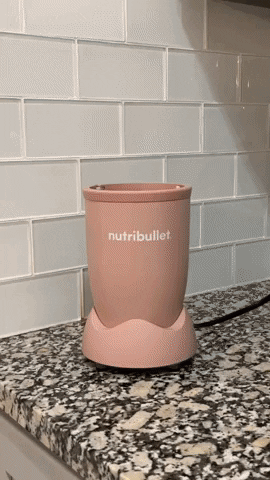 Who Is the Nutribullet Pro 900 Blender Best For?
If you (like me) are someone who values having kitchen appliances that prioritise design without sacrificing on functionality, this blender is the perfect investment for you. The product is incredibly easy to use and can whip up juices, smoothies, and more within a matter of minutes — so you can prep a nourishing breakfast even as you're running out the door. Plus, because of how stylish and elevated the appliance looks, you'll have no problem leaving the blender out on your kitchen counter 24/7. I personally have it tucked away in the corner of my kitchen where it conveniently fits on the counter (thanks to the model's compact design) and is also close enough to a power outlet that I can easily plug it in, blend my ingredients, and be on my merry way. I'd urge anyone with a small living space or apartment to invest in this easy-to-use tool, and also think it could make a great gift for college students who are living in a snug dorm space.
Additional Details
Nutribullet's new muted minerals collection is a web-exclusive line that features the staple Pro 900 series blender in four new colorways, including: sand (off-white), clay (pink), slate (blue), and jade (green).
The 900-watts blender packs a lot of power into its compact design, with sharp blades and a powerful motor that can blend even the thickest foods (think fruits, veggies, and more) with total ease.
Beyond simply purchasing the Nutribullet blender, shoppers can also add additional accessories to their purchase directly through Nutribullet's site, including items like the a Nutribullet Pro Extractor Cross Blade ($20), a Nutribullet Colossal Cup ($15), and more.
Where to Shop the Nutribullet Pro 900 Blender
The brand's new muted minerals collection is available to shop exclusively at Nutribullet.
Rating:
Image Source: POPSUGAR Photography / Kyley Warren