Our Place Always Pan 2.0 Review
Our Place's Always Pan Just Got an Upgrade, and We Tested Out the 2.0 Version
As POPSUGAR editors, we independently select and write about stuff we love and think you'll like too. If you buy a product we have recommended, we may receive affiliate commission, which in turn supports our work.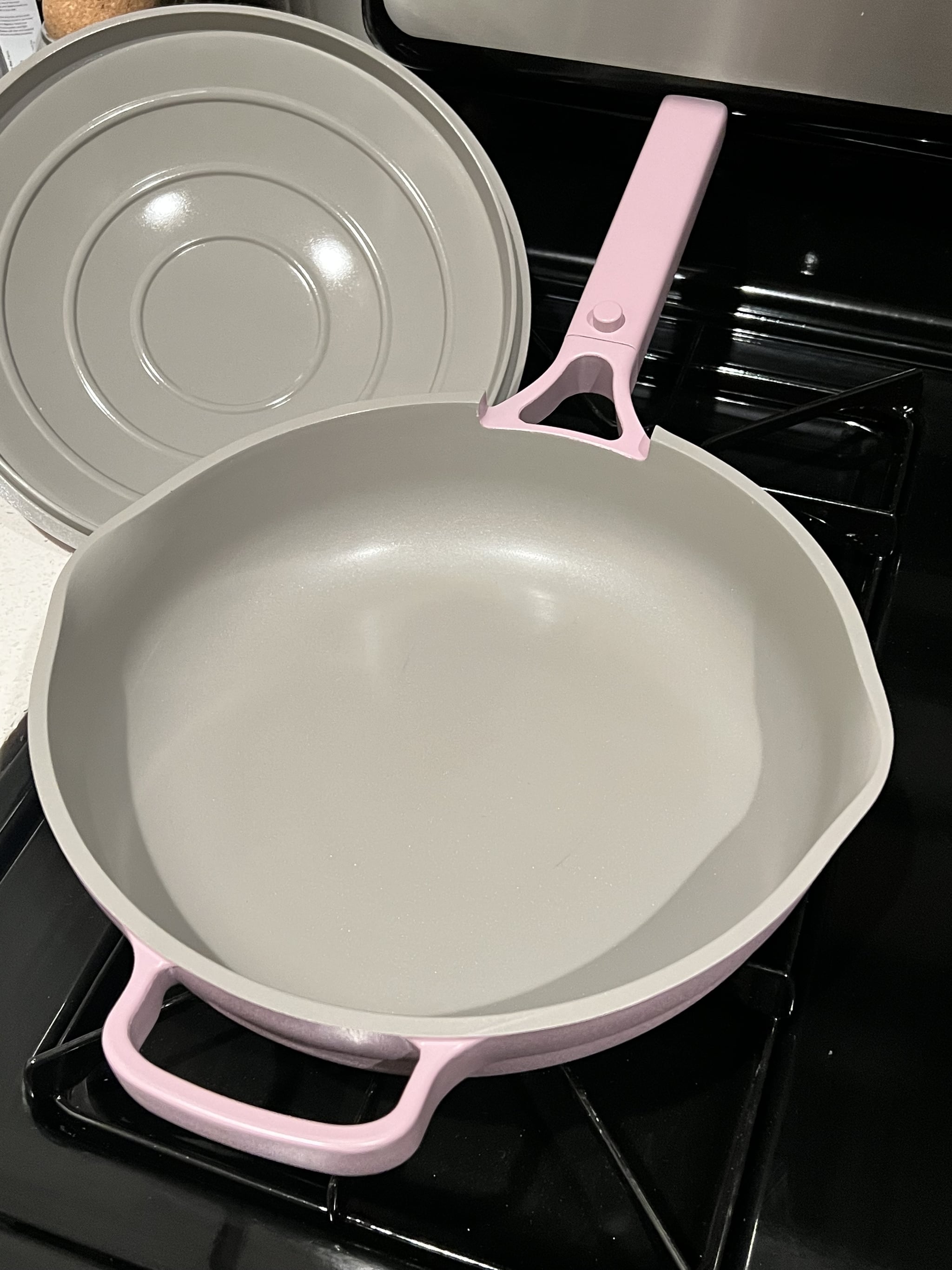 Our Place's cookware and kitchen essentials are favourites among POPSUGAR editors. Selena Gomez is also a fan of the cookware brand — she even created two custom colours for her collection, which you can spot on her HBO Max cooking show, "Selena + Chef." From the original Always Pan and Perfect Pot to the editor-backed searing Cast Iron Always Pan, the brand crafts some of the best cookware out there. Our Place changed the game when it released its original Always Pan, streamlining our kitchen cabinets with a multifunctional and stylish pan. The brand recently decided to give its star product a makeover, and we're excited to introduce you to the Always Pan 2.0 ($150). We love the original Always Pan, so after it was revamped and upgraded, we had to put it to the test.
The Difference Between the Original Always Pan and the Always Pan 2.0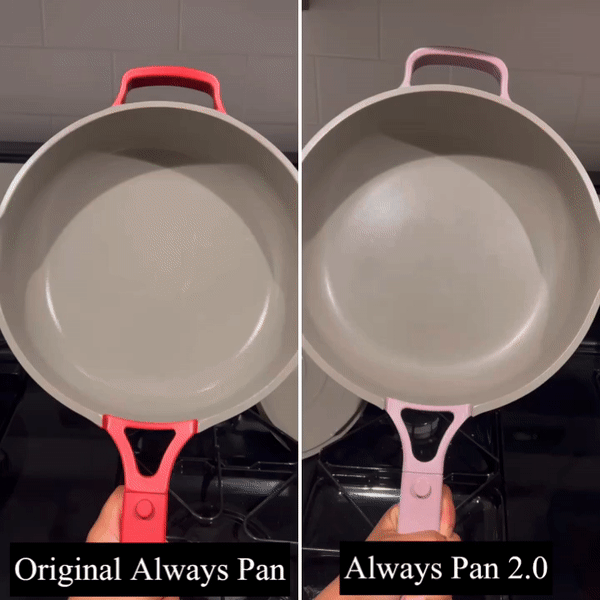 While its sleek design and calming colorways remain the same as its predecessor's, the Always Pan 2.0 features a few major upgrades on the technical level. For starters, it uses an upgraded ceramic coating called Thermakind, the brand's new toxin-free nonstick coating, which is supposed to be 50 percent longer lasting than that of the original Always Pan. The original pan has a glossy look and feels more slippery, whereas the 2.0 version has a semi-matte shimmery finish with a smooth velvety feel. The pan is still aluminium-based, but it's now made from 100 percent-certified postconsumer waste.
The Always Pan 2.0 is also oven safe up to 450 degrees Fahrenheit, so you can do even more with this nifty cookware. Instead of being an eight–in-one pan, it's now a 10-in-one pan, allowing you to braise, sear, steam, strain, sauté, fry, boil, serve, and now bake and broil!
What I Like About the Our Place Always Pan 2.0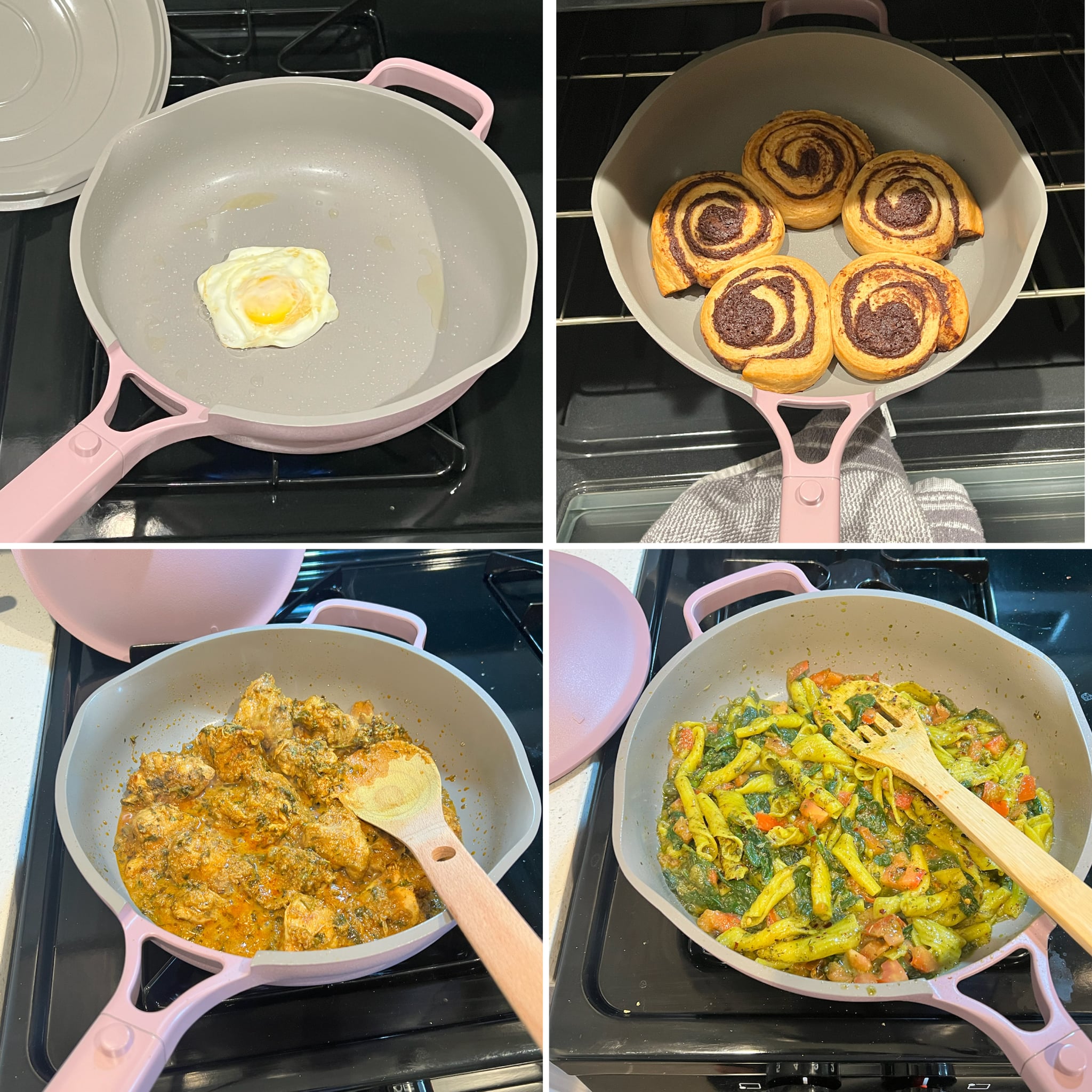 The versatility of the Our Place Always Pan 2.0 is unmatched; you can cook breakfast, lunch, dinner, and dessert all in one place. I've been experimenting with this pan for a little while, and I've made everything, including fried eggs, chicken curry, pasta, and baked cinnamon rolls. I use this pan so much that it's perpetually sitting on my drying rack. I love that I can use it for most of my cooking needs, especially because I live in an apartment with limited kitchen storage space. I don't need more than two or three items of cookware, especially because I have the convenient Mini Pot and Pan Duo for my other cooking needs.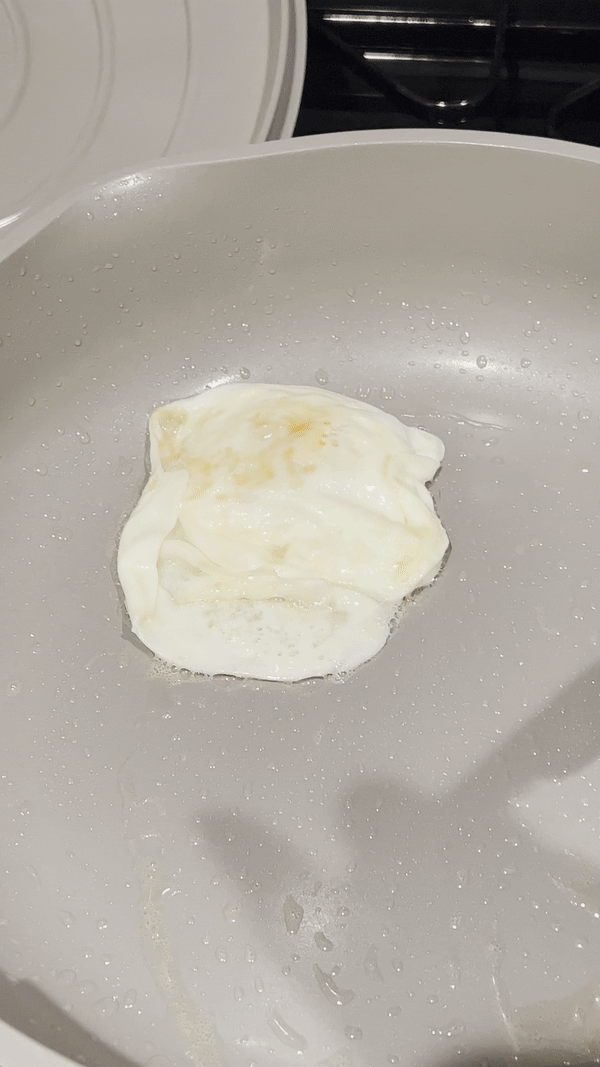 Just like its predecessor, the Always Pan 2.0 has a nonstick surface that truly allows your food to slip and slide, so much so that it took me a little while to flip an egg. I really don't need to use as much oil or butter to grease up the pan unless I want that flavour. Cleaning up is a breeze as well, seeing as barely anything gets stuck onto its smooth surface (even while baking!). When I baked cinnamon rolls in the Always Pan 2.0, I was completely shocked at how none of the rolls got stuck to the bottom; each one came off easily, and the pan looked like it was barely used. The nonstick surface of the pan makes it easier than ever to preserve itself, seeing as I don't have to scrub much. I can just use the soft side of my sponge as well as dish soap to disinfect and wipe off any remaining food remnants, rinse, and let it dry.
What's Worth Noting About the Our Place Always Pan 2.0
Similar to the original Always Pan, you need to keep proper care of the pan to ensure the nonstick coating is long lasting. While you're cooking, it's best to use wood or silicone-based utensils and to avoid metal spatulas and spoons as much as you can; metal can scratch off the nonstick surface. It's also best to handwash your pan rather than putting it in the dishwasher. Although this step is a minor inconvenience, handwashing allows you to gently clean the pan to preserve the nonstick coating. With regular use and daily wear and tear, the nonstick coating of most cookware tends to wear off, and the Our Place Always Pan is no different. However, with proper care and due diligence, you can enjoy the benefits of this nontoxic, nonstick coating for a longer period of time.
The brand recommends using high-smoke-point oils and to avoid cooking sprays — I mostly use avocado oil or ghee (clarified butter). The 2.0 pan heats up fast, pretty much at the same rate as the original pan, so it's best to keep the stove on low to medium heat and work quickly. On that note, the handles of the pan can get hot as well, especially if you have been cooking for a while or are baking something. I highly suggest having oven mitts or silicone pot holders on hand whenever you use this pan, so you can be safe and not burn yourself.
Who's the Our Place Always Pan 2.0 Best For?
The Always Pan 2.0 is made for anyone and everyone, whether you're a beginner in the kitchen or a total pro. One of the biggest benefits of the Always Pan is its versatility: the ability to bake, in particular, makes it super convenient to whip up a wide variety of dishes and desserts with just one nifty pan. If you live in an apartment with minimal kitchen storage, something that can do it all is a space-saving dream.
Is the Our Place Always Pan 2.0 Worth the Splurge?
If you enjoy cooking, investing in quality cookware is always worth the splurge. From the convenience of versatility to its quality and care in manufacturing, Our Place has proved time and time again that it doesn't cut corners. Plus, the brand is so stylish; who wouldn't want to romanticize meal prepping with such cute colorways!? I've been using Our Place's cookware for quite some time now, and after seeing how much I gravitate toward this pan over other options, I can guarantee it's worth every penny. As long as you use it and care for it, you'll be able to reap the benefits of this pan during all your cooking adventures.
Additional Details
The Always Pan 2.0 is available in colours Spice (muted orange), Steam (cream), Char (charcoal grey), Sage (muted green), Lavender (pastel purple), and Blue Salt (muted blue).
The multifunctional cookware comes with a modular steam-release lid, a nesting beechwood spatula, and a steamer basket and colander.
Dimensions: 20 inches long with handles, 10.5 inches in diameter, 2.8 inches deep, 5.7 inches tall with lid.
It has a 2.6-quart capacity.
Where Is the Our Place Always Pan 2.0 Available?
Our Place's new Always Pan 2.0 is available on the brand's site.
Rating:

Image Source: POPSUGAR Photography / Anvita Reddy