Saatva Graphite Memory Foam Mattress Topper Review | Photos
This Cooling Mattress Topper Is a Game Changer For Side Sleepers
As POPSUGAR editors, we independently select and write about stuff we love and think you'll like too. If you buy a product we have recommended, we may receive affiliate commission, which in turn supports our work.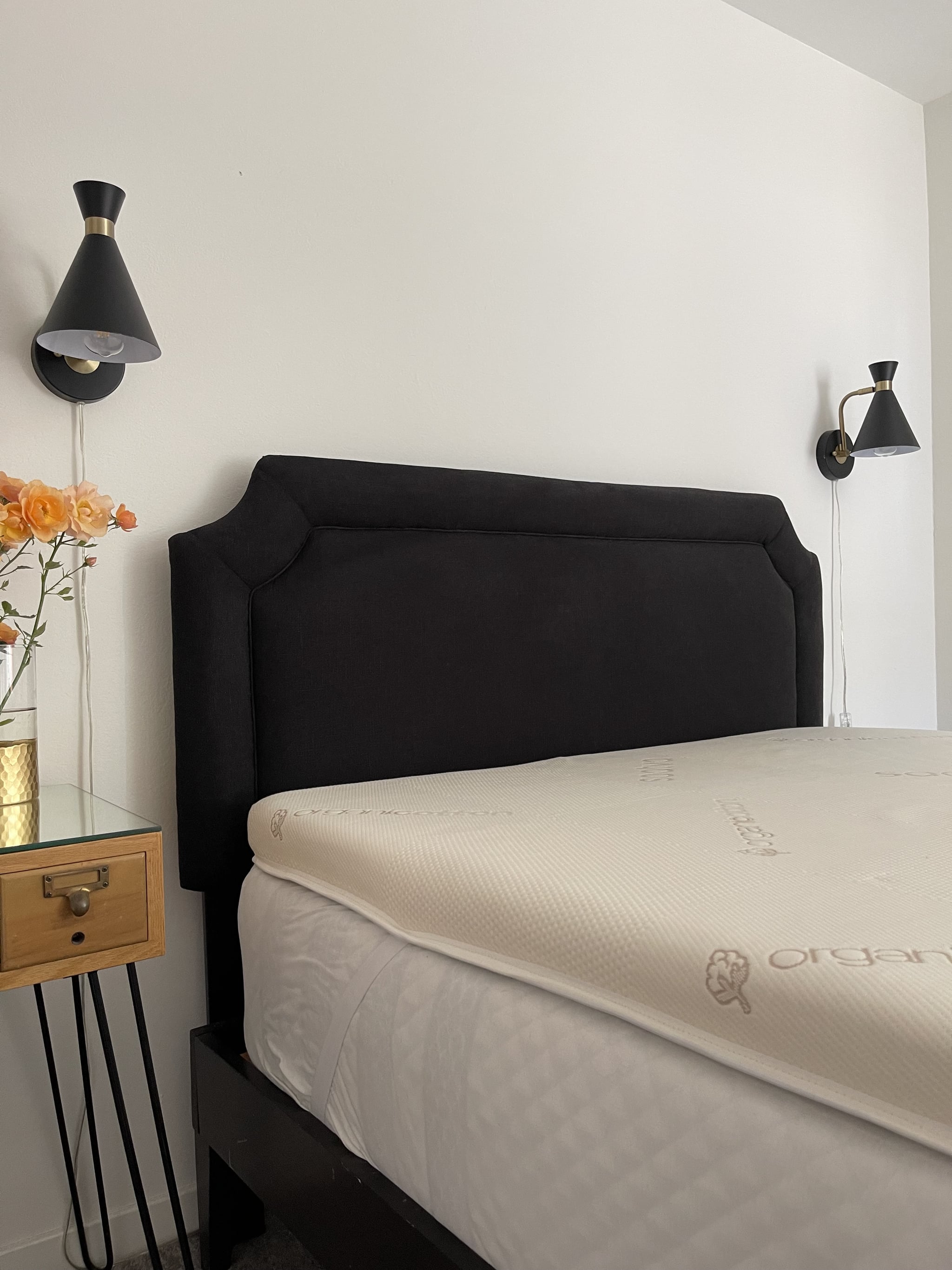 When I was pregnant, our old mattress's sagging edges and lack of support felt unbearable. My husband and I opted for a new medium-firm mattress, which felt amazing during my pregnancy, when sleeping on my back was the most comfortable sleep position. After I gave birth and returned to sleeping on my side, the once-comfortable mattress felt much too stiff. After waking up too many times with hip and shoulder pain, I knew I needed a more cushioned sleep surface with a sink-in feel. I decided to try a mattress topper to avoid having to replace our new mattress and decided to test Saatva's Graphite Memory Foam Topper ($445) in a queen size.
What I Love About Saatva's Graphite Memory Foam Mattress Topper
I was hopeful that adding the mattress topper would make my firm mattress feel bearable, but I wasn't expecting it to feel like an entirely different mattress. It has a body-hugging feel that cradles my hips and shoulders to relieve the pressure I felt when I slept without it. I don't wake up with hip or shoulder pain anymore and don't have to flip from side to side throughout the night to avoid stiffness — a major win!
Aside from pressure relief, the memory foam also helps a ton with motion transfer. If my husband is having a restless night and tossing and turning, I don't wake up as easily as I used to. This also comes in handy when our toddler sneaks into our bed and we let him fall asleep before carrying him back to his room. We no longer have to lay frozen until we hear his light snoring to ensure he falls asleep quickly.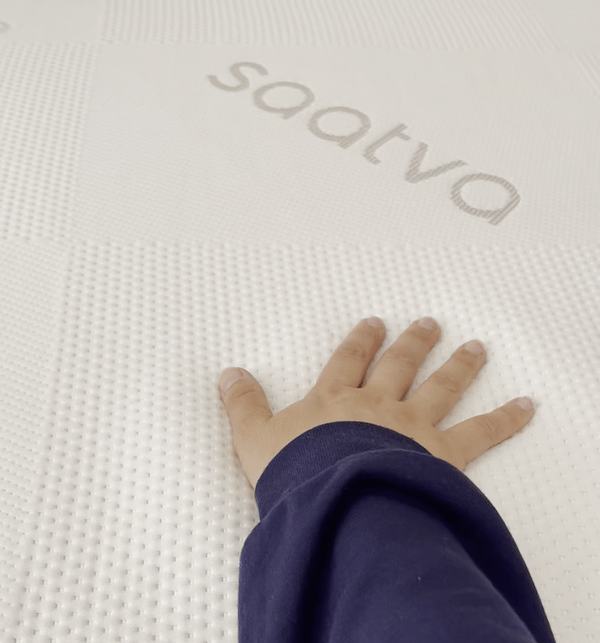 What's Worth Noting About Saatva's Graphite Memory Foam Mattress Topper
Traditional memory foam can be a nightmare for hot sleepers as it tends to trap heat and not be as breathable as other materials. To combat this, the memory foam in this mattress is infused with cooling graphite which helps to draw heat away from your body. I can definitely tell the difference between this memory foam and cheaper, less advanced memory foam that doesn't have built-in cooling technology. I've owned memory-foam pillows that would cause me to wake up with sweaty hair glued to my neck and face, especially during the summer. That said, it's still a warmer sleeping experience than it is without the mattress topper. I'm most comfortable wearing a short-sleeve-and-shorts pajama set, even on chillier evenings, and have cooling bamboo sheets to help balance everything out.
Who Is Saatva's Graphite Memory Foam Mattress Topper Best For?
This mattress topper is excellent for anyone who is breaking in a new mattress, wants to soften a mattress that is too firm, prolong the life of an older mattress, or for side sleepers who suffer from hip and shoulder pain. If you're not a hot sleeper, the addition of the cooling technology will keep you feeling cosy but comfortable.
Additional Details About Saatva's Graphite Memory Foam Mattress Topper
The mattress topper is three inches thick.
It has four anchor bands to secure it to your mattress so that it doesn't slide or shift.
The cover is made with naturally breathable and sweat-wicking organic cotton.
It's made from eco-friendly CertiPUR-US® certified high-density foam and has low VOCs, so there's less off-gassing.
It includes a 180-night sleep trial, one year limited warranty and free shipping.
Rating: