Target's Huge Halloween Spider Decorative Prop | Review
This $10 Spider Prop Is The Star of My Halloween Decor Every Year
As POPSUGAR editors, we independently select and write about stuff we love and think you'll like too. If you buy a product we have recommended, we may receive affiliate commission, which in turn supports our work.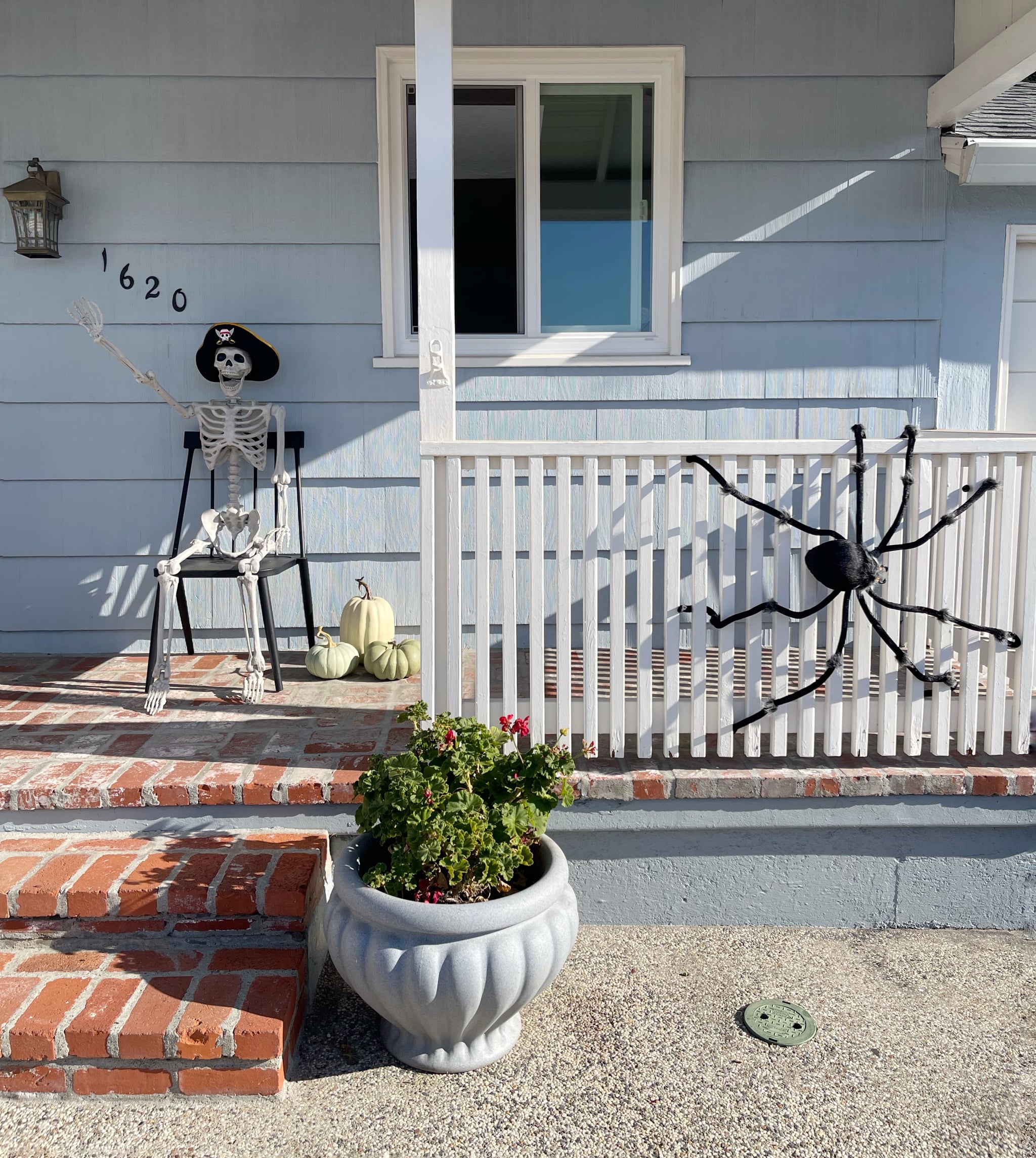 From childhood to young adulthood, prepping the perfect Halloween costume was something I looked forward to every fall. These days, I throw on a pair of black cat ears, let my kids pick their own costumes and channel my creative energy into transforming our home with spooky Halloween decorations. My favourite place to hit up for tasteful and affordable Halloween decor is Target, and my crowning find is this Plush Halloween Spider Decorative Prop ($10) from the brand's Hyde & Eek! Boutique collection. Whether you're throwing a Halloween party or just want to set a festive mood at home, you won't regret getting one (or two) of these while they're in stock.
What I Love About Target's Plush Halloween Spider Decorative Prop
This spider is huge, so even having just one of them in a room sets a spooky tone. It can be used indoors or outdoors and the legs are bendable, so you don't need nails, fishing line, or anything really, to hang it up. I purchased two spiders and wrapped the legs around our porch banister to decorate the front of our house and around a curtain rod to decorate the bedroom my sons share. Both spiders stayed put and were the focal point of each space — I used pumpkins and only one other decorative element to complete each look. For the front porch, I used this Posable Skeleton ($40) and a few faux pumpkins, and for my sons' bedroom, I added some mini pumpkins and vinyl bat decals and was thrilled with the way both spaces turned out. It's hard to believe that something so large and impactful costs just $10.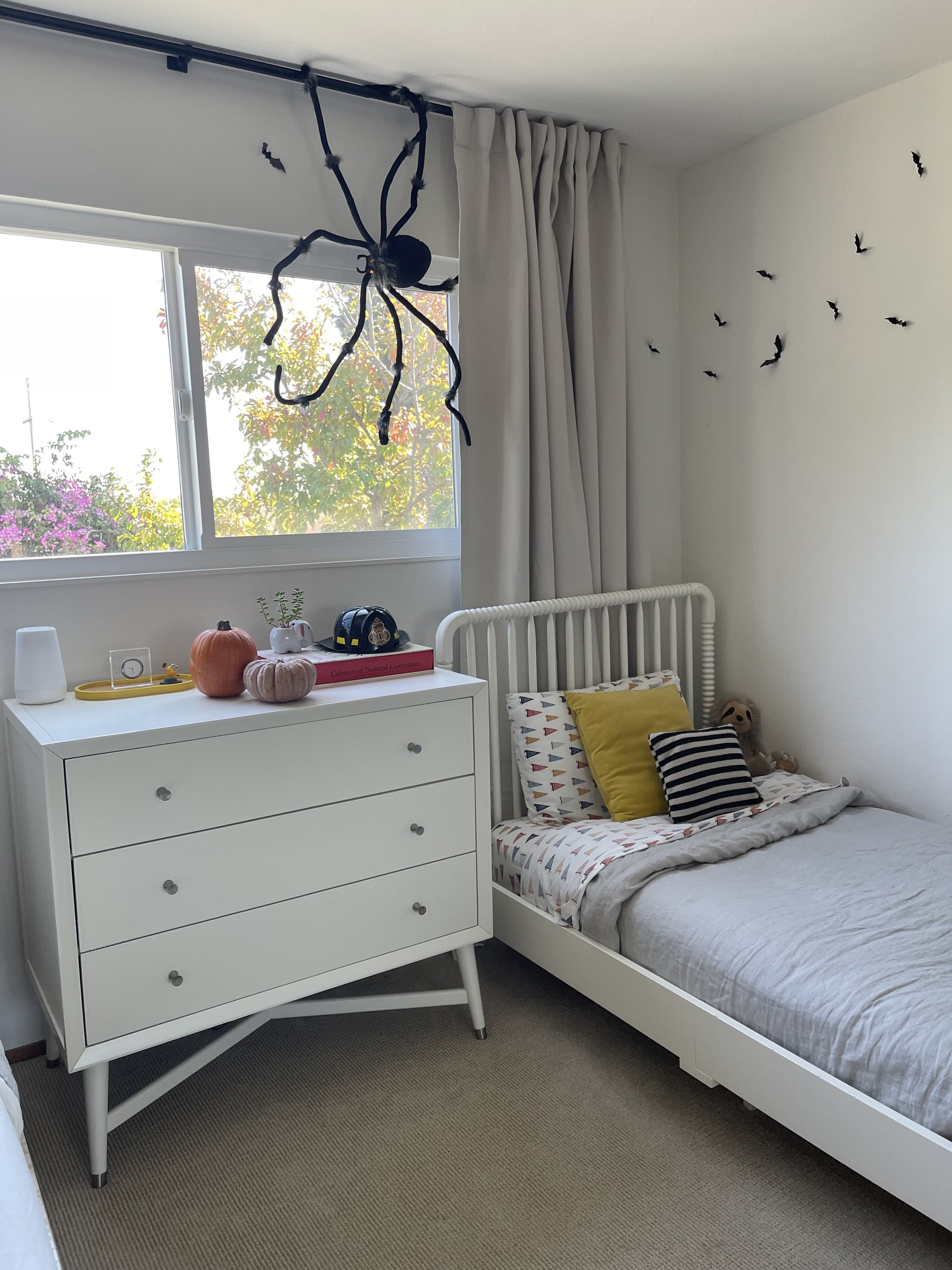 What's Worth Noting About Target's Plush Halloween Spider Decorative Prop
Last year, this spider sold out. When neighbours, family and friends asked where they could get one, I recommended similar versions but they were either half the size or multi-coloured instead all-black, which I prefer. While nothing glows in the dark, the spider does have sparkles scattered around its legs and body and the orange eyes reflect light, so they give a subtle illusion that they're glowing without needing to bother with batteries or an electrical outlet.
Who Is Target's Plush Halloween Spider Decorative Prop Best For?
This spider prop is perfect for someone who wants to create a dramatic moment without having to buy a ton of Halloween decorations or spend a lot of money on a single large item. It's also a great choice for someone who doesn't have the room to store large Halloween decorations since the bendable legs mean you can fold and roll them up under the spider's abdomen for easy storage. If you are intimidated by the idea of having to hang something with tools, you'll also appreciate how the bendable spider legs can easily be secured just by wrapping them around something.
Additional Details About Target's Plush Halloween Spider Decorative Prop
Dimensions: 3.9 Inches (height) x 50 Inches (width) x 8.6 Inches (diameter).
Materials: polyester.
Batteries: no batteries used.
Rating: