CJ Hendry Art Exhibition in East London Church April 2020
Cj Hendry Is Bringing a Gorgeous Hyper-Realist Exhibition to a Dilapidated East London Church
Cj Hendry is a New York-based artist from Australia, and in short, her work is incredible. For years she's shared her photo-realistic drawings with her hundreds of thousands of Instagram followers, and now she's bringing her latest exhibition, Epilogue, to London.
Epilogue is Hendry's seventh solo exhibition — her first in London — and showcases her latest series of work, which includes 50 multi-chromatic drawings of flower petals. The fact that each piece takes roughly 80 hours to produce is a hint to just how intricate her work is.
If you've seen one of Hendry's past exhibitions, then you'll already know that Epilogue won't just be a series of art displayed on a stark white wall. She's known for adding an interactive element to her shows, and this one will be no different. Most recently, in early 2019, Hendry installed a giant, all-white bouncy castle to accompany her collection of drawings, which were all inspired by the Rorschach inkblot tests, to mimic the feel of a sterile asylum.
With Epilogue, the interactivity will have a more whimsical feel. Along with the natural beauty of the church itself, 10 tonnes of petal-like recyclable confetti will drop from the ceiling to gradually cover the grounds as you move around the space.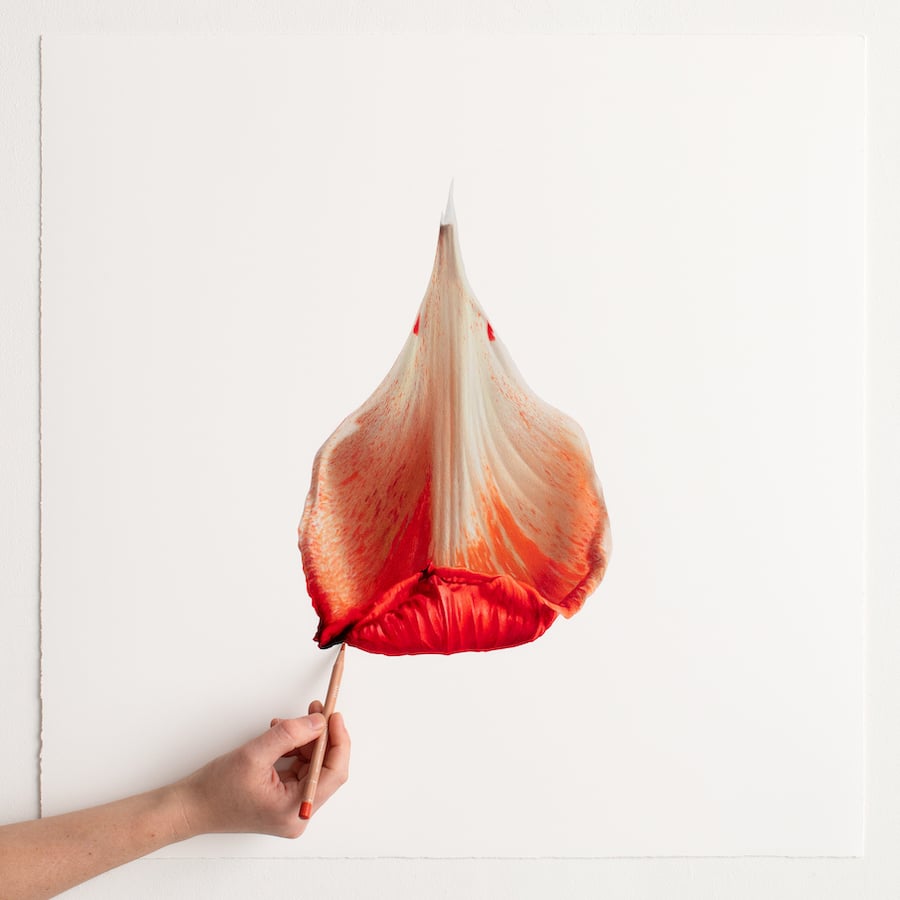 The exhibition's location — a church that has fallen into disrepair — is also significant. Hendry could have easily taken over a central London gallery to show her works, charged a premium, and sold it out, but that's just not how she does things. Instead, she's taken on the mammoth task of renovating a dilapidated church in Mile End — The New Testament Church of God — and will charge £5 entry.
Aside from its location, Epilogue doesn't have a strong religious theme, but it does touch lightly on the religious notion of rebirth. Hendry says the series is more centred around the concept of decay and death. "We treasure flowers for their fleeting beauty," she says. "Countless artists have depicted flowers in full bloom, but few have portrayed them as they begin to wither and shed their petals."
The collection draws on various depictions of nature through art history, from 17th century Dutch Still Life paintings, to the Pop Art of Andy Warhol, and Marc Quinn. "To me, it's during this process of decomposition that the tension between vitality and mortality is brought to the fore," explains Hendry. "When you walk around the exhibition, remember that all the petals I've drawn have now turned to dust. The drawings are all that remain from their brief existence. In a way, Epilogue is a memorial to them and a reminder that nothing lasts forever."
Cj Hendry's latest exhibition, Epilogue, has been created in partnership with Zachary Quinn, the co-founder of Love Your Melon — an apparel company that donates 50% of profits to paediatric cancer charities and research. It will run between 3 and 12 April, and will be open to the public from 11 a.m. till 8 p.m. for the full 10 days. Entry will cost £5 per person and will contribute to the continued refurbishment of the New Testament Church of God (43 Morgan Street, London E3 5AA). Keep on scrolling to see some of Hendry's past works and exhibitions.