Should You Go Wedding Dress Shopping With Your Mom?
How Wedding Dress Shopping Finally Taught Me to Always Listen to My Mother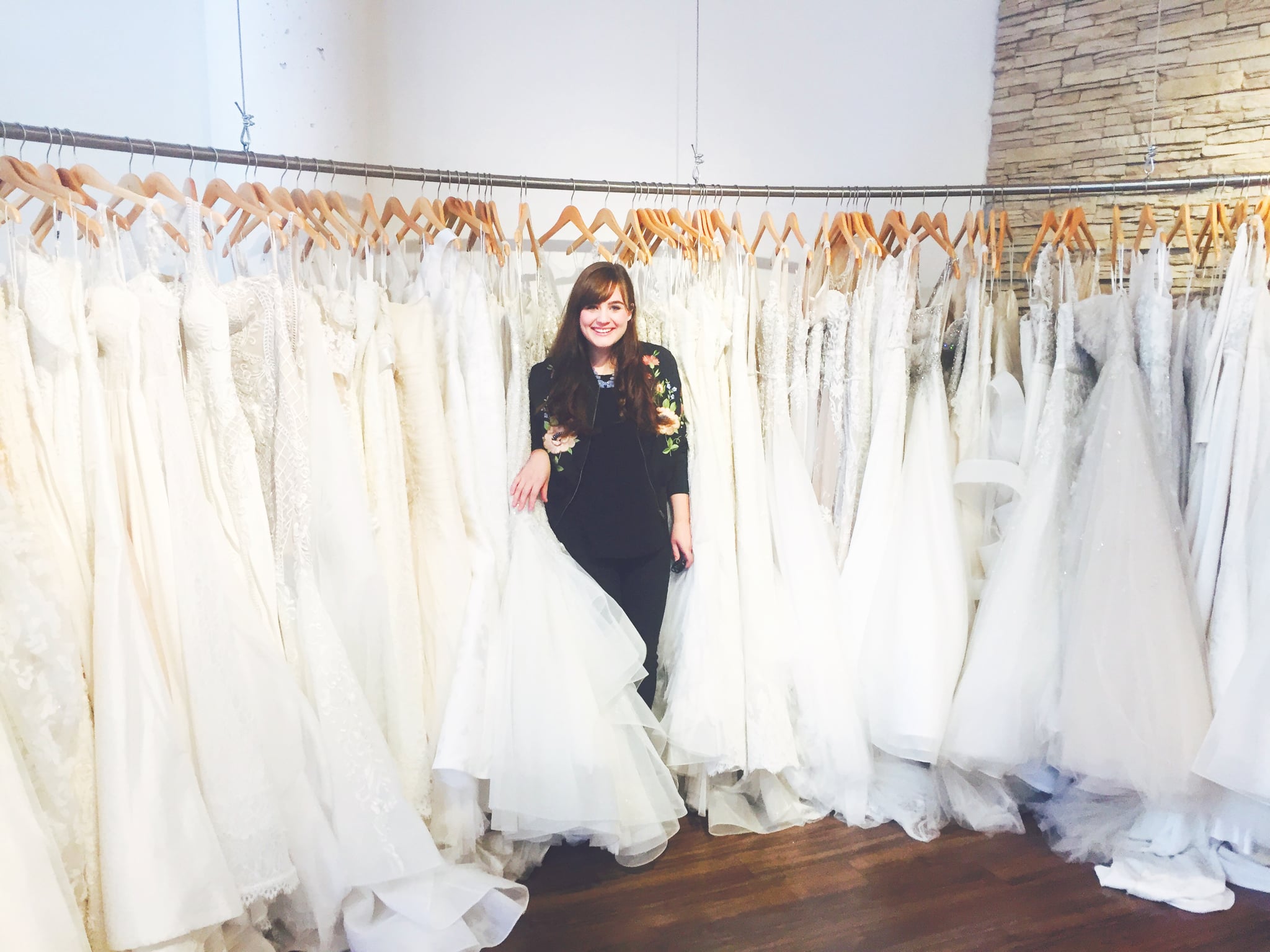 I have always imagined myself as a "trendy" bride, if you will. I write wedding content regularly, so when I got engaged, I already knew what kind of dress I would want — something unique with beading or lace. Something that would be very different to your average gown. I built myself a wedding dress Pinterest board, looked up some designers, and booked my first appointment at Kinsley James Couture Bridal.
I took my mum and sister with me to the appointment, where I tried on a ton of white gowns. The wedding dress consultant was bringing out exactly what I asked her to, but something wasn't right. Every time I stepped onto the pedestal, my mother frowned and said, "It's not right." The lace sleeves, mermaid silhouettes, and sheer insets were doing nothing for me.
So there's me, standing in front of a mirror, in yet another dress that wasn't working. We were about 13 dresses in when my mum turned to the consultant, Rachel, and said, "She needs something big. Bring us the biggest dresses you have in the store." I rolled my eyes at Rachel and waddled back to the dressing room. "I will try on these dresses just to please her," I thought to myself. We all want to please our mothers, after all.
The zip wasn't even halfway up when I got a lump in my throat and my eyes started burning with tears.
The first poufy dress I slipped on was pretty, but still not right. Even my mum agreed. When I went back to the fitting room to try on another one, a simple ballgown was calling out to me on the hanger. "Can I try that one on?" I asked Rachel. "I just feel like I should."
The zip wasn't even halfway up when I got a lump in my throat and my eyes started burning with tears. I was so surprised with myself. This was my first time trying on dresses, and I certainly didn't think I would get "that feeling." And certainly not in this giant-ass dress. But it was right. And I was even more sure when I stepped out to show my mum and sister and they both fell silent.
"Holy crap," my mum said. "That's it. That's the one." I knew it was, too. There was no beading, no lace, no trendy elements. Trust me, it's a dramatic dress, and it doesn't really need any extra details. But it was totally not what I expected. And it was perfect.
Just to be sure it was my gown, I went to a few more dress shops. I tried on dress after dress, but nothing came close to that first one. After a month of searching, just my mother and I headed back to the bridal boutique to try on the dress for a second time. It felt just as good as it did the first time. We bought it.
"See?" my mum said. "Listen to your mother!" I laughed at the phrase I had heard a million times in my life, but it's so true. Ugh, why are mums always right? It may have something to do with knowing us our entire lives, just a wild guess. I'm glad that I humoured my mum by trying on a big dress, because it ended up being the one of my dreams. And instead of following fleeting trends, I'll look back at my classic style decades from now and still love it. Damn, Mum, you're good.
Image Source: POPSUGAR Photography / Macy Williams