Wedding Flower Trends 2018
Brides, It's Time to Ditch the Flower Crown For These Trendier Pieces in 2018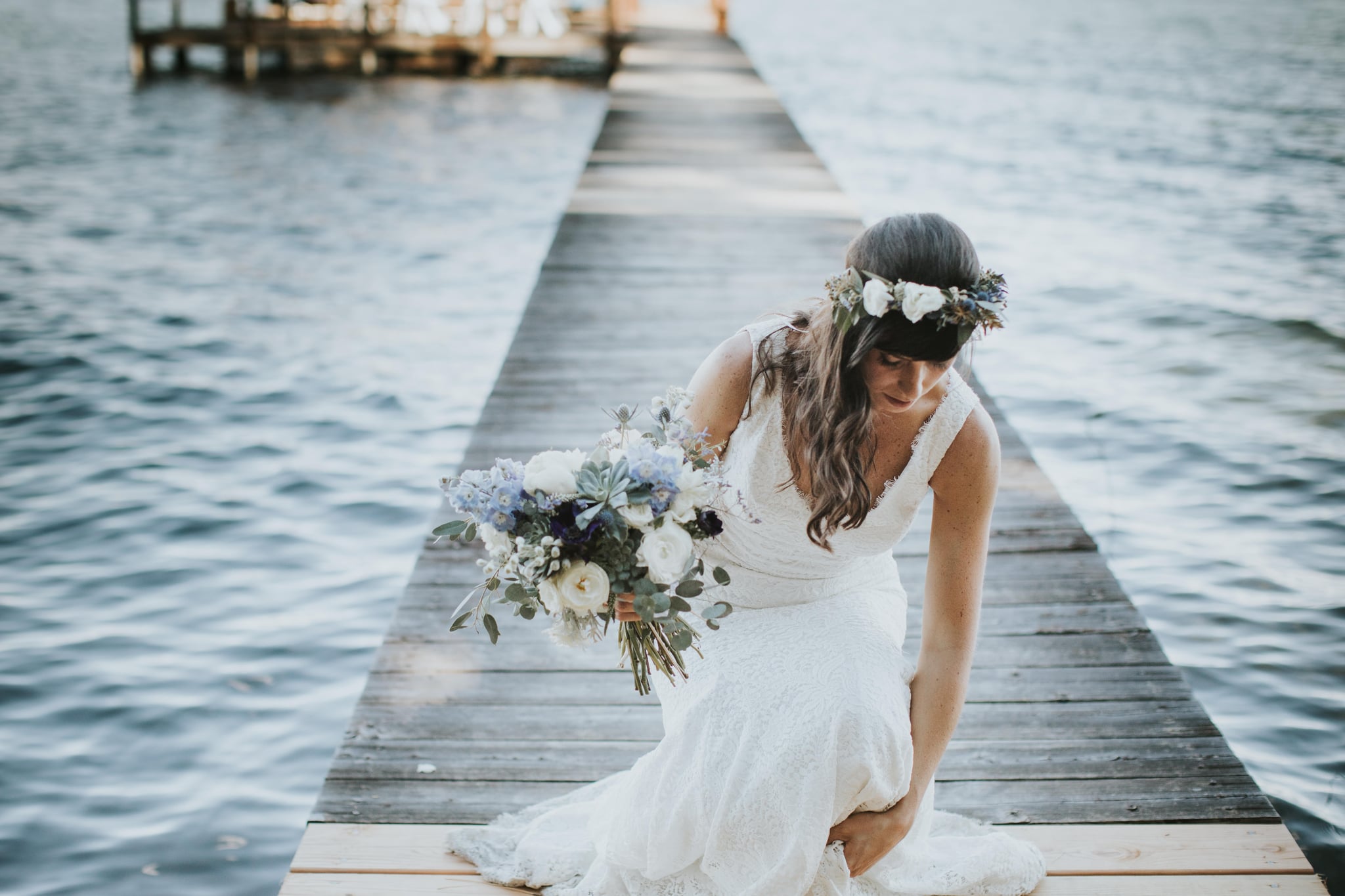 Brides planning to tie the knot in 2018, we talked to Farmgirl Flowers founder Christina Stembel about what's in and what's out in terms of wedding flowers next year. The ethical florists work on an average around 20 weddings per week, making them an authority in the wedding floral space. It also means they see their fair share of trends come, go, and stay a little too long.
One in particular that Christina is ready to be over: "I'm really sick of flower crowns," she told POPSUGAR, laughing. "Flower crowns have been around for several years now, and I think people are really looking for the next thing." So what is the next thing? Christina said to expect flower jewellery, bolder colours, and bigger elements in 2018.
Flower Jewellery
Christina shared that a couple of designers have recently brought this trend to the forefront, and it has been catching people's eye. Variations of the flower crown in the form of a tiara, bracelet, and statement necklace are on the rise.
"We even did a class for DIY for brides, and it was really well-received, and so now we're starting to see people shift," she said. "Instead of asking for flower crowns, they're asking for more like tiara-style flowers. They're not flower crowns; they're made differently."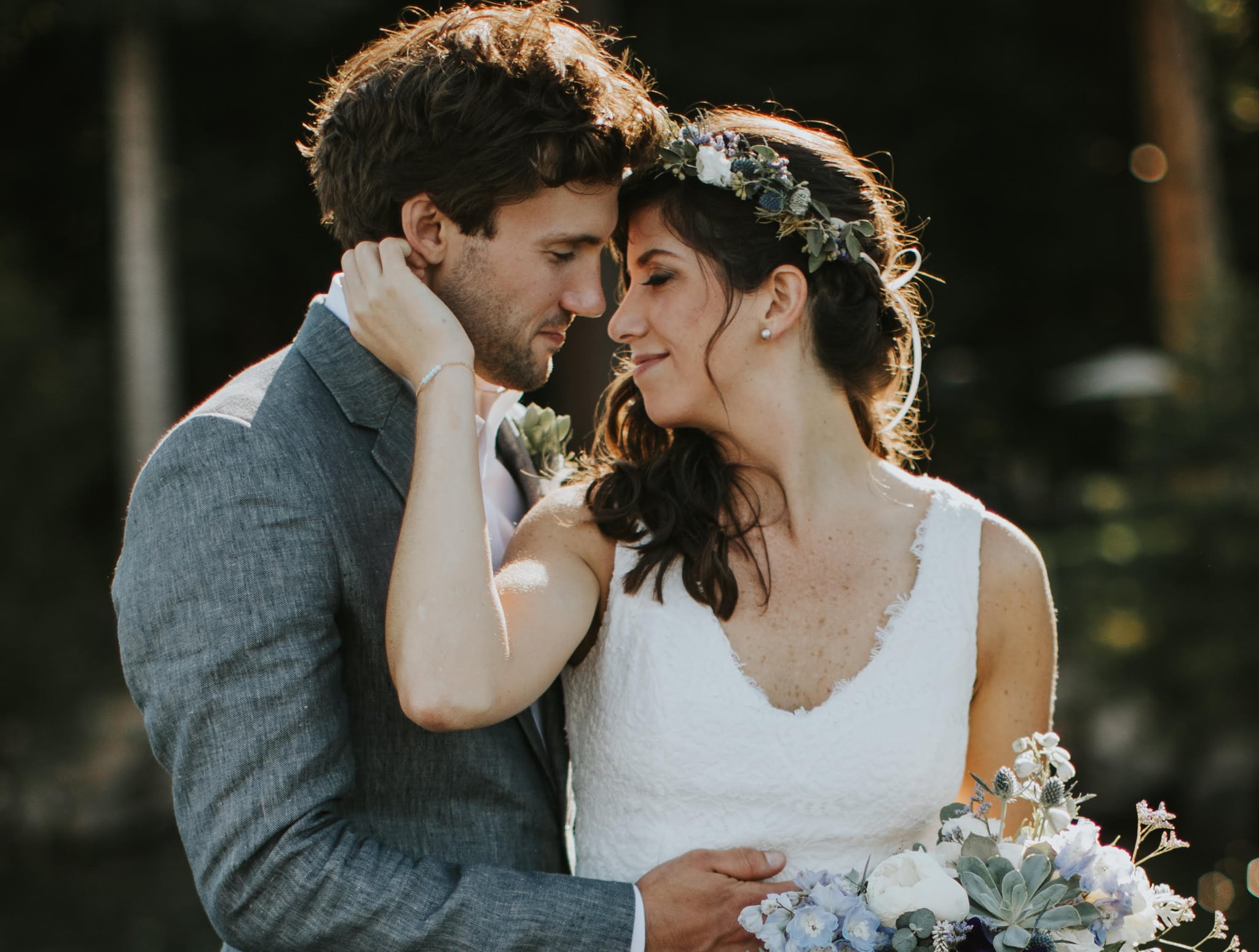 The flower tiara is not as bulky as its festival-worn sibling. It's a more subtle accessory that beautifully ties into your bridal bouquet without weighing you down or taking away from your look.
Similarly, flower bracelets are small and dainty updates on the traditional corsage. They can be made two ways: on a piece of leather or canvas with ribbons that tie (for the mother of the bride, flower girl, or the bride herself), or on an actual jewellery cuff that's a couple inches wide with flowers placed on top (for the fashion-forward bride).
Flower necklaces, on the other hand, are larger since they're worn as statement pieces. Christina said brides have either been requesting them in a choker style or draping the collar.
"We think they're going to get more popular because it's just so beautiful, especially if you have kind of a plain dress; it adds so much to it," she said. "This is the way that you can have more flowers without having to be all in your bouquet. So for the brides that just love flowers and want more of it, they can keep a regular-sized bouquet that can still be seen behind and then have a really beautiful statement necklace. And it brings in all the colours of their wedding as well."
The best flowers to use for this look:
After testing the longevity of various flowers, Farmgirl Flowers was excited to find that flowers that aren't usually ideal for weddings work perfectly in jewellery pieces because they're smaller. Christina recommended that brides incorporate ranunculus, which "hold for days," according to her. Others include dusty miller plants for more of a vintage look, hellebore, garden roses, succulents, and Christina's personal favourites: astilbe and astrantia.
The flowers you want to avoid are peonies. "We rarely use big peonies, which is every woman's favourite flower," Christina said. Though they could work for more of an avant-garde look, traditional brides actually change their minds after realising how large they appear when worn. The best rule of thumb is to choose smaller florals.
Bolder Colours
"I think bolder colours will all be coming back," Christina said. "It tends to go in waves, just like fashion. Trends this year were so big with pastels and it was more bright colours, I think last year. Coral and blush were the biggest for 2015/2016; I was really glad to see that go."
The colour combo Farmgirl Flowers loves the most in-house at the moment is what it calls its "moody blues": burgundy, magenta, and blue.
"It's so different than what everyone is doing that it really sets people apart and it looks gorgeous together," Christina said. "So I think versions of that, moodier tones, are going to come back even earlier in the year. I think more people are wanting saturation."
Large Arrangements That Can Be Repurposed
More and more brides have been shying away from traditional table centrepieces for large arrangements with double duty. Not only can that save you a ton on wedding flower costs, but it also allows brides to splurge on their own bouquet.
"I'm really excited to see how many brides are wanting to do special, bigger elements in their ceremonies, and they are using the same amount of budget," Christina said. "They're just really downgrading their table centrepieces and instead of spending £100 on each centrepiece for the table, they are putting that into a big element that, I think, is really smart and really great for them for pictures."
Having a huge arrangement on either side of the aisle is a great alternative to immovable arches that could then be transferred to the reception location.