Woman's Note to Coffee Shop About Cheating Boyfriend
Why This Coffee Shop's Act of Kindness Made 1 Woman Ugly-Cry All the Way to Work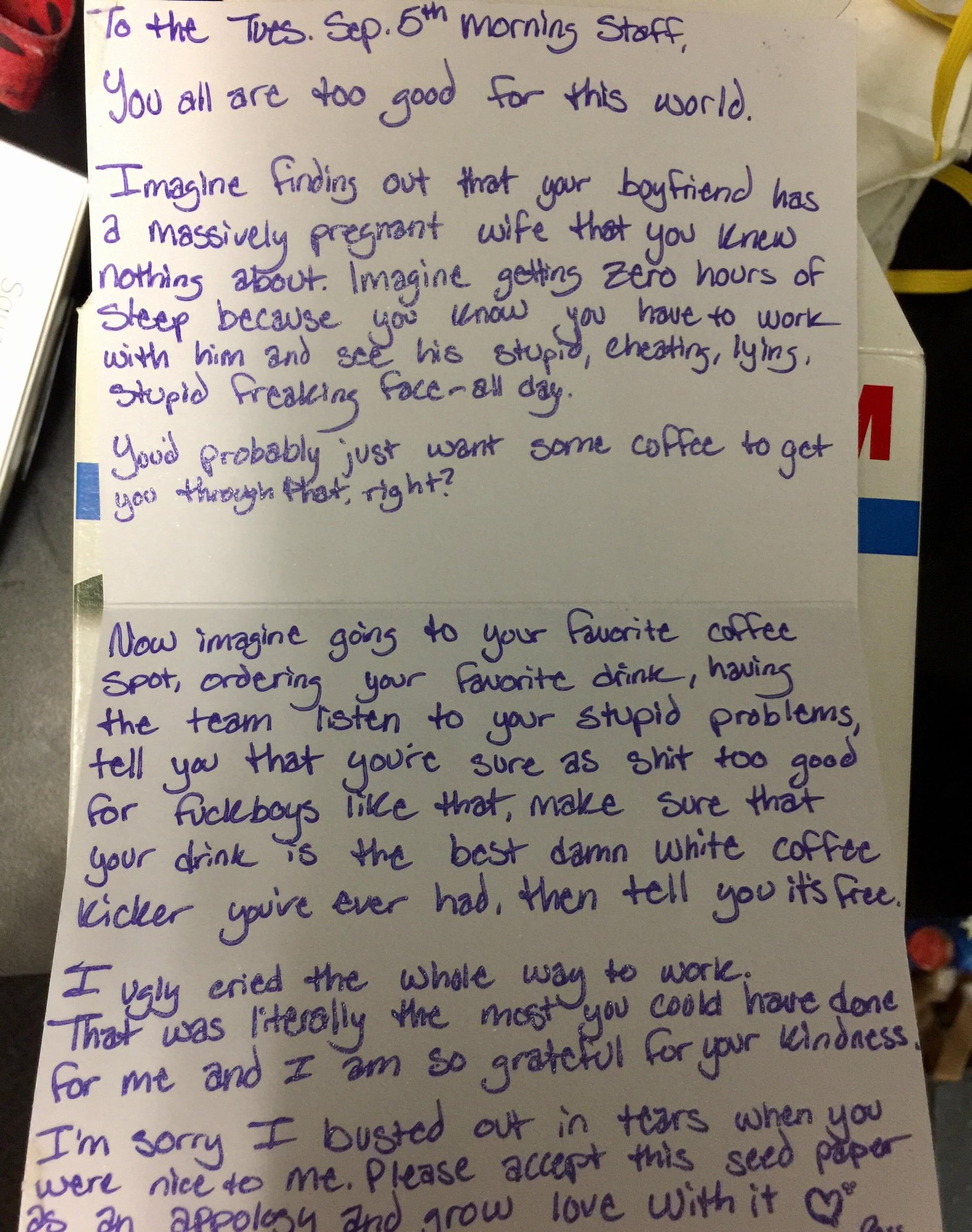 "Imagine finding out that your boyfriend has a massively pregnant wife that you knew nothing about," one woman's note to the staff at a Dutch Bros. coffee shop reads. "Imagine getting zero hours of sleep because you know you have to work with him and see his stupid, cheating, lying, stupid freaking face — all day. You'd probably just want some coffee to get you through that right?"
Reddit user GoldenBoy2191 shared the note online that they received from a heartbroken woman in the first week of September after simply giving her a free coffee. "Yesterday a woman came through our stand upset, we hooked her up with a drink on us," the post is titled. And after the woman broke down in front of the baristas and told them about her "stupid, cheating, lying" boyfriend who had a pregnant wife at home, the woman wrote that the baristas made sure she had the best — free — coffee drink they could offer her.
"I ugly cried the whole way to work. That was literally the most you could have done for me and I am so grateful for your kindness," she wrote. And after reading the comments from supporters on Reddit, it's clear that something like this isn't new for the American coffee chain. One commenter wrote: "I got a free coffee the other day from Dutch Bros, just because I mentioned that it was my first visit to Dutch Bros ever. It was like 3:30 a.m. and I was on my way to the airport. The guy couldn't have been nicer, asking me if it was a late night or an early morning for me." The original poster, Goldenboy2191, wrote back and simply said: "That sounds like the Dutch experience to me."