Paying for Personal Audio Porn Helped Me Discover New Kinks
Paying for Personalized Erotic Audio Helped Me Discover My Love for Kink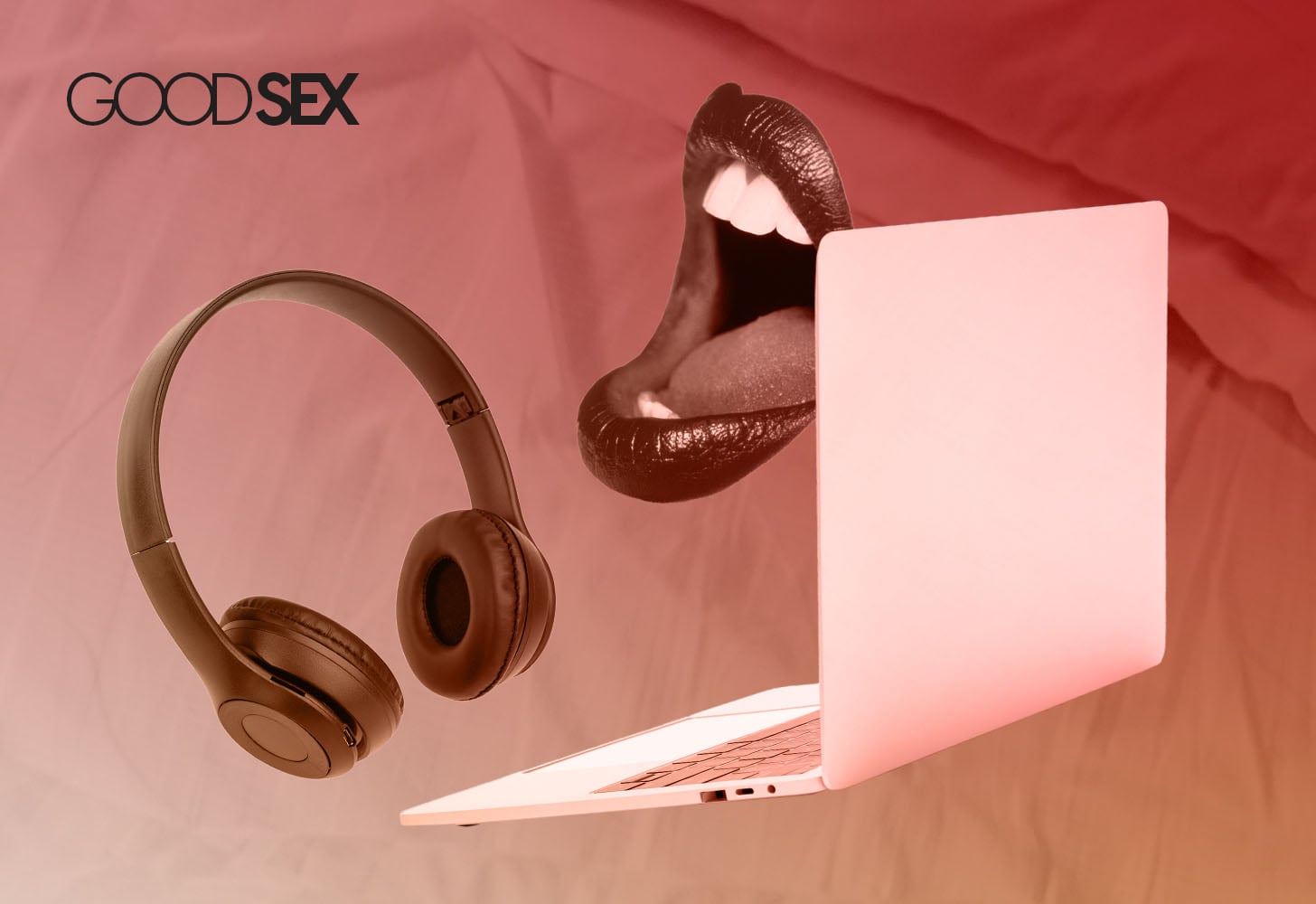 Welcome to Good Sex, POPSUGAR's twice-monthly essay series featuring people's hottest, horniest experiences. Whether you're looking for some new ideas to bring back to the bedroom or you just want a voyeuristic thrill, Good Sex has you covered. Want to share your own lip-biter? Email goodsex@popsugar.com with your story. By submitting, you are acknowledging that you have read and agree to our Privacy Policies and Terms and Conditions.
---
When I heard the sound of his voice, I knew he was exactly what I needed. It was my day off from work, and I wanted to relax and silence my thoughts in his company. So I turned down the lights, laid on my bed, propped my hips on some pillows, and pressed "play."
As I listened to his words filter through my phone, I began to touch myself to his commanding tone. I could feel the pulsing of my clitoris as he described what he wanted to do to me, and I became lost in the sensations.
After a few minutes, he started grunting and groaning, reminding me what a good girl I was and that I was nothing but a toy for his pleasure. I closed my eyes and visualized him pressing into me on my mattress.
"Come for me," he ordered.
The first time I stumbled across audio porn was on Tumblr. I'd gotten off to written porn before, but there was something intimate about hearing another person's voice in my ear guiding me and introducing me to a whole new world of kinks and fetishes. But when Tumblr decided to block its NSFW content, that's when I turned to porn.
Watching porn was something I did sparingly — mainly because I was more into reading and listening to porn than I was watching it. But when I scrolled through my favourite porn website, I saw an erotic audio content option. An audio story titled "Dominating Your Shy Submissive in the Office" caught my eye, and I immediately put my headphones in.
Although I had no prior experience to BDSM play, the idea of someone taking control over me was the ultimate turn on. I had previously never allowed myself the time to explore the dynamics of being handcuffed, spanked, and degraded — mainly because I thought it was wrong to like those things.
But as I listened to the beginning of the audio, and as the voice actor described himself bending me over the desk and taking what he wanted, I felt the wetness pool between my thighs. Just as I was working myself up to orgasm though, it was over. The audio ran for about 10 minutes, not enough time for me to finish.
Over the course of the next few days, I started exploring more. I made my way through M4F (male for female) and F4F (female for female) audios, and that's where I found him. "Sir" was what he called himself. His audios were between 20 to 30 minutes, and they ran through all types of BDSM and kink-related scenarios.
He had over 50 audios when I discovered him, and I found myself devouring them all over the course of a few months. His voice had a deep, rich timbre that made me come harder than I ever had before. It's almost as if his voice hit a note in my head that made me lose all of my inhibitions. All sense of reason evaporated, and I wanted more, more, more.
At the beginning of every audio, he included information on where to find more of his work and the option to commission a personal story from him. I thought about it for a month or so, questioning if I should. But eventually, when I was craving novelty and wanted to listen to something new, I gave myself permission to explore my BDSM side with Sir.
I messaged him and told him what I was looking for: a 30 minute audio that explored the dominant and submissive dynamic with a touch of bondage and degradation. In his response, he asked me for proof of age and we discussed the logistics — hard limits, which pet names were OK, and his fee, which was $1 per minute. When we agreed on everything, he said he'd have it for me by the end of the week.
That week, I waited in anticipation with a mix of nervousness and excitement. When he finally sent me the audio though, I didn't listen to it right away. I wanted to be in the right headspace for it, so I let it sit in my DMs for a few days.
I waited until I was alone in my apartment, put in my best headphones, turned off the lights, and bunched up blankets around me into a mound for the perfect amount of friction. I was excited. This was the first time someone had made the effort to listen to my sexual desires and turn them into a reality.
When I pressed "play," the audio started off with Sir telling me I could either behave like a good little girl or face the consequences. Immediately, I felt hornier than ever. He then detailed everything he would do as if he were in the room with me to set up the scene — he wanted to tie my wrists to the headboard, wrap his hand around my throat, and leave marks on my body as a reminder of who I belong to.
I heard the sound of him kissing my body (yes, he was actually making the noises), and it made me warm all over. I pressed against the mound of blankets, squeezing my hand between myself and the mound to touch my clit. It was the most pleasurable torture. By this point, I didn't know how I was going to hold off from orgasming for another 20 minutes, but I edged myself to every kissing, licking, and sucking sound that he made.
"This was the first time someone had made the effort to listen to my sexual desires and turn them into a reality."
As I closed my eyes, I pretended I could feel him pounding me into the mattress with his hand around my throat calling me his dirty, little whore. Suddenly, his voice interrupted my thoughts.
"Don't whimper, or I'll make it last longer," he said. And he paused as if he knew I was whimpering and moaning for him all alone in my bedroom.
A few seconds later, he responded, "That's a good girl, nice and quiet," rewarding me with what sound like a wet kiss.
He continued to describe himself having sex with me until he made sure we both came to orgasm. I knew him actually orgasming was solely for my benefit, but it was what I needed to hear to be pushed over the edge. The moans of my name coming from his lips took me outside of my body. When I came, I couldn't feel my legs for a few minutes. I had gushed all over the sheets, and I was shivering. It was my first time ever squirting.
After cleaning myself up and throwing the sheets into my hamper, I thought about what had just happened, and I immediately became addicted.
It's been two years since I commissioned my first audio with Sir, and I've added nearly 100 more audios to my collection — all ranging from a variety of different kinks and fetishes like breeding, CNC, pegging, all of it. Though I remember how nervous I felt about exploring this side of myself initially — mainly afraid that this sex was "wrong" or "dirty" — Sir cultivated a safe space for my kinks to be explored without judgement, and I've never been more confident than I am now.
Fortunately for me, I'm still exploring. And if I find something that I want to masturbate to that Sir doesn't already have an audio on, I know it's only one commission away from making me orgasm.
Image Source: Getty / niwate bunlue Holger Scheibe Yevgen Romanenko