I Used Sexy Bridgerton Quotes and Pickup Lines on Tinder
I Sent "Bridgerton"-Inspired Pickup Lines on Tinder, and It Led to Some Seriously Hot Convos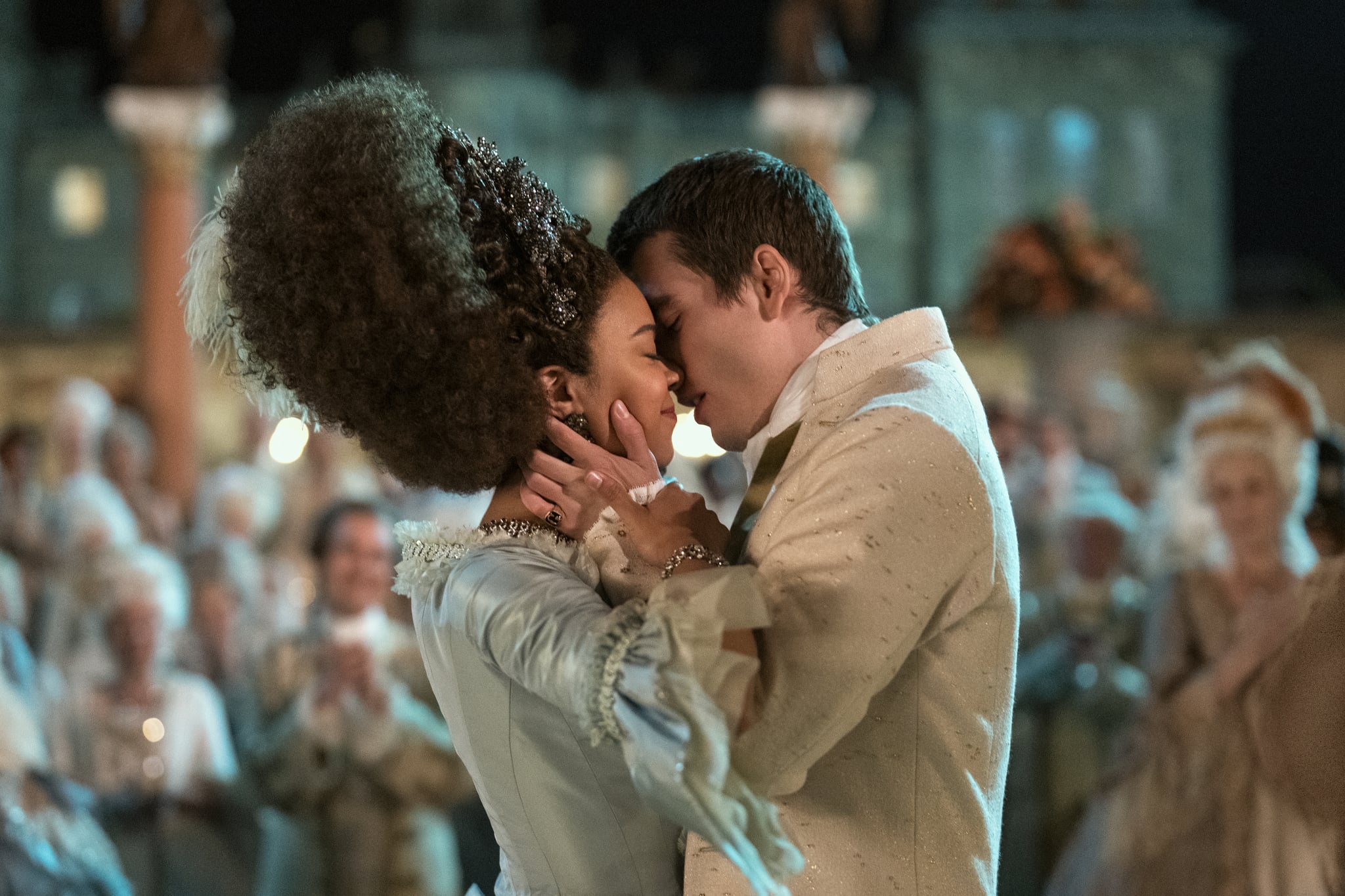 Image Source: Netflix
Thanks to the release of the limited series "Queen Charlotte: A Bridgerton Story" on 4 May, I think we can officially say it's "Bridgerton" time again. And this, of course, means three things: we have new sex scenes, plenty of drama, and new Regency-era pickup lines, too.
Remember that season one brought us the love story between Daphne (Phoebe Dynevor) and Simon (Regé-Jean Page). The two shared things like "I burn for you" (which is basically an 1800s-style sexting example) and "from the mornings you ease, to the evenings you quiet, to the dreams you inhabit, my thoughts of you never end. I am yours."
And then, lovers Anthony Bridgerton (Jonathan Bailey) and Kate Sharma (Simone Ashley) dropped some major pickup lines — and dare I say dirty talk? — in the second season, too. The eldest Bridgerton son said things like, "You are the bane of my existence and the objects of my desire" and "All I find myself thinking about, all I find myself being able to breathe for, is you."
To be honest, I didn't think the lines from season one and two could be topped. But as it turns out, "Queen Charlotte: A Bridgerton Story" came in even harder with the romantic quotes and metaphors. Here were a few of my favorite pickup lines from the limited series:
"I will stand with you between the heavens and the earth."
"My heart calls your name."
"I cannot breathe when you are near."
"Look at you. You are a rare jewel."
"It is you and me."
So because I am utterly in love with all of the sexy musings and one-liners from the shows, I decided to use them as pickup lines on my Tinder matches. Some were into it, some were confused, but either way, the lines were too good not to redistribute on a modern-day dating app. All the reactions and responses for your viewing (and my embarrassment) right this way.

1. The Tinder match who was unbothered.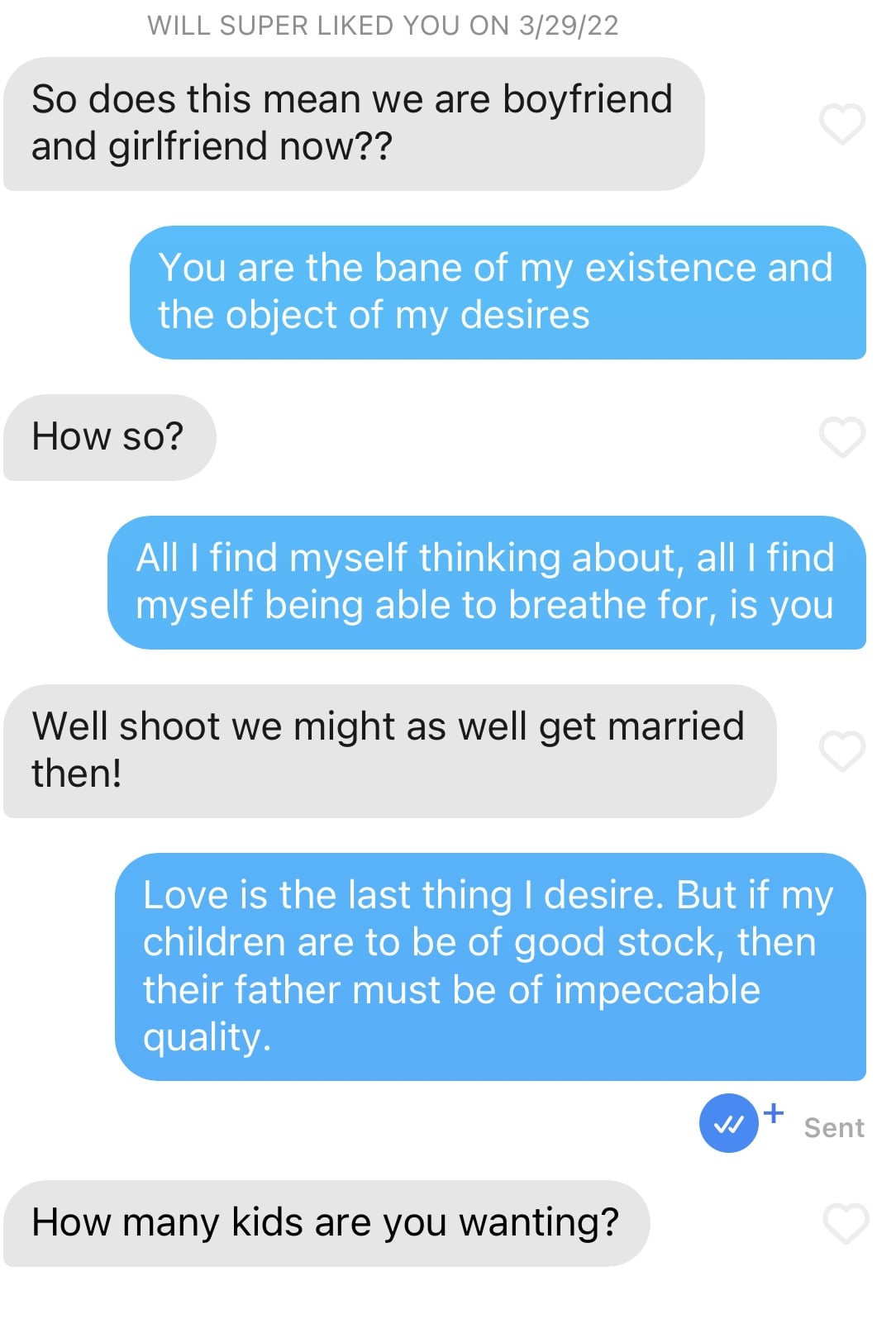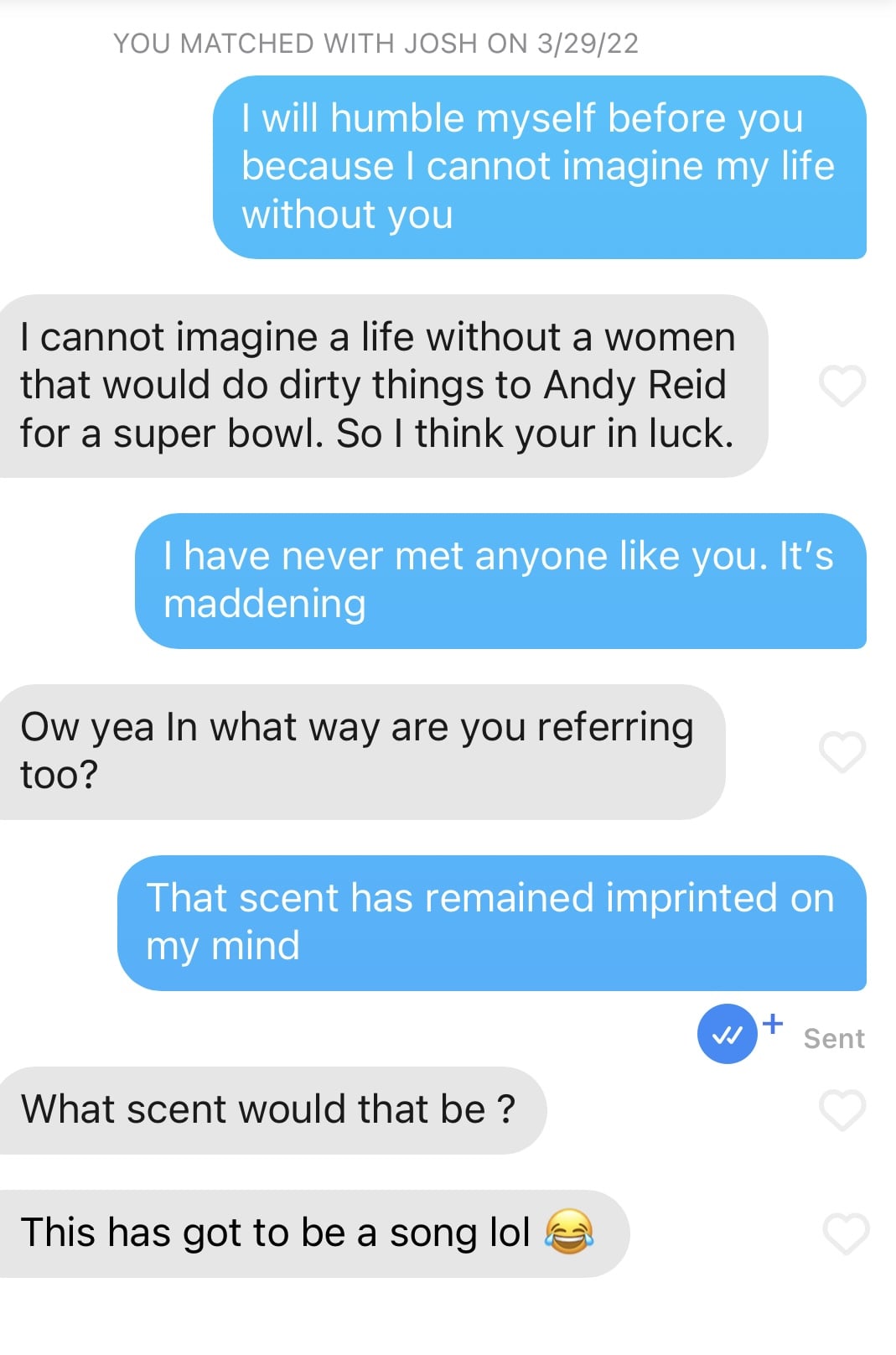 3. The Tinder match who maybe, probably, definitely has an avoidant attachment style.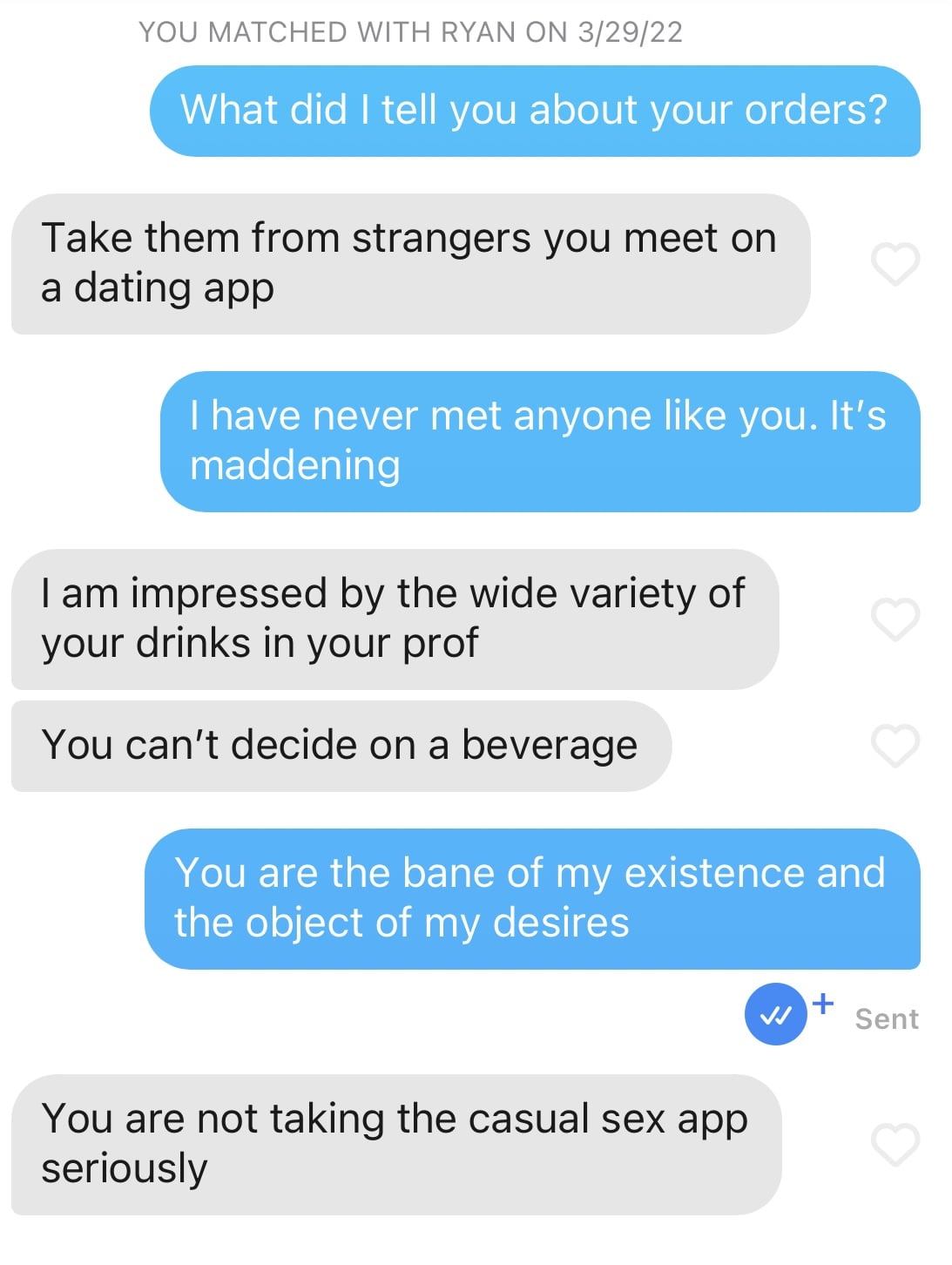 4. The Tinder match who's still waiting on me to prove something I don't even know I'm proving.
5. The Tinder match who was about to report me for sounding like a robot. ("No, I'm just trying to be a regal viscountess, HBY?")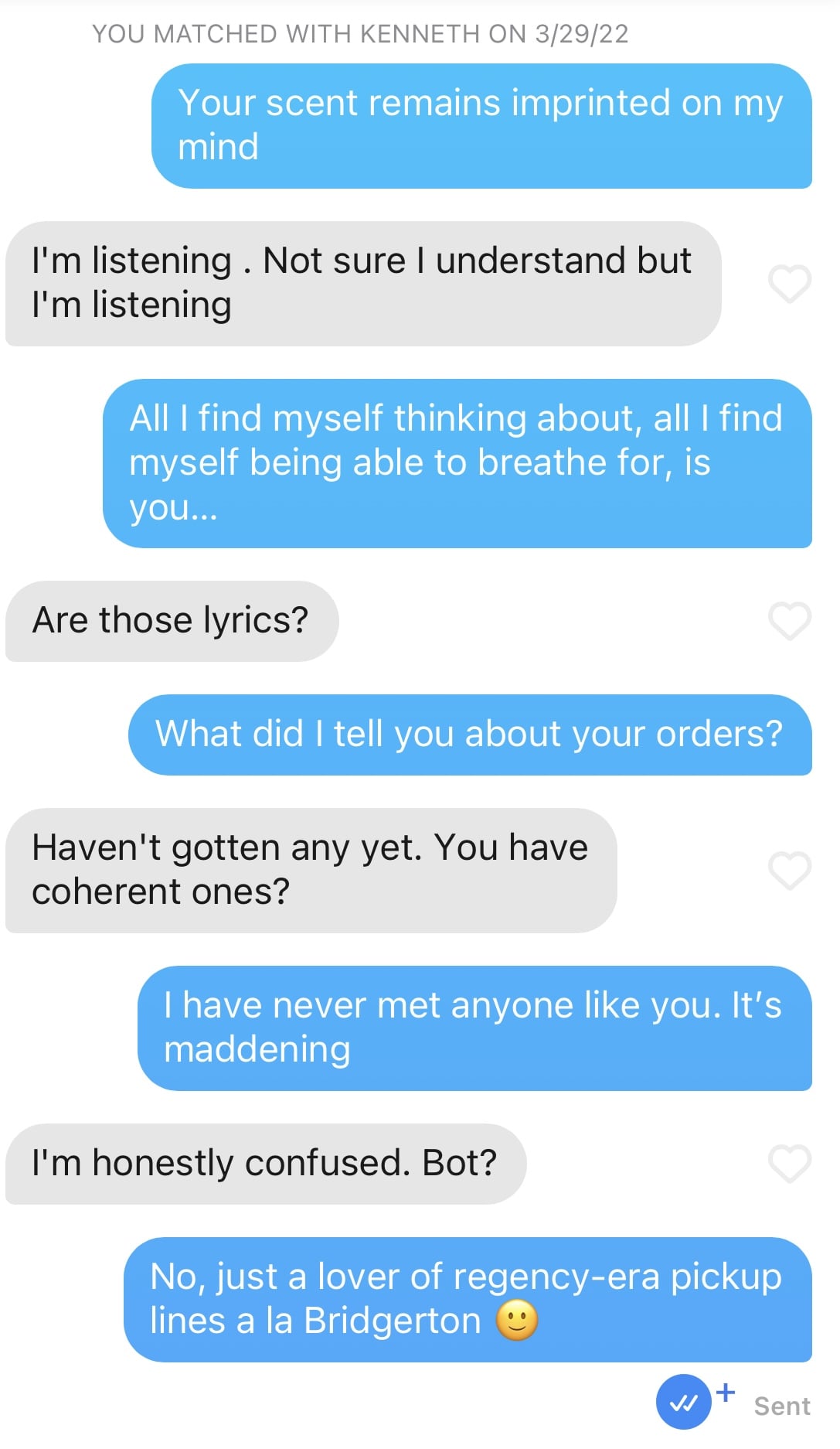 6. The Tinder match who didn't know how to translate 1800s dialect, which, touché.
7. The Tinder match who had no idea I was already throwing down my best lines.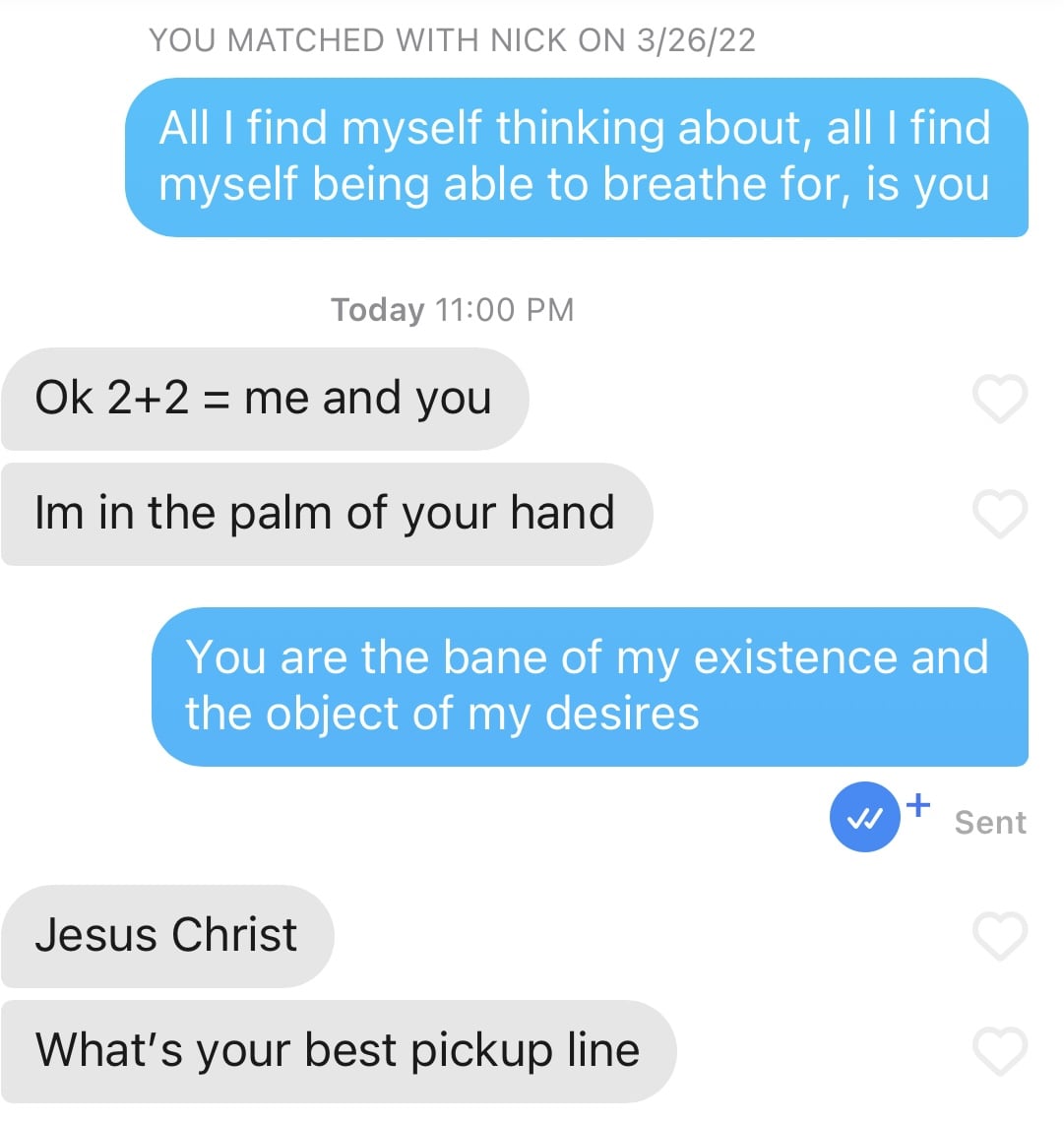 8. The Tinder match who responded perfectly given this experiment.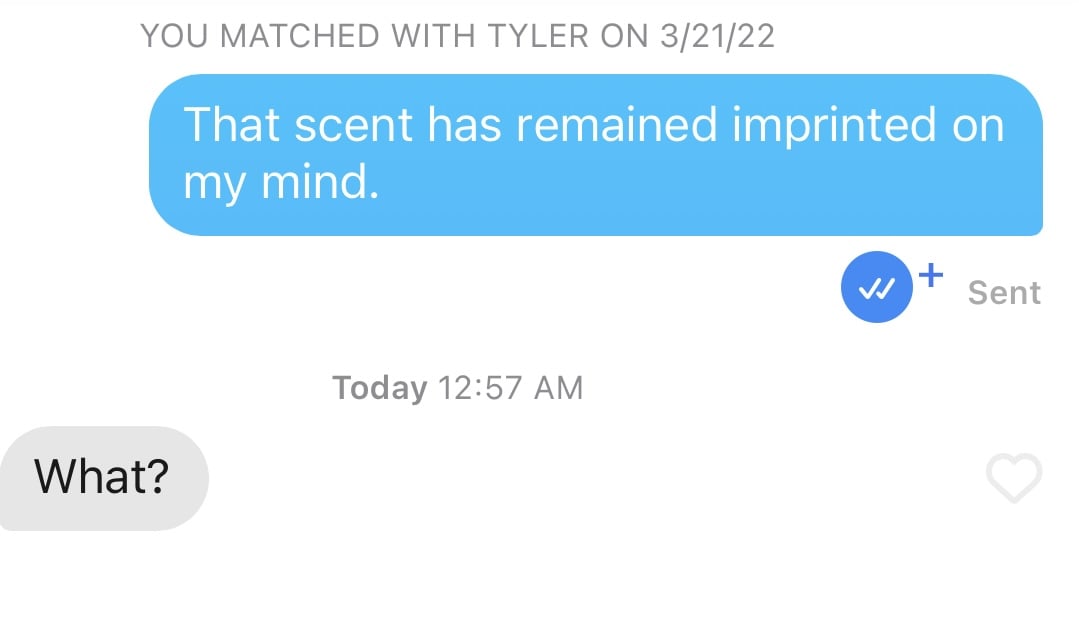 9. The Tinder match who was interested in whatever the hell "the things I could teach you" means.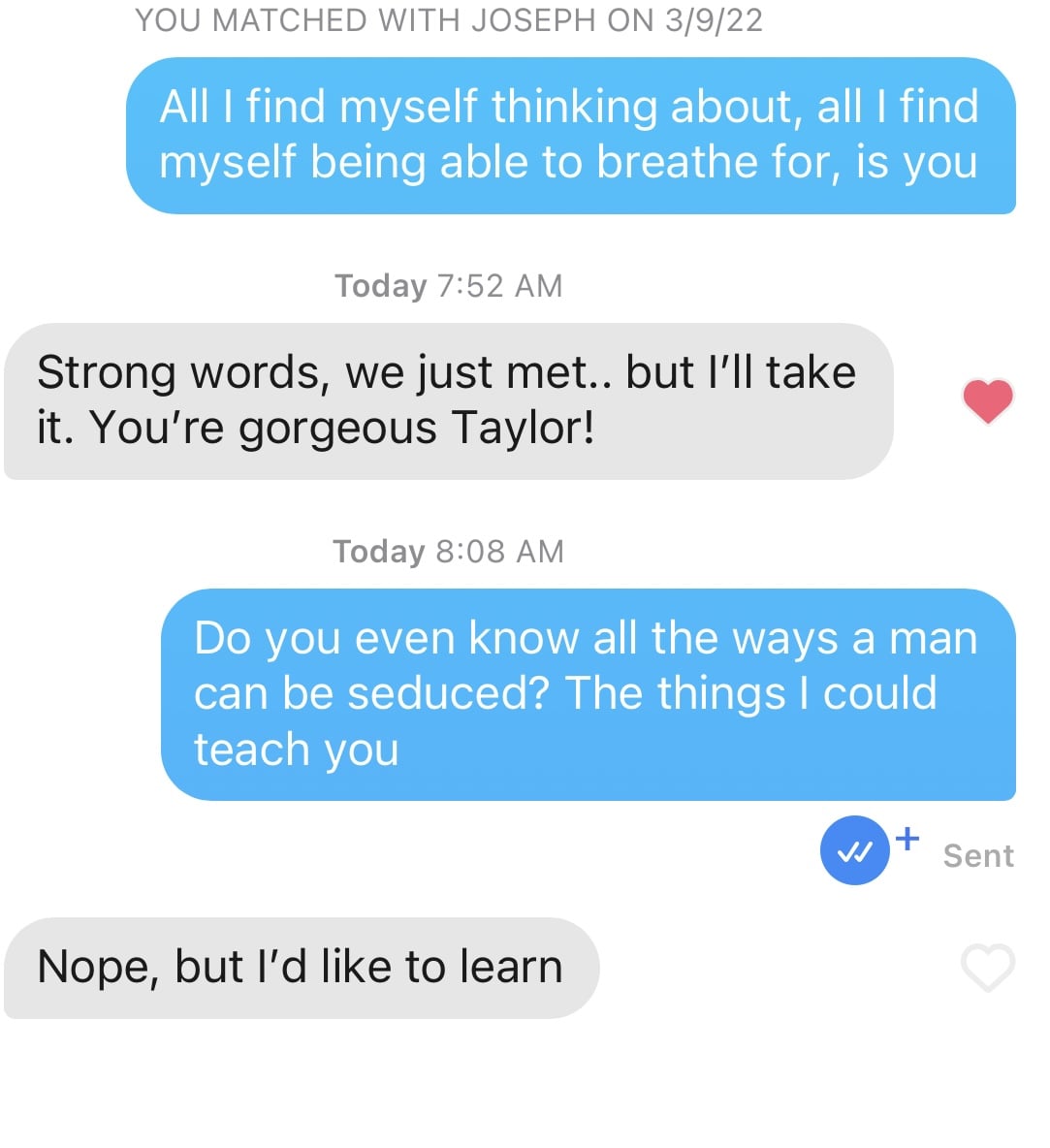 10. The Tinder match who enjoyed the explicitly sexy pickup line. (Definitely thought I was getting banned on Tinder for this one.)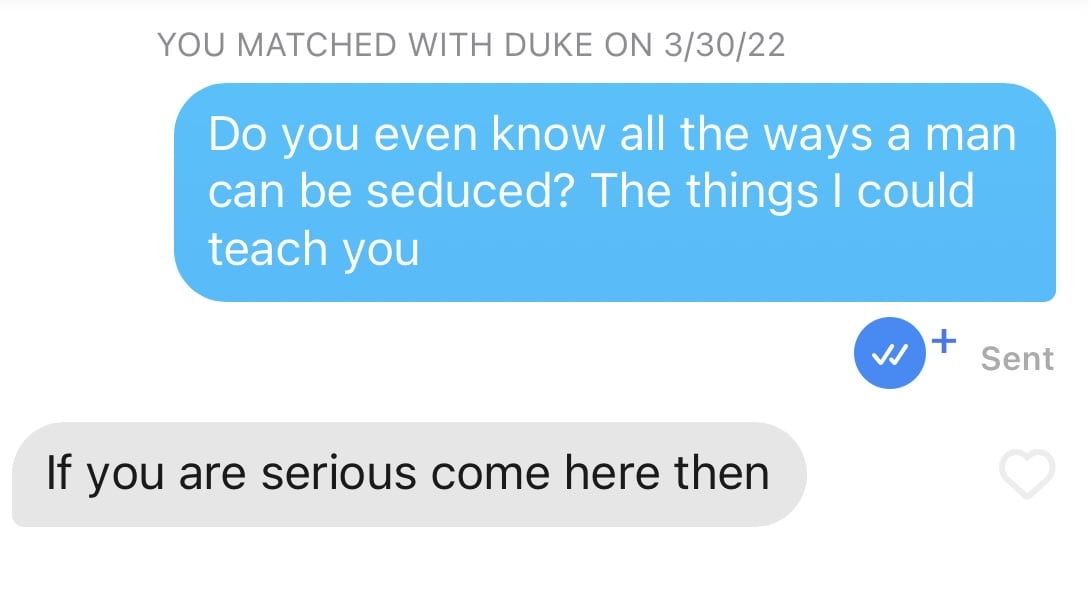 11. The (one and only) Tinder match who knew his "
Bridgerton

." Well done, Nick.