How Pegging My Partner Helped Me Embrace My Gender Identity
How Pegging Someone Helped Me Heal My Sexual Trauma and Embrace My Gender Identity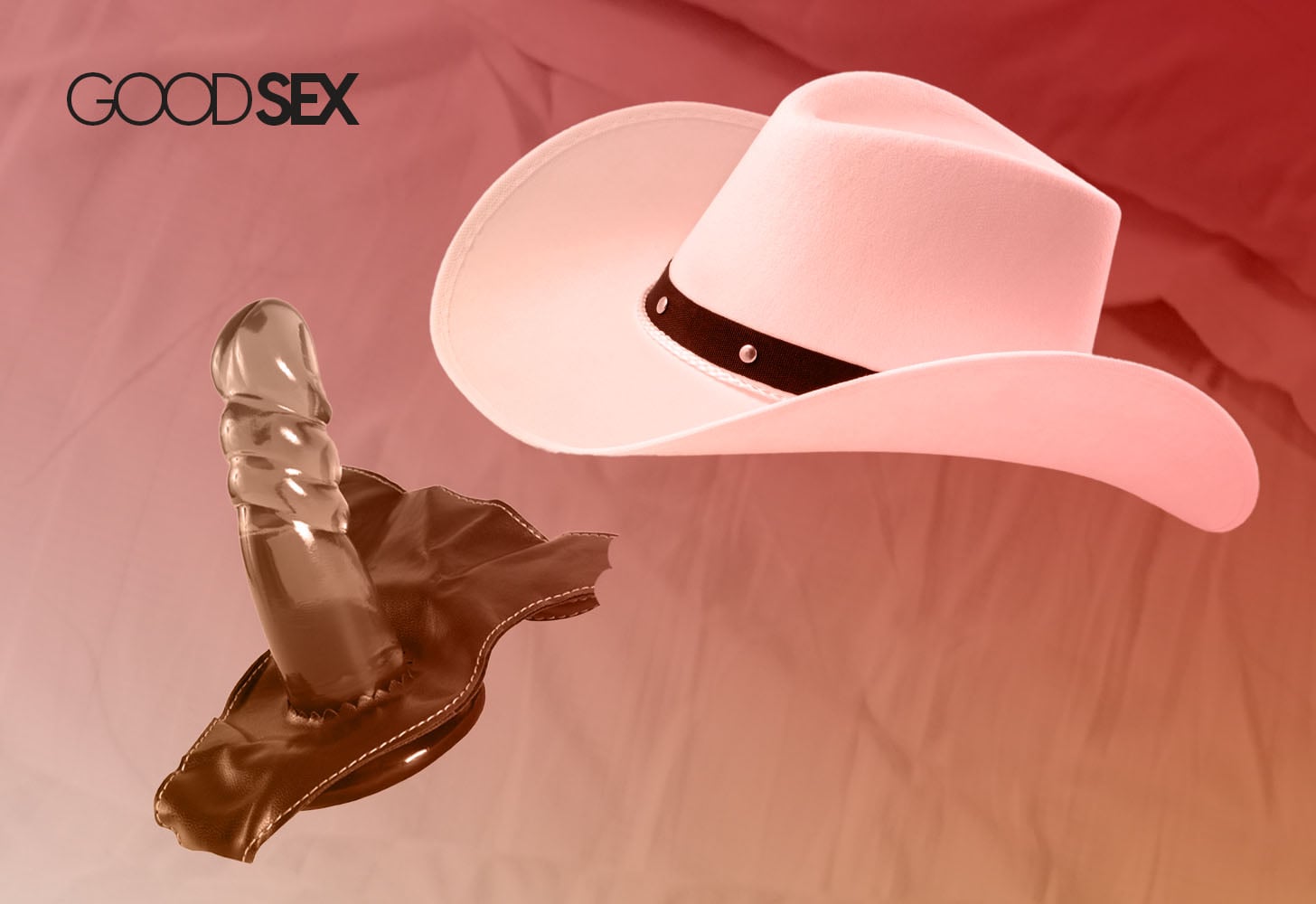 Welcome to Good Sex, POPSUGAR's twice-monthly essay series featuring people's hottest, horniest experiences. Whether you're looking for some new ideas to bring back to the bedroom or you just want a voyeuristic thrill, Good Sex has you covered. Want to share your own lip-biter? Email goodsex@popsugar.com with your story. By submitting, you are acknowledging that you have read and agree to our Privacy Policies and Terms and Conditions.

---
"Get on the bed now," I said to him. "Take off your pants."
I watched him undress in front of me as I took off my own clothes. He stared at me, both wide-eyed and excited, as I slid the strap-on dildo over my thick thighs and spit in my hand. I rubbed the spit over my c*ck, shocked by myself. I had no idea what I was doing. I had only bought the strap-on the day before in a rush, thinking this moment would never arrive.
When I tried on the strap-on at home the night before, I stared at myself in wonder. As a nonbinary, femme-presenting person, I felt a sense of euphoria I'd never experienced before. I looked pretty and I also had a c*ck — two truths I'd never been able to experience before at the same time.
I matched with Brandon* on Bumble a week before I stood in his hotel room. I wasn't exactly sure what I was looking for when we first matched; vaguely, love, I suppose, but after a traumatic breakup during the pandemic a few years before, I'd learned that many things aren't always what they seem. All that to say, I was staying open to whatever any connection might bring.
From the looks of his profile, I knew Brandon was in an open marriage and that he was a touring musician who would only be passing through town. I thought his wife was cute, and though he was younger than me, he seemed older, kind, mature, and like the hot masc cowboy I both wanted to be and wanted to f*ck.
After days of talking, I knew I was ready to feel his beard in my hands, on my face, and all over my body. I finally sent him a voice message, knowing once he heard my voice, he wouldn't be able to control himself. Though I often look more femme, I also present as naturally dominant, so men have often been surprised when they first hear my voice. I can sound sweet and bashful, and at the very same time, make men get down on their knees for me.
Soon, Brandon and I were sexting, and he told me about one of his fantasies after I asked what he would want me to do to him if I was with him right then. He revealed something he wanted that was also a fantasy of my own: he wanted to be pegged, but not just by anyone, by me. He asked if I could meet him when he was coming back through town the next week.
"Yes, please," I said.
I was nervous to meet Brandon for the first time. He invited me to a show he was playing on tour, where he'd have a room to himself for the night. When he looked up from the stage and saw me in my daisy dukes and cowboy boots, he smiled and looked away quickly. I could already feel the power I had over him. After the show ended, he came up to me, and I noticed how shy he was.
"Are you nervous?" I asked him.
"Yes," he said quietly. I giggled and looked at him directly until he looked away.
After the show, we sat outside around a fire and looked at the stars and talked. When I caught him staring at my breasts, braless under my shirt, he blushed. And when we eventually made our way to his hotel room, we were awkward. I knew he wanted to kiss me, but I also knew he was nervous. I, however, refused to make a move. I wanted to see how long the tension could last, and I wanted to watch him squirm until he had to be dominant.
When he kissed me for the first time, I could tell he felt uncertain about himself.
"I'm not sure how to be with you," he said. "I want to be dominant, but I also want you to dominate me."
I knew he felt insecure and nervous about me being nonbinary, like he was going to say or do the wrong thing. He was polite and kind and curious about it all, and he was beginning to understand. The rest of the night was spent talking and fooling around until it was morning. He wanted me to peg him, but I wasn't ready yet. When he watched me walk away, we hadn't had sex, but I knew he wanted me more than ever. I did, too.
"As a nonbinary, femme-presenting person, I felt a sense of euphoria I'd never experienced before. I looked pretty and I also had a c*ck — two truths I'd never been able to experience before at the same time."
As I drove home and the sun came up, I got a text from him. "What do you think about meeting me on tour tonight?"
That night, I drove hours away so he could take me out to dinner and tell me he was beginning to feel more for me than just wanting this to be a hookup. I told him I felt the same way. So when we got back to the hotel room, there was no nervousness left between us — only desire. I was ready.
After I watched Brandon undress and he watched me spit on my c*ck, I took a breath to feel the weight of the moment. In my 20s, I was sexually assaulted twice in one summer, and it made it difficult for me to feel close to men. It had taken me more than a decade after it happened to face the shame, fear, and pain I felt. After, I'd asked several male partners if they would let me dominate them, only to be denied or made to feel less than for not wanting to always be submissive. Yet that moment with Brandon, I felt feminine and dominant. I felt masculine and submissive. I felt fully like myself.
When it was time for me to peg Brandon, I had never been more turned on. He got on his hands and knees, and I took him from behind, thinking of all the times men had seen me like this. I had been vulnerable, trusting them to be gentle and kind and aware of my limits, and I owed the same respect to Brandon. This was the kind of masculinity I could get behind.
I started slow and gentle, not wanting to hurt him. But as I continued, he moaned for more. I checked in on him, continuously adjusting my pace and thrusts while listening and seeing his body's cues. I treated him in all the ways I had longed for and deserved to be treated by the men who I let be intimate with me.
It didn't take long before Brandon came with me inside of him, and because of the way the strap-on rubbed against my clit every time I thrust into him, I came with him, too.
Unexpectedly, pegging Brandon helped me understand how vulnerable and hurt I'd really been, and how I'd been trying to understand that hurt every time I went looking for sex. Our experience together also helped me understand how sacred and tender it was to be together in this way, every time I submitted to someone, and how truly awful it was to have my choice taken from me when I was younger. But it also showed me that I could be both feminine and dominant while embodying my gender sexually, which was really affirming and beautiful all in itself.

When Brandon was ready again, I took off the strap-on and I let him f*ck me, multiple times throughout the night, feeling safer and more secure than I'd ever had with someone I ever let inside of me. By the next morning, we were tired but happy, smiling while making plans for the next time we could be together.
*Names have been changed
Image Source: Getty / Eillen malerapaso