How to Plan a Virtual Hen Do: Digital Hen Party Ideas
Here's How to Hold the Ultimate Virtual Hen Party, From a Bride-to-Be Who Planned One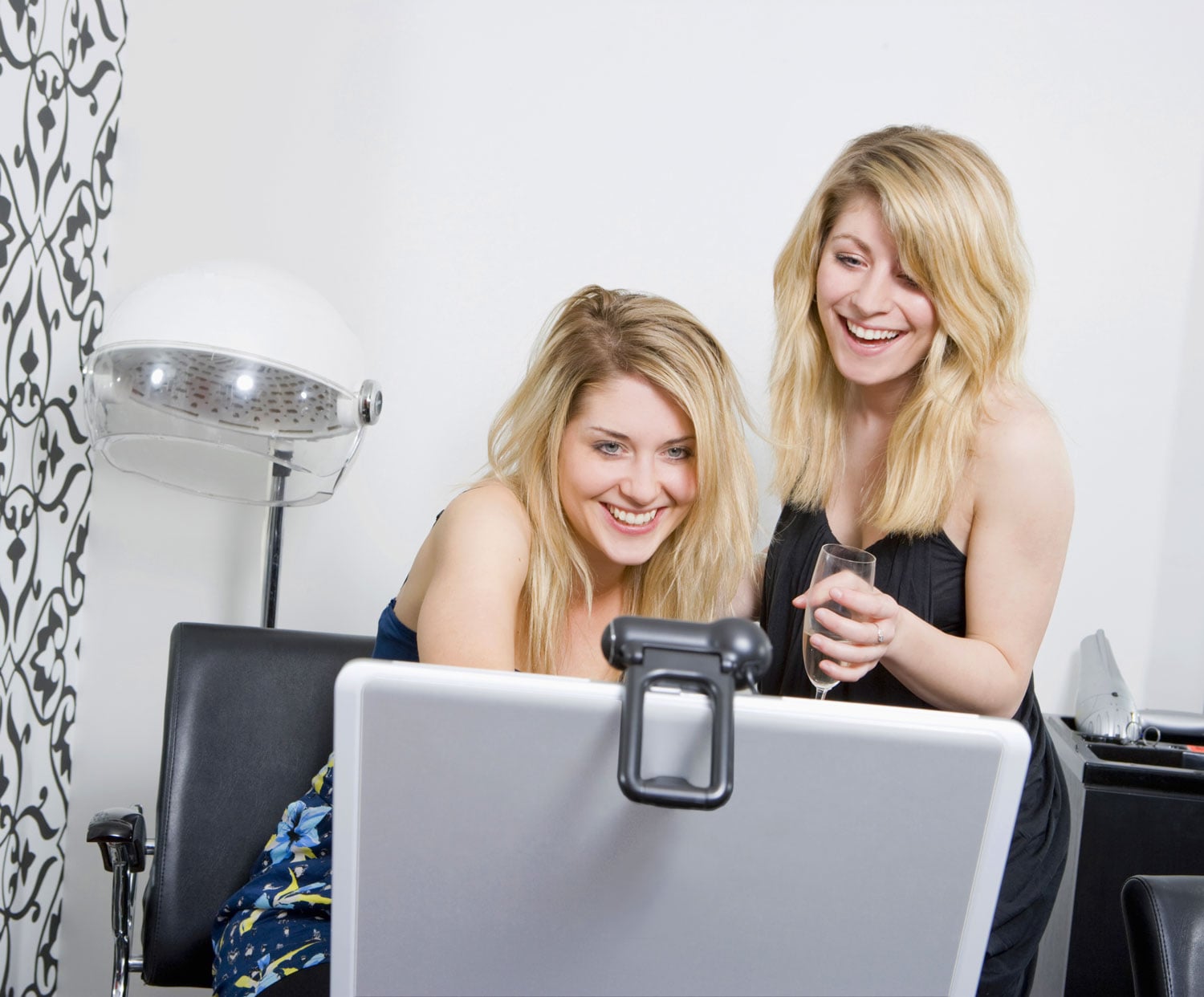 My fiancé and I were meant to be having a dream Italian wedding in just a matter of weeks — until the global coronavirus pandemic happened and changed those plans. Now, the weeks that should have been spent getting excited for the big day have instead been filled with stressful emails and phone calls rearranging dates and requesting refunds — all while working from home and attempting to manage a toddler. Quite frankly, I'm exhausted.
In this situation it's easy to throw yourself a pity party, and I must admit that I was having one and dwelling on the negative, until one morning I decided that enough was enough. My friends all want to celebrate with me, so why not lift people's spirits with a virtual hen party? That way, everyone can enjoy a fun, boozy night in the comfort of their own living rooms, without having to worry about getting home or the expense of a weekend city break.
In this period of time where so much is unknown, organising a hen party provides a great distraction; and not only has the planning helped boost my mood but it's also helped to raise my friends' and family's spirits. After all, who doesn't love a hen do?
I had always planned to do a London-based event, but now it was time to get a little more creative and give some of the most popular hen do activities an isolation twist. After a few hours of home-based hen research, I realised we could pretty much re-create the whole day with the help of a few digital hacks.
As fitness is one of my passions, my original plan was to drag my bridal party (some of them kicking and screaming) to my favourite Psycle barre class, followed by a boozy cocktail masterclass, a carb-infused meal, and a few hours of power ballad karaoke. For that Instagram-able snap at the postparty hotel sleepover, I had already stocked up on holographic sheet masks from my favourite London beauty emporium, John Bell & Croyden, and purchased silk pyjamas from Yolke's sample sale.
After firing off some WhatsApp messages to my hen planner, we created the ultimate lockdown party. If you're in two minds about planning your own virtual hen do, take my advice and go for it — not only will the laughs be needed more than ever but the memories you create will never be forgotten. Here are my hen dos and hen don'ts for organising the perfect virtual party.
1. Pick a Colour Theme For All Virtual Guests
I didn't want to go down the mildly cringey route of getting personalised hen party tops made, so instead I chose a colour theme for all guests to wear. That way, they could pick out something from their wardrobe, and everyone could interpret the theme in their own way, whether that's with something as simple as a statement red lip, or a full monochromatic look for maximum impact.
2. Create a Unique Hashtag For the Day
If you and your hens are active on Instagram, then creating a unique hashtag is a fun way to get a behind-the-scenes look into how everyone prepares for your online party. It's also a great way to preserve all those memories in one place that might otherwise get missed on a video call.
3. Try a Virtual Barre Class Via Zoom or IGTV
Fitness has always been my passion, and my love for exercise has only grown in isolation. I know some of my hen party aren't as passionate about fitness as I am, but I knew that the moment they felt the energy from the heads of barre at Psycle, Maria and Rod, they wouldn't look back. Barre classes are great for all fitness levels as they're low-impact and don't involve a huge number of props; or if they do, then you can create your own makeshift props using household items. We all tuned in wearing our best Lycra and pulsed and planked to the beat.
4. Send a Special Gift to the Bride-To-Be
Though it's difficult to find the perfect gift with shops closed and online deliveries delayed, my hen party were kind and organised enough to send me a care package filled with a few of my favourite things — with a bridal twist. First, a pair of Varley leggings that both feed my fitness habit and fit with the white bridal theme, a bottle of my favourite champagne from Fortnum & Mason (if you know, you know), and the Spring Flowers DIY Tin from Biscuiteers, which contains prebaked flower biscuits and everything you need to ice them, in tribute to my love of flowers and gardening.
There are still plenty of delivery services out there to pull together a great hamper for your hen; just make sure you plan as far in advance as possible to avoid hefty postage fees.
5. Mix Up Some Bespoke Cocktails
I challenged my hens to create an innovative cocktail with whatever ingredients they had in the house in 10 minutes — then drink them and describe them to me so I could give out a prize for the most creative concoction. There were frozen Whispering Angel cocktails, whiskey sours, and even a boozy Coke float. If you need some inspiration then head to Instagram, where Soho House revealed the recipe to their famous Picante cocktail and Aperol recently demonstrated how to make the perfect spritz.
6. Cook a Wedding Day Destination-Inspired Dish
As my wedding was due to take place in Italy, I thought it was only fitting to choose an Italian-themed dish for my guests and I to make during the cookalong portion of my virtual hen do. I choose something simple that all my guests could rustle up at home with limited ingredients. Now that the supermarkets are suffering shortages of the basics, my go-to dish of creamy pesto pasta made the cut. All you need is basil, olive oil, garlic, avocado, salt, and pepper. This recipe also works for vegetarians and vegans, too, plus you can use any type of pasta you have in your store cupboard. Choose something that has links to you, or your hen do destination, and make sure its easy enough for your guests to re-create and have fun with.
7. Hold the Great Hen-Do Bake Off
I wasn't a keen baker before lockdown, but like most of the country, I have now developed some serious skills, and I'm making new baked creations on the daily. My initial idea was to task all my guests to bake a wedding cake in an hour — a fun way to find out what they could come up with in such a short time — but given the current flour shortage, that wasn't going to be doable.
I decided to get my guests to join in with a baking class that I've been enjoying every week during lockdown. Livia's live Friday baking classes on Instagram are easy to follow and don't require mountains of ingredients or a tonne of flour. We made the double chocolate chip cookies (made with porridge oats, coconut sugar, coconut oil, maple syrup, cacao powder, and chocolate chips — or leftover Easter egg, which a lot of my hen party used). These were truly delicious, and it's fun to see everyone's creations via WhatsApp when they were fresh from the oven.
8. Pamper Yourselves With an At-Home Facial
My initial plan was to post out my favourite Oh K! Holographic Sheet Masks (£10 each) to my guests, but many of the masks didn't arrive in time, so I had to come up with a plan B for a DIY face mask from products you have in your kitchen. Sarah Carr, a facialist for Liz Earle, says that her tried-and-tested DIY mask made from natural bio yogurt and olive oil is "the best natural mask for boosting skin's radiance and reduces redness and inflammation."
9. Get Your Partner Involved With a Quiz
With answers from your fiancé, who doesn't love a good quiz? We opted for a "Mr and Mrs Quiz" where everyone had to guess the answers to multiple choice questions like, "What did Eamonn say Kirsty's most annoying habit was?" Get your fiancé to prerecord their answers and play them to everyone at the end — the perfect way to get your partner-to-be involved, too.
10. Enjoy a Karaoke Singalong Via House Party
A good singalong after a cocktail or two is such a mood booster, and as I found out, this is one activity that's supereasy to organise. Simply get each guest to select a song, and pull together your karaoke playlist ahead on Spotify. And for the serious Karaoke pros out there, the Lucky Voice group who have venues across London have introduced the ultimate home karaoke kit.
11. Follow a Nail Art Tutorial For At-Home Manicures
Not only is the lockdown manicure trending big time on Instagram right now, but adding at-home manicures into your virtual hen do is also another way to incorporate your colour theme into the experience. Get inspired with some simple seasonal nail art designs to follow, and once you're all finished, you can reveal your mani masterpieces on Zoom.
12. Wind Down With a Face Gym Session
Master the art of a DIY face massage by organising a digital group session with a FaceGym trainer. You'll not only spend time with your bridal party but the session will also guide you through techniques to firm up your facial muscles (hello, cheekbones!), and promote lymphatic drainage.