Pete Souza Post on Trump Calling Omarosa a "Dog"
Trump Called Omarosa a "Dog," and Pete Souza Had a Perfect, Scalding Response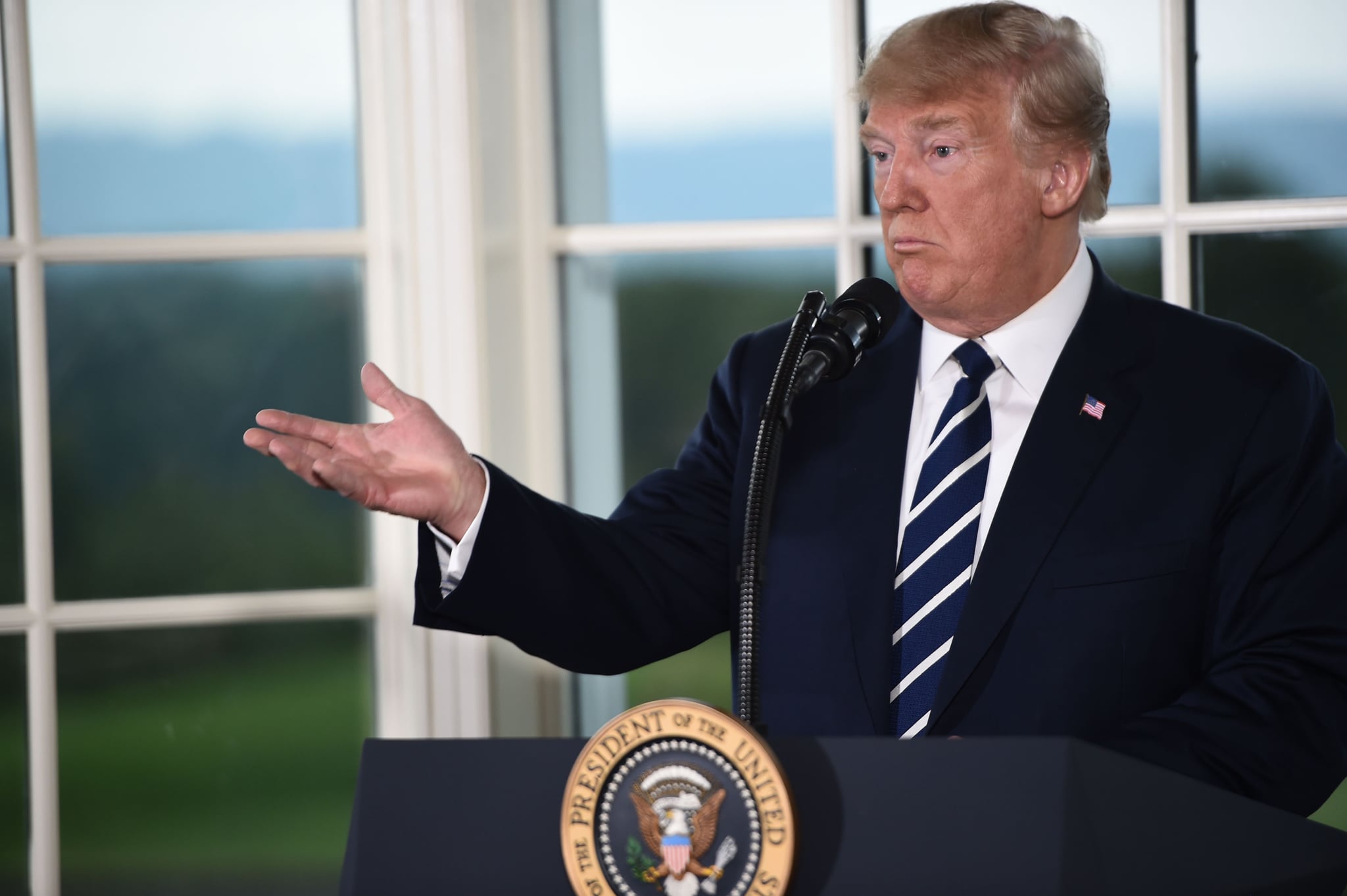 Image Source: Getty / Brendan Smialowski/AFP
Donald Trump, if you play with fire, you are going to get burned . . . by Pete Souza. The former White House photographer has a whole archive of Obama photos he uses as his own personal set of matches. Following Trump's Aug. 14 tweet calling former White House aide Omarosa Manigault-Newman a "dog," Souza is showing the current president what an actual pupper looks like — with a photo featuring none other than beloved Portuguese Water Dog and former Woofer in Chief Bo Obama. "A real dog waiting for a real president," Souza wrote alongside the picture.
A real dog waiting for a real President. pic.twitter.com/oWPVjtdViw

— Pete Souza (@PeteSouza) August 14, 2018
Manigault-Newman is making the rounds timed to the release of her tell-all book, Unhinged, and Trump's Aug. 14 tweet referring to her as an animal has sparked widespread outrage. With Manigault-Newman exposing Trump's alleged use of the n-word and other derogatory racial slurs on a long-rumoured recording from The Apprentice, Souza truly has us longing for the Obama glory days.
When you give a crazed, crying lowlife a break, and give her a job at the White House, I guess it just didn't work out. Good work by General Kelly for quickly firing that dog!

— Donald J. Trump (@realDonaldTrump) August 14, 2018
Making matters worse, White House Press Secretary Sarah Huckabee Sanders now says that she "can't guarantee" we'll never hear a recording of Trump saying the "n-word." In the same Aug. 14 press conference, she also claimed that Trump's comments referring to Manigault-Newman as an animal have "absolutely nothing to do with race and everything to do with the president calling out someone's lack of integrity."
Souza's latest dig was just that: his latest. He constantly fires back at whatever Trump's latest abhorrent, headline-making move is with a reminder of what the presidency used to look like when Obama was in office. Whether it's a photo of Michelle and Barack's loving embrace after Trump said he wasn't buying Melania a birthday present or a reminder of what "animals" actually look like with a photo of zebras after Trump referred to immigrants as such, Souza never strays away from a blatant call-out.
If the current news cycle has you utterly disgusted, might we suggest basking in these photos of Bo and Sunny Obama with the former first family.