Can You Breastfeed If You Have Osteoporosis?
If You Have Osteoporosis and Want to Breastfeed, You Must Consider These 3 Things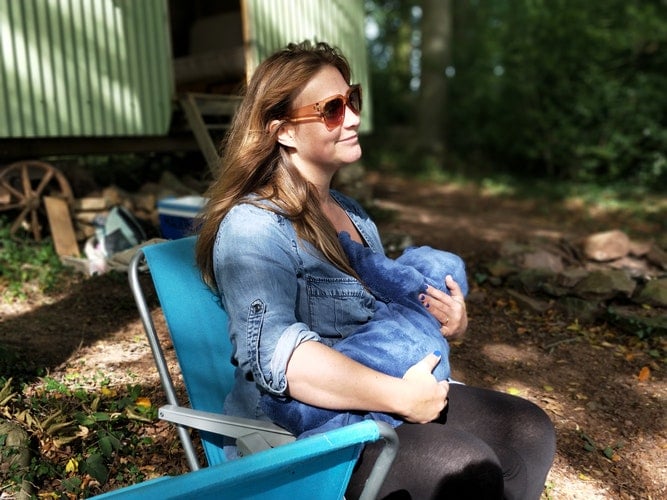 Many moms have the freedom to choose between formula-feeding or breastfeeding their baby. Others, however, don't have that luxury and have to consider their own health and bodies first and foremost. Every new mom has heard the saying "breast is best," but there are those who don't want to breastfeed, those who tried and switched gears, and those who actually can't. Some women with osteoporosis may fit into this group, as there are several complications and risks associated with breastfeeding.
"I believe osteoporosis should be treated on a case-by-case basis due to medications women are taking and the severity of the condition; thus, how it effects Mom's overall health," Shonte' Terhune-Smith, BS, IBCLC, and lactation consultant at YOLO (You Overcoming Lactation Obstacles), told POPSUGAR. In other words, there isn't a clear-cut answer across the board for women who have osteoporosis, because there are varying degrees of it and different medications that are prescribed. In regard to those medications, Shonte' stressed that it's imperative that mothers check with their doctors to be sure that the medication will not harm their milk supply, themselves, or the baby. If it does, and the woman needs that specific medication, she should not breastfeed.
The age of the mother may also be a factor. Shonte' stressed that osteoporosis tends to affect older women (around postmenopausal age) more than others. However, since more and more women are choosing to wait longer to start a family, this is something they need to consider when it comes to their bone health while breastfeeding. If a woman has severe osteoporosis and already has bone fractures, simply holding and positioning her baby to breastfeed could prove to be problematic and prevent the mother from healing. Furthermore, Shonte' said, "Because breastfeeding does remove some calcium from a lactating mother's bones, once she starts to wean, that calcium is typically restored." In other words, breastfeeding will likely not be a problem for a woman who has osteoporosis as long as her ailment is not severe. "If Mom's calcium level is very low, I could see suggesting she does not breastfeed," Shonte' said. However, she stressed that with supplements, diet changes, and medication, many mothers with osteoporosis should still be able to breastfeed.
Breastfeeding can be a beautiful experience, but the mother's health is important, too. If a woman has osteoporosis, it's vital that she have her calcium checked before attempting to breastfeed to be sure it isn't depleted. She also should not have any current fractures that may not heal due to holding her baby. And finally, it's important that a mother checks to make sure her medication is not harmful to the baby. Women who have osteoporosis may be able to nurse, but it's important to look into all of the potential risks and complications before doing so.