Dad Accidentally Sends Daughter to School in Underwear
This Dad Sent His Daughter to School in Underwear, and His Wife's Response Is Everything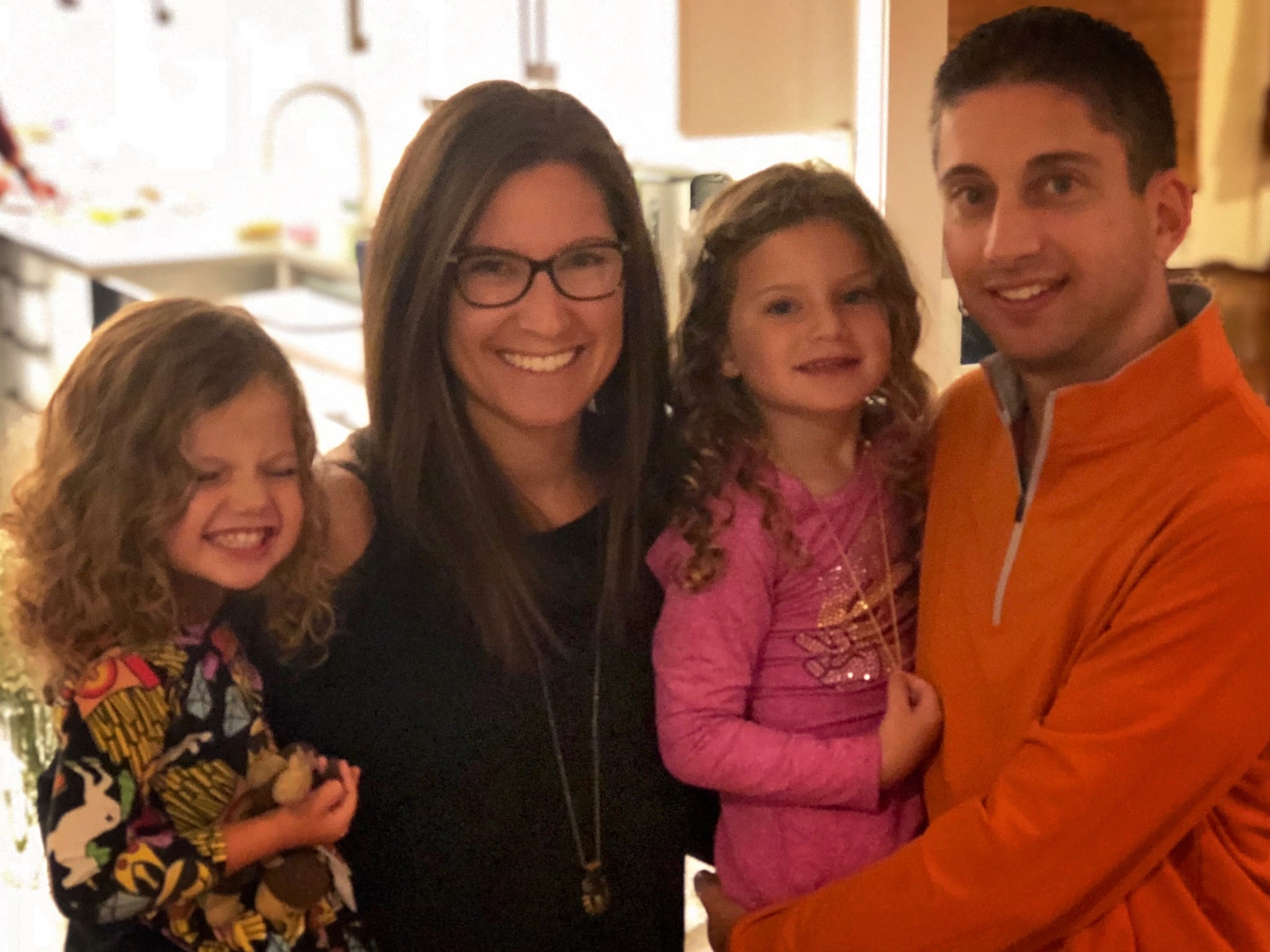 Aliza Friedlander, a mom of two and freelance writer from Pikesville, MD, has her daughters' morning routine down pat. And though she usually gets the kids up and ready for school every day, the duty fell to her husband, Brad, when she had an early work meeting one morning. While Aliza admits that her husband is perfectly capable of holding down the fort, hilarity ensued when he accidentally sent their 3-year-old daughter Brooklyn to school in potty-training underwear.
"That morning, I got up and got myself ready while Brad took care of the girls," Aliza told POPSUGAR. "He packed their lunches, made them omelettes for breakfast (a gourmet breakfast as he described it. I usually give them a quick breakfast of yoghurt and microwaveable pancakes or Nutri-Grain blueberry Eggo waffles), and told them to go upstairs to get dressed."
So far, so good, right? Despite the fact that locked doors are a no-no in the Friedlander household, Brooklyn did just that so she could "get dressed." According to Aliza, the sh*t hit the fan once Brad dropped Brooklyn off at school. Naturally, Aliza's mom, who showed up at school that day for Brooklyn's music class, put two and two together.
"It was the first time in six years I had to leave before school started for a work event, and this is how our daughter shows up to school!"
"When my mother got there, she didn't realise they were underwear from the front," explained Aliza. "Her initial thought was that she was wearing white bike shorts scrunched up in the front with her shirt covering them. When my mom went into the classroom and saw Brooklyn from behind, she noticed that they, in fact, were not shorts. She stayed very calm and didn't make a big deal about it and just turned to one of my close friends, Melissa, and said, 'I think Brooklyn is wearing underwear, are those underwear?' to which Melissa replied, 'Yes.'"
At that point, Aliza received a text from Melissa giving her the rundown . . . and calling out her husband. As soon as she got wind of what happened, she fired off a few messages to Brad.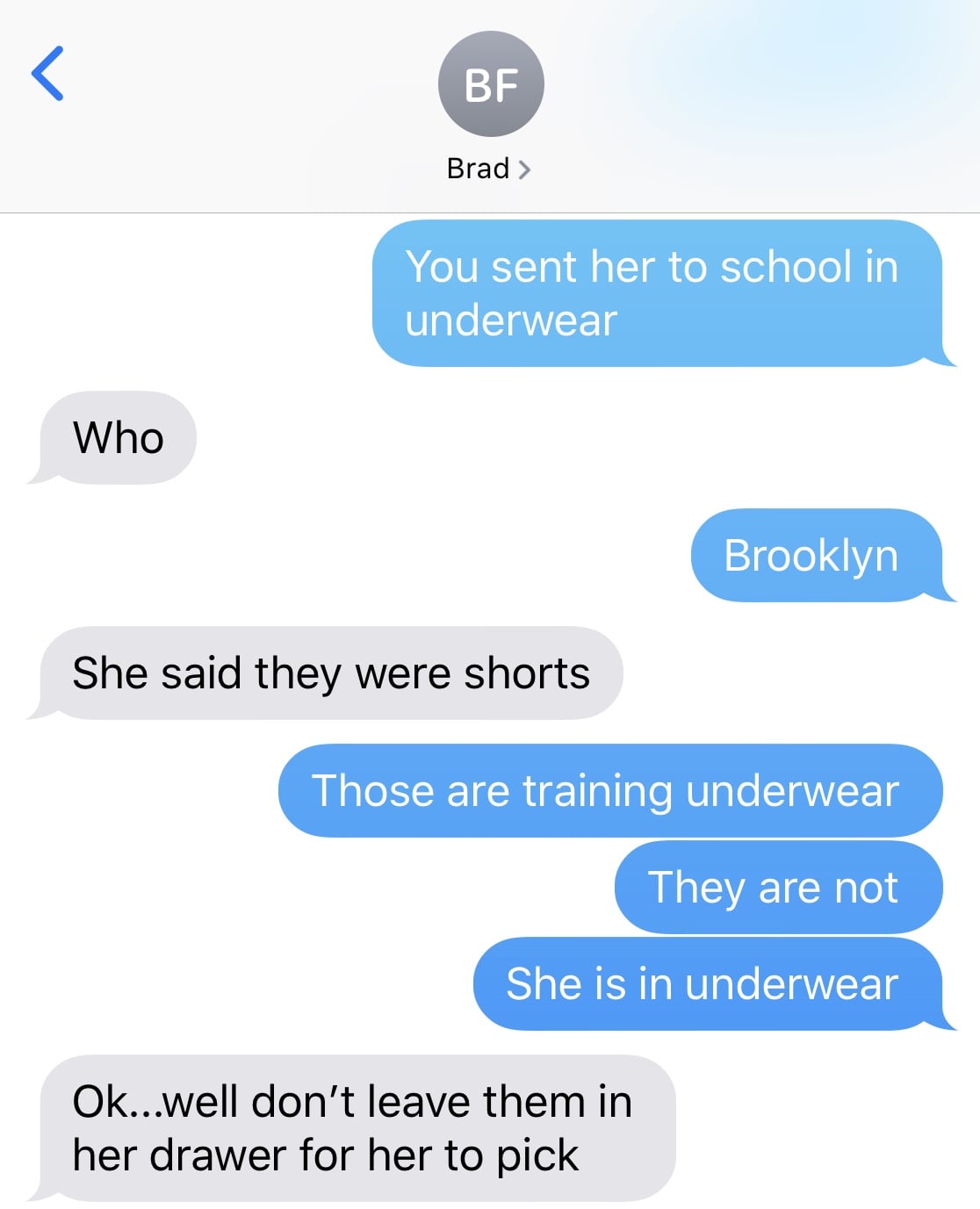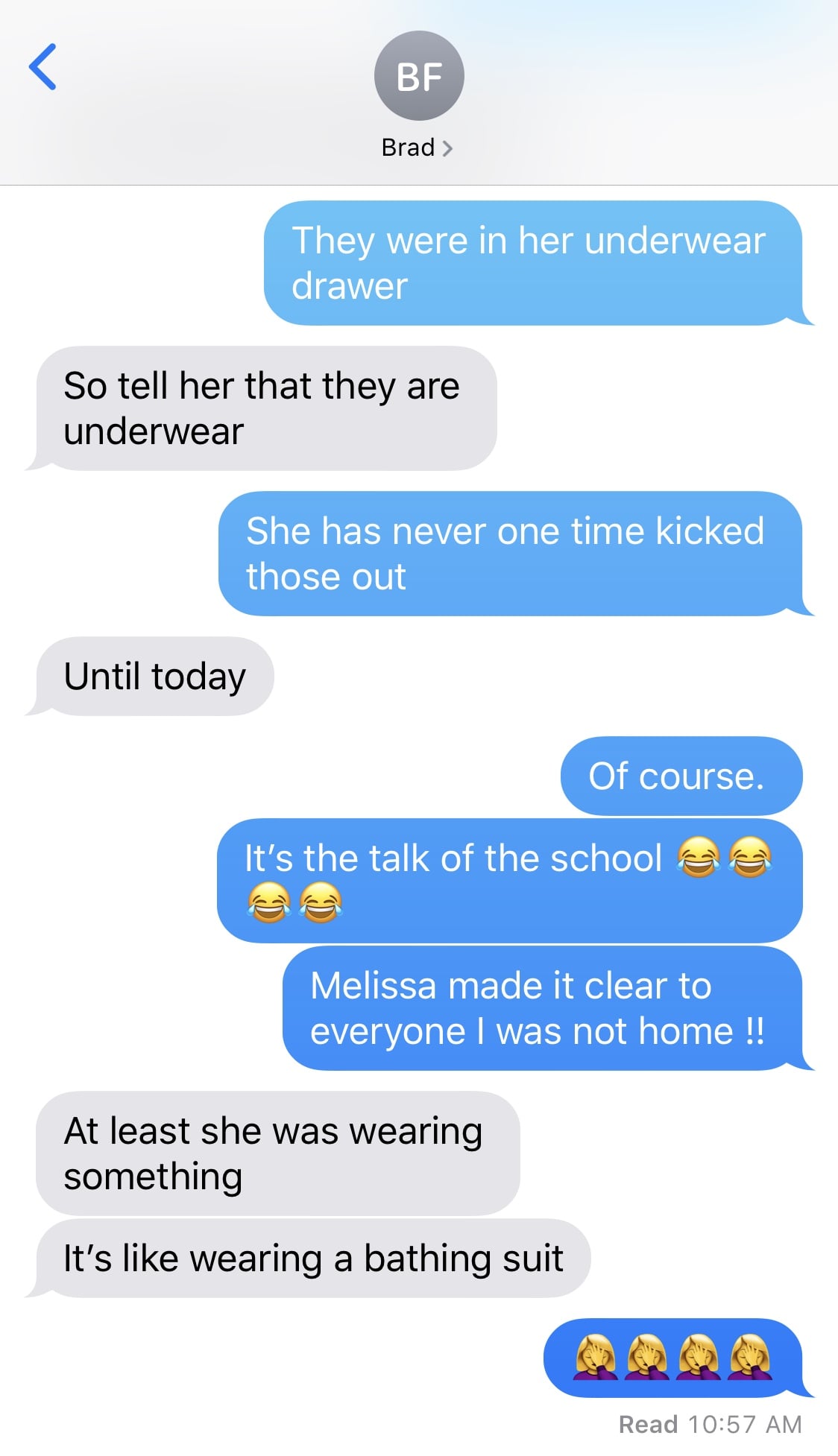 "I just laughed when I got the text and finally figured out they were underwear," she said." At first, I didn't realise, and I thought my friend was showing me that Brooklyn had put something in her pants, but then it hit me that those were in fact potty-training underwear! I just thought this couldn't be more perfect. It was the first time in six years I had to leave before school started for a work event, and this is how our daughter shows up to school! Brad has done the morning routine before and does it a lot on the weekends, and nothing like this has EVER happened before."
Thankfully, Aliza has a great sense of humour. "The best part is that Brooklyn told Brad those were bike shorts and that she was actually wearing a pair of underwear under the underwear so she was wearing them as shorts even though they weren't," she said. We have to admit, kids are one hell of a ride!
Image Source: Aliza Friedlander