Essay About Thinking You're a Bad Mom
I Try My Hardest, and I'm Still a Mediocre Parent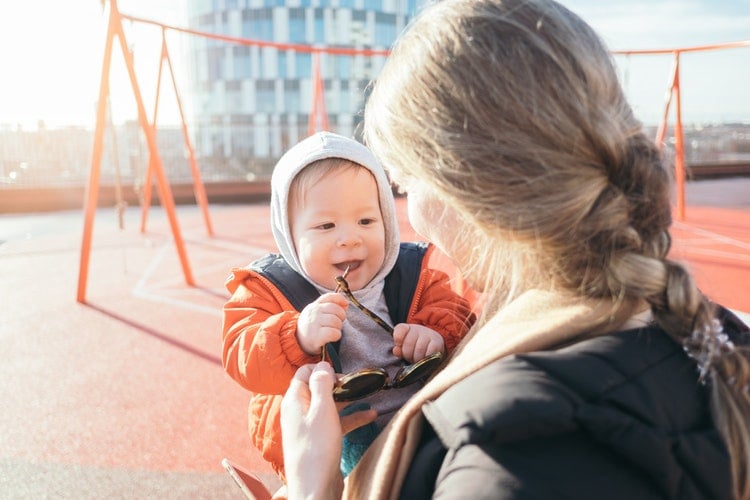 I'm a very mediocre mom.
There are days when my kids leave the house without brushing their teeth — because no, we don't have one more minute and I'm so tired of fighting. My son and daughter bicker daily. I let them eat too much junk food. I yell. And I'd be lying if I said I never questioned my parenting. We all do.
I question myself because I want what's best for my kids. I second-guess my choices on a daily basis, both big and small, because I want to make sure my kids are challenged, loved, supported, and happy. I also question myself because of this wild animal called social media. It's hard not to get down on myself when I look at what activities Mrs. Super Mom has her kids signed up for, their adorable matchy-matchy family photos, and amazing (and frequent) vacations, while I just try to keep my head above water in yoga pants with endless errands to run. While I used to drive myself crazy because I know I can't even try to compete with that, now I throw my hands up in happy defeat. I am a mediocre mom, and I fully embrace it.
We think our mediocrity will never be enough. But, moms — our kids certainly don't think we're doing a mediocre job. We are their entire world, and they love us no matter what.
You know why? Because despite my mediocre parenting skills, sometimes my kids surprise me. And when they do, it says something positive about me as a parent. When it comes down to it, I think I'm doing a hell of a lot better than I think. I learned this fact just the other day when I woke up and felt like total crap. I crawled out of bed looking like a zombie: my hair stuck straight up and dark bags were painted under my eyes. My head throbbed, my throat was raw, and there was no amount of coffee to cure my fatigue. Sitting at the breakfast table, my kids, ages 5 and 3, could see that their mom was in rough shape. And you know what they did? They rallied. Because they knew they had to. And, quite possibly, because they also learned through the actions of me and my husband.
They got dressed without me telling them to, played quietly, took care of their own dishes, and didn't argue — not even once. As I sat on the couch sipping my coffee, glazed over staring at the news, I overheard my son say to my husband, "Hey, Dad, let's make Mom a 'get better' card like we did last time.'" And he did. He drew a little red heart with, "I hope you get better, Mom," scribbled in his messy kindergarten handwriting. And somehow, we managed to glide out the door before school with ease, which is something of a new phenomenon in our house. I'm sure teeth weren't brushed and the kids had mismatched socks on, but that didn't matter. We worked together.
Later that afternoon, it was time to tuck my 3-year-old in for a nap. She said, "How about I tuck you in, Mommy?" She put her own pull-up on, tugged the blanket up to my chin, kissed my forehead, and cuddled next to me for a minute. Then she snuck out only to tuck herself into bed. When we both woke up, the first thing she said to me was, "Did you sleep, Mommy? Do you feel better?" I had no idea my feisty girl had that much sweetness in her. Turns out, she does. More than I could have ever hoped for.
Later, after the big kindergartner came home from school, the kids built a fort together while Mom continued to glue her butt to the couch. I only heard giggles. My daughter got them snacks. My son got the chalk and the stuffed animals. They helped each other.
That day, a day which I thought would be hell for me, turned out to be one of the best days I can remember in a long time, despite the heavy sickness in my head. My kids showed me that my parenting has taught them to be gentle, kind, collaborative, generous, and so on. I may think I'm failing as a mom every single day, but my kids wouldn't want any other mom.
Half the time we think we're really screwing them up, don't we? We don't read to them enough. We nag them to death. We don't feed them organic foods. We don't do the candid family photos and post them on social media. We compare our mediocre parenting skills to the faux parents online who seemingly never mess up. But, guess what? Everyone messes up. Yet, we continue to think our mediocrity will never be enough. But, moms — our kids certainly don't think we're doing a mediocre job. We are their entire world, and they love us no matter what. Embrace your mediocrity, because we're doing better than we think.