Blake Lively and Ryan Reynolds's Kids
Blake Lively and Ryan Reynolds Are Now Parents to 3 Girls — Meet the Sisters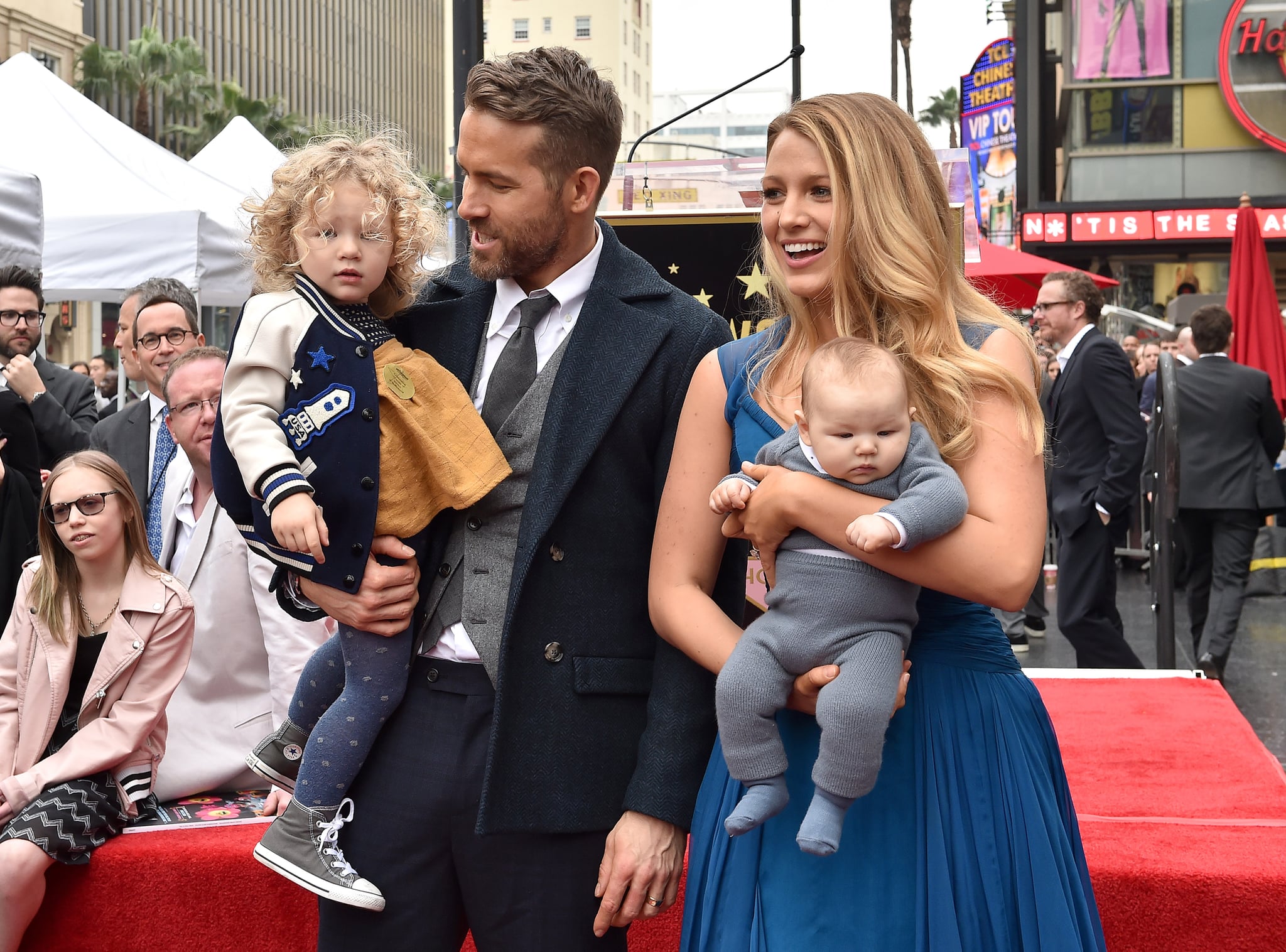 Blake Lively and Ryan Reynolds are a family of six! The "Gossip Girl" alum subtly revealed the arrival of the pair's latest family addition on 12 Feb. via a Super Bowl Sunday Instagram post in which she's pictured sans baby bump. While Lively and Reynolds are a pretty private celebrity family, we have gotten a glimpse of their three gorgeous girls — James, Inez, and Betty Reynolds — over the years and hope to soon get a peek at their fourth child.
The good news is, every so often, Lively or Reynolds will speak about their parenting experiences or step out with their kids. Back in January, Reynolds traveled to Wales with his eldest daughter, James, to support Wrexham AFC, the soccer team he owns with Rob McElhenney.
Lively and Reynolds have also kept fans updated on their parenting journey. Speaking to ET Canada in April, Reynolds joked about how he's handling being a father of four, saying, "I haven't met any of them yet, but they seem great. They have a private Instagram account that I follow."
He continued: "You know, two to three was a huge jump . . . three to four less so. I cannot speak for my wife, but it's just from what I've observed. But, we love it. You know, we would be idiots to do this again if we didn't love it."
Reynolds also shared that he and Lively have always wanted a big family. "Yeah, I come from four, Blake comes from five. Both of us are the youngest," he told the publication.
While we wait for more details about Lively and Reynolds's fourth child, here's everything else we know about their kids.
James Reynolds
Reynolds and Lively married in 2012 and welcomed their first daughter, James, on 16 Dec., 2014. The little one made her public debut alongside her parents at Reynolds's Hollywood Walk of Fame Star ceremony right before her second birthday, and she obviously stole the show in the cutest outfit. In September 2018, we got a look into James's humor when Blake shared what the toddler thought her parents' anniversary meant.
"I had to explain to my daughter what an anniversary is. She's like, 'What is it, does it mean you're having another baby today?' and I was like, 'Dear God, no, it doesn't. It means it's our wedding's birthday.'" She definitely had a bit of intuition about her future baby sister there!
Inez Reynolds
Reynolds and Lively's second daughter, Inez, was born on 30 Sept., 2016 — less than two months before she also made her public debut at her dad's Star ceremony. Inez earned her big sister badge right around the time she turned 3, but other than that, we admittedly don't know much about her. We do know, however, that Dad plans on following her and her sister to college one day, so, godspeed, Inez!
Betty Reynolds
Although Lively and Reynolds hadn't released their baby's name at the time, the latter hinted that they had welcomed another baby girl via Twitter on 16 Oct., 2019. "I love B.C. I want my daughters to experience the same natural playground I grew up in," he wrote, along with a sweet photo of himself, Blake, and the new baby.
Then, on 24 July, 2020, fans speculated that Taylor Swift had revealed the little one's name in a song on her surprise eighth album, "Folklore." In a song titled "Betty," the singer uses both Inez and James's names. Because Betty is the only other name in the song, fans theorized that Betty is the name of the couple's third daughter, and later that day, it was confirmed by a source close to the situation that the rumors were true! As the whole family are fans of Swift and James's little voice appears in Swift's song "Gorgeous" on the album "Reputation," it isn't all that surprising that Lively and Reynolds would let Swift break the secrecy on Betty's name.
In a November 2020 interview, Reynolds sort of admitted that Betty is his favorite kid, at least at that time. "I have a new baby," he said of his youngest. "She's a little over a year now, so I really like hanging out with her, cause it's fun watching her grow up." This was all said, however, before Betty developed a "Baby Shark" obsession in April 2021. Jury's out on whether or not she's still his favorite!