How to Plan a Party at Chuck E. Cheese's
I Always Judged Places Like Chuck E. Cheese's . . . Until My Son's Birthday Proved Me Wrong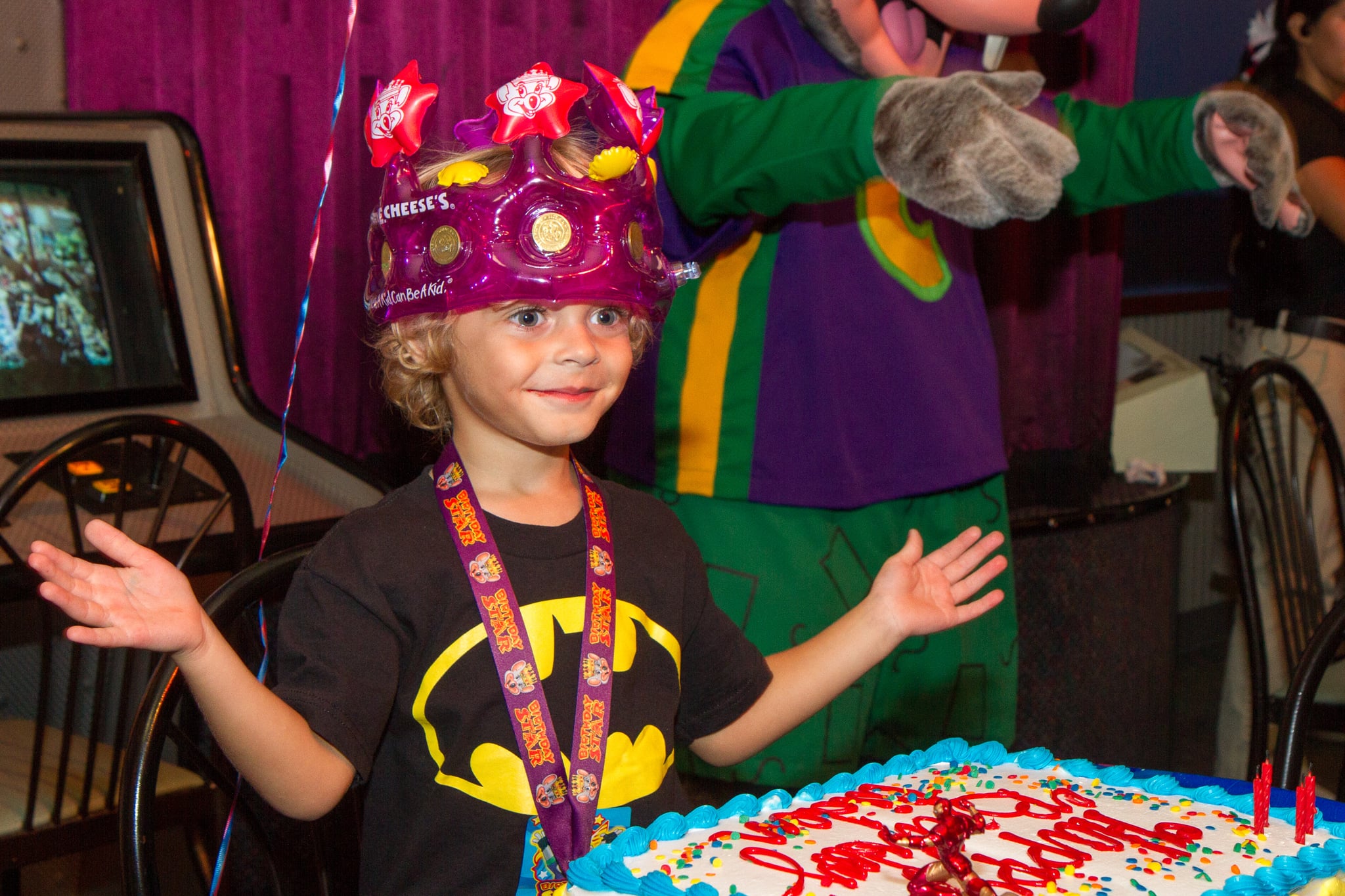 I hate to admit that I've always been a bit of a snob when it comes to places like Chuck E. Cheese's. My kids have been invited to multiple birthday parties there, always on weekends, and I've dropped them off and have been thrilled to walk out the door, finding the place too loud, too bright, too crowded, and way too tacky to have any incentive to stay. So, when my almost 8-year-old daughter mentioned wanting to throw her own party there, I quickly redirected her to venues I deemed a bit better, and thankfully, she happily followed my lead.
My son, however, had a one-track mind when it came to celebrating his fifth birthday recently, and that track led directly to Chuck E. Cheese's. Considering it was the first birthday that he's ever really been old enough to weigh in on, I found it very hard to say no, but the thought of dealing with a bunch of five to eight year olds on a Saturday or Sunday, when the place would be jam packed, was filling me with dread. So I hacked the sh*t out of his party, and guess what? My husband and I left declaring it the best kid's birthday party we've ever thrown. Here's how to make Chuck E. Cheese's (or any similar venue) manageable — and I dare say, fun for adults, too — even if you started out as a bit of a hater.
Don't go during the weekend. Granted, this will really only work for preschoolers or if your grade schooler has a holiday or half day off school (when the venue will probably be more crowded), but the timing of your Chuck E. Cheese's party is crucial. We held my son's party on a Friday from noon to 2 p.m. and besides our crew, there were about five other kids in the whole place. That meant no waiting for games, easy supervision of all children, and way less stress.
Limit your guest list. My son invited just three other boys, which meant that my husband and I could easily manage the foursome and make sure they were all safe, entertained, and having a great time. Since there was no need for their parents to stay to help, we also didn't have to feed any adults besides ourselves, which majorly cut costs and made things simpler.
Book an unlimited game party package. Chuck E. Cheese's offers multiple party packages, and we went with the one that gave the kids two hours of unlimited games (i.e. no need to refill cards during the party), pizza, drinks, dessert, a trip to the ticket blaster, goodie bags, and a birthday serenade from Chuck E. Cheese himself. Since we only had four kids attending, the whole shebang was $100. My husband and I were also given a "parents" game card with more than 100 points and 1,000 extra tickets, which we let the kids use to fill out their goodie bags with Chuck E. swag.
Join in on the fun. Because the place was so empty, we could keep one eye on the boys while they ran around with their game cards and played — and the other eye on Skee-Ball, where my husband and I posted up, earning hundreds of tickets we added to the pile the boys kept delivering to us from their own games. Let me tell you, parents, after years of our kids' birthday parties mostly involving a lot of screaming, stress, and our house being totally trashed, Skee-Ball was an utter delight.
Embrace the cheese — literally. Chuck E. Cheese's pizza isn't half bad, so don't feel like you have to eat in advance. Instead, we helped ourselves to the lunch buffet and some root beers (though they serve actual beer, too, if you're so inclined), then joined Chuck E. Cheese and our son in a birthday song and dance, after which I apologised to the mouse for my former judgment of his establishment. Just kidding; that would be weird. But when my son asked if we could have his next birthday at Chuck E. Cheese's, too, I told him it was a definite yes.