Kristen Bell Wears Last Year's Elsa Halloween Costume
Kristen Bell and Dax Shepard Rocked the Same Costumes as Last Year and The World Didn't End
If you're like me, you find immense joy in scrolling through your day-after-Halloween Instagram feed to see what everyone dressed up as this year. When I came across a photo from Kristen Bell, I assumed it was a throwback photo to last year. But, no! It was just that the star, in true relatable parent fashion, was wearing the same costume as last year.
In her post, she joked that it was a sequel (hellooo, Frozen 2!), but admitted it was "otherwise known as the SECOND year in a row my daughter demanded I be Elsa to match her."
See, in 2017, Kristen Bell shared a now infamous image of her Halloween costume, not as her own Frozen character, Princess Anna, but of the ice queen herself.
Kristen wasn't the only one to be a repeat offender this year. In addition to her five-year-old daughter Lincoln reprising her matching Elsa costume, dad Dax Shepard also wore his pumpkin costume from last year to match 3-year-old daughter Delta's jack-o-lantern getup.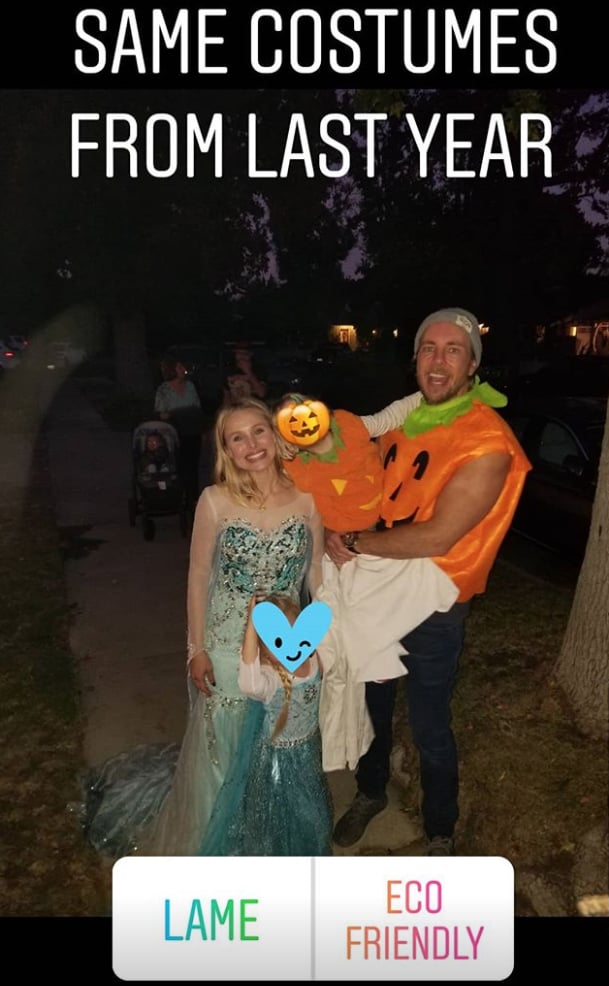 In Kristen's Instagram Stories, she polled her fans about the fact that they were wearing the same outfits as last Halloween. Lame . . . or eco-friendly?
We are definitely in the latter camp! Isn't it nice to know that you can phone it in a little as a parent (and a celebrity parent, no less) and that the world won't actually end?!