Michelle Obama Talks About Malia's Prom Date in Becoming
LOL, Malia Obama Recalls Her Prom Date Picking Her Up in Front of Her Parents as "a Bit Excruciating"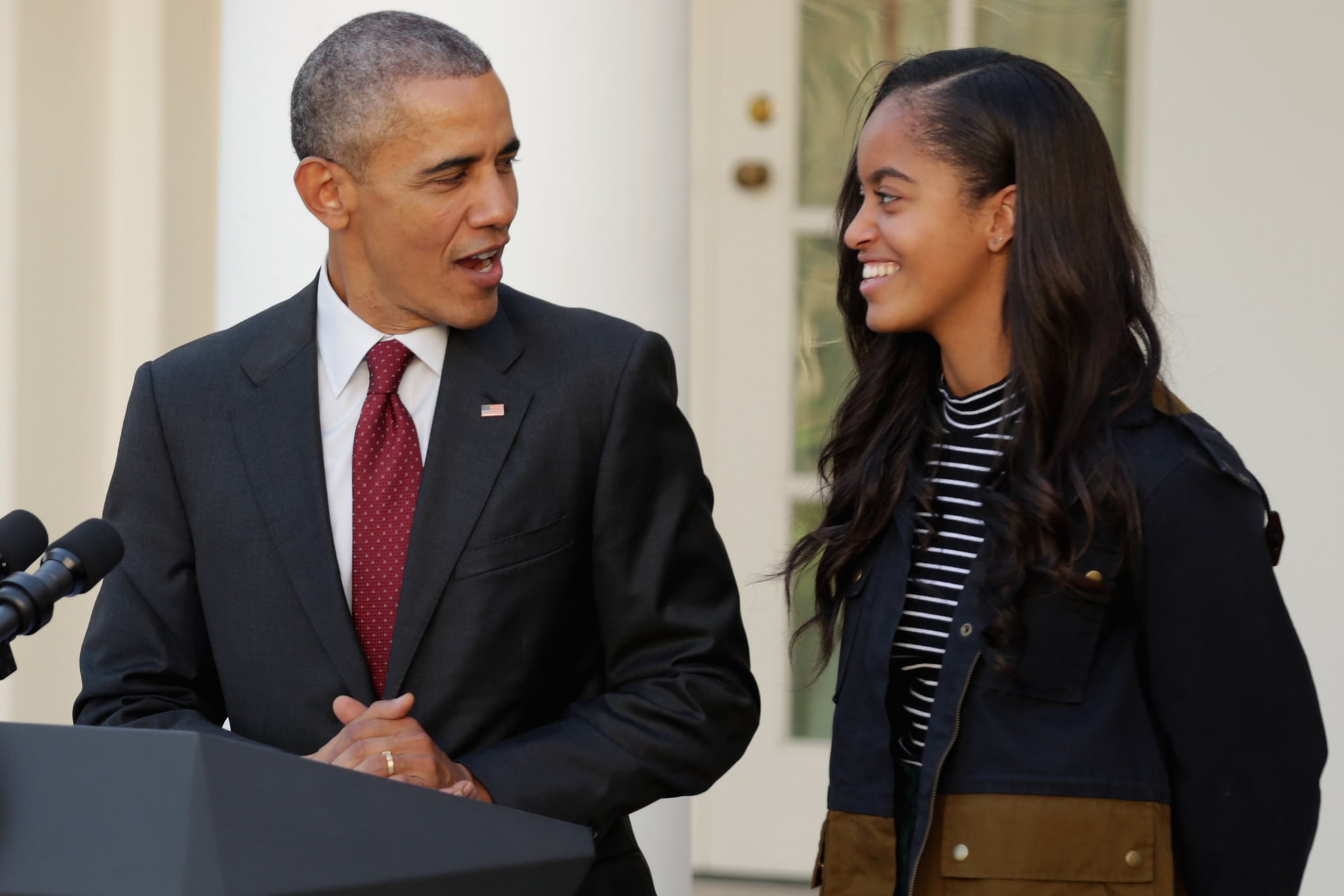 For most people, the Obama family is total (forgive me) goals — from Barack and Michelle's marriage to the way they parent their two beautiful daughters, everything about them seems picture perfect. In promotion of her memoir, Becoming, however, Michelle shattered that illusion a bit (in the best way possible). The mom of two opened up about having her girls through IVF following a miscarriage and shared that her and Barack went to couple's counseling in his early Presidential years. The Obamas really are just like so many of us despite their political and celebrity statuses, and to prove it even further, Michelle shared a hilarious tidbit about what it was like to have Malia's prom date come to pick her up in the White House in 2015, when she was 16.
Malia was asked to the prom "by a boy she kind of liked," and because it was a special night, the Obamas made an exception to the rule that the girls could only travel in a car with Secret Service and let the boy come pick Malia up at home (anyone else getting major My Date With the President's Daughter vibes?).
"On the appointed evening, her date arrived in his car, clearing security at the southeast gate of the White House, following the path up and around the South Lawn by which heads of state and other visiting dignitaries normally arrived, and then gamely — bravely — walking into the Dip Room dressed in a black suit," Michelle writes, noting that Malia asked her parents at this point to "Be cool," in part because she already seemed embarrassed about their chosen footwear — bare feet for Michelle, flip flops for Barack. (Michelle says that Malia, now 20, laughs about that awkward encounter, but notes that it was "a bit excruciating.")
"Barack and I shook the young man's hand, snapped a few pictures, and gave our daughter a hug before sending them on their way," she writes. "We took what was perhaps unfair comfort in the knowledge that Malia's security detail would basically ride the boy's bumper all the way to the restaurant where they were going for dinner before the dance and would remain on quiet duty throughout the night."
Secret Service detail or not, sounds like Malia was a very typical 16-year-old; and former President Obama, though dignified and distinguished, is just a normal dad who goes home and relaxes in flip flops.