Mom's Message to Her Husband in the Delivery Room
This Mom's Emotional Message to Her Husband in the Delivery Room Will Move You to Tears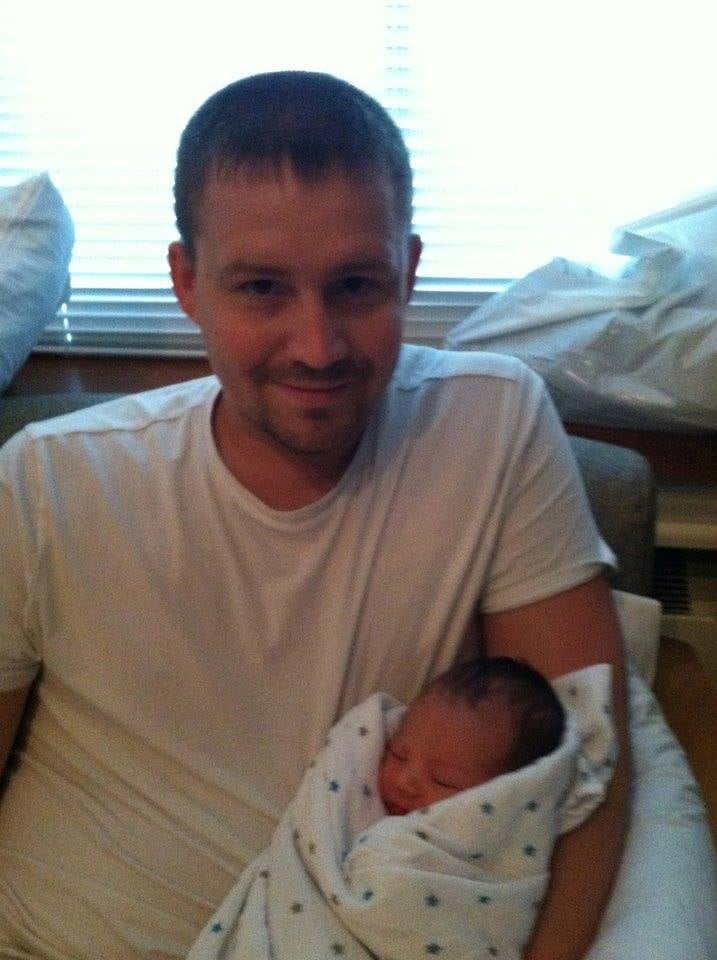 Lindsay Stauffer, a writer and mom of two, remembers the day she gave birth like it was yesterday. And while most women often fixate on the pain of labor, Lindsay remembers what her husband was doing during those moments more than anything else. She opened up about her experience in a moving Facebook post, and what she has to say is beyond sweet.
"I was there the day you lost your heart," she wrote. "I watched you from across the dimly lit hospital room as you twisted and turned your body in every way imaginable, trying to get comfortable in the hard, stiff chair that would be your bed for the next few days. Your eyelids were heavy with exhaustion and rightfully so because the hands on the clock had moved into the wee hours of the morning."
Although Lindsay knows there's not a whole lot her husband could do to help in the childbirth department, he certainly tried his best.
"You'd been awake for almost twenty-four hours and yet you had stood by my bed arranging pillows and blankets to make me comfortable, leaned down to kiss my forehead, and told me to get some rest," she wrote. "I should've listened to you but I couldn't. Because just a few short hours ago we had officially become Mommy and Daddy, the evidence curled up and sleeping ever so soundly against your chest, and it had happened so quickly that my mind was in full sprint trying to catch up to the present."
"I watched as you gave up your heart. All for a sweet baby boy you'd known for only a few hours."
As a new mom, Lindsay loved taking in all the tender moments between her partner and their new son. "[My heart] was busy taking in every single moment of you in your new role as Daddy," she said. "The way your eyes stayed fixed on our son's flawless newborn face, the way you studied his tiny fingers, the way you so carefully swaddled his little body, and the way you leaned down and whispered to him how much you loved him."
She continued: "Up until a few hours ago, you had only known this child through grainy, black and white photos and the sound of a strong, steady heartbeat but watching you with him now made it seem like you'd already known him forever. I watched as you willingly gave up your comfort, your convenience, and your needs. And I watched as you gave up your heart. All for a sweet baby boy you'd known for only a few hours. That was the moment I knew you would give anything for the precious, little life snuggled up against your chest, no matter what the cost."
And ever since, Lindsay admits she doesn't have a ton of complaints.
"You haven't disappointed me," she explained. "Not for a single second. You give when it's hard, when it's frustrating, when it's inconvenient, when it's uncomfortable, and even when we don't deserve it. But you never complain. Because giving isn't just what you do. It's who you are."
"You may question whether you're doing enough as a father and as a husband, whether you're involved enough, whether you listen enough, whether you're strong enough, whether you love enough, but just know this: We've never questioned you," she wrote. "We've always been sure of your love, not because you tell us, but because you show us. Your love shines through every act of selflessness and every sacrifice. You couldn't have loved us better. Not even if your heart was still completely yours instead of being held in the hands of the little ones who call you Daddy."