Will My Baby's Name Be Trendy?
The Surprisingly Easy Way to Predict If Your Kid's Name Will Be "Trendy" or Not
Curious if your kid is destined to live at the top of the "Most Popular Baby Names" list?
Turns out, there's a remarkably easy way to decode a name's propensity for popularity, and all it takes is some very basic maths.
According to The Atlantic, which studied the Social Security Administration's annual list of most common baby names, those topping the charts had equal amounts (or more) of vowels to consonants. This 1-to-1 ratio can be seen on full display in the No. 1 ranking boy and girl name in 2017 — Liam and Emma.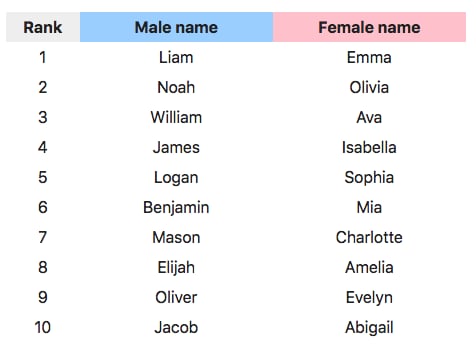 Other examples of names with the same number of vowels as consonants include Noah, Isabella, Sophia, Oliver, and Evelyn (yes, "y" counts as a vowel here). Also fated to be trendy are those names with more vowels than consonants, like Olivia, Ava, Mia, Amelia, and Abigail.
In fact, with girls, vowels accounted for at least half the letters in all but one of the top 10 girls' names (ahem, Charlotte). For boys, it's less common, as only four of the 10 most popular names of 2017 have a preponderance of vowels. Still, it's worth noting that more consonant-heavy names, like Michael and Ethan, dropped off the list in favour of names with a closer split.
So, what does this mean for prospective parents? If you want to avoid your child going to school with a bunch of similarly named Olivers and Olivias, you might want to pull out your list of baby name contenders, count out those letters, and start throwing in some consonants.