Olive Garden Waitress Helps Mom Enjoy Her Meal
This Waitress at Olive Garden Stepped Up in a Big Way When 1 Mom Was About to Eat in Her Car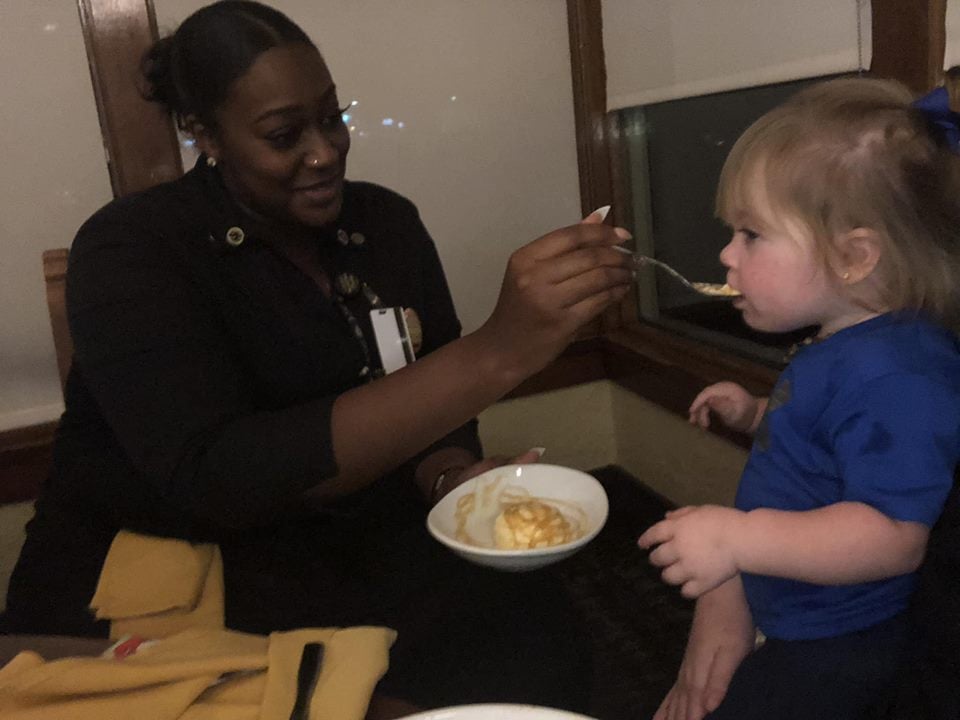 Courtney Pedigo, a mom from Greensboro, NC, knows that taking a toddler out to a sit-down meal is always a gamble. But after her 18-month-old daughter, Harlynn, started to get restless, the mom immediately asked for her food in a takeout container so she could bring Harlynn to the car. In a now-viral Facebook post, Courtney explained how her waitress, Nianni Rudder, went above and beyond to ensure Courtney ate her meal in peace within the restaurant's four walls.
"Per Harlynn's usual [routine], she did everything but sit in her high chair and eat her dinner like I picture in my dreams," wrote Courtney. "She had me so overwhelmed from letting all of Olive Garden know she was in the house and trying her best to wiggle her way down me to run the restaurant, I had went to find our waitress to ask if she could please bring my food out in a to-go box because we were going out to sit in the car."
"You will never truly know how appreciative I am for tonight."
But Nianni wouldn't hear of that. Rather than letting her wait in the car, she did Courtney a solid by feeding Harlynn some ice cream while Courtney ate her meal.
"[Nianni] really said, 'No you're going to go sit down and enjoy your dinner and I will be there to sit with her,'" explained Courtney. "And that's exactly what she did! She brought Harlynn a bowl of ice cream with caramel syrup. Even though Harlynn wouldn't let her hold her, she sat there in my lap and let Nianni Rudder feed her while I ACTUALLY GOT TO EAT MY FOOD WHILE IT WAS STILL HOT!"
Obviously, Courtney was beyond grateful for the help.
"You will never truly know how appreciative I am for tonight," said Courtney. "I seriously admire you, Not only because you took the time to bribe my bratty little human with sweets so I could eat but because you are so so strong . . . Thank you for your amazing service and for being so kind to us all!"