What I Learned at a Couples Resort With My Mum
I Went to a Couples Resort With My Mum And It Was Actually Super Chill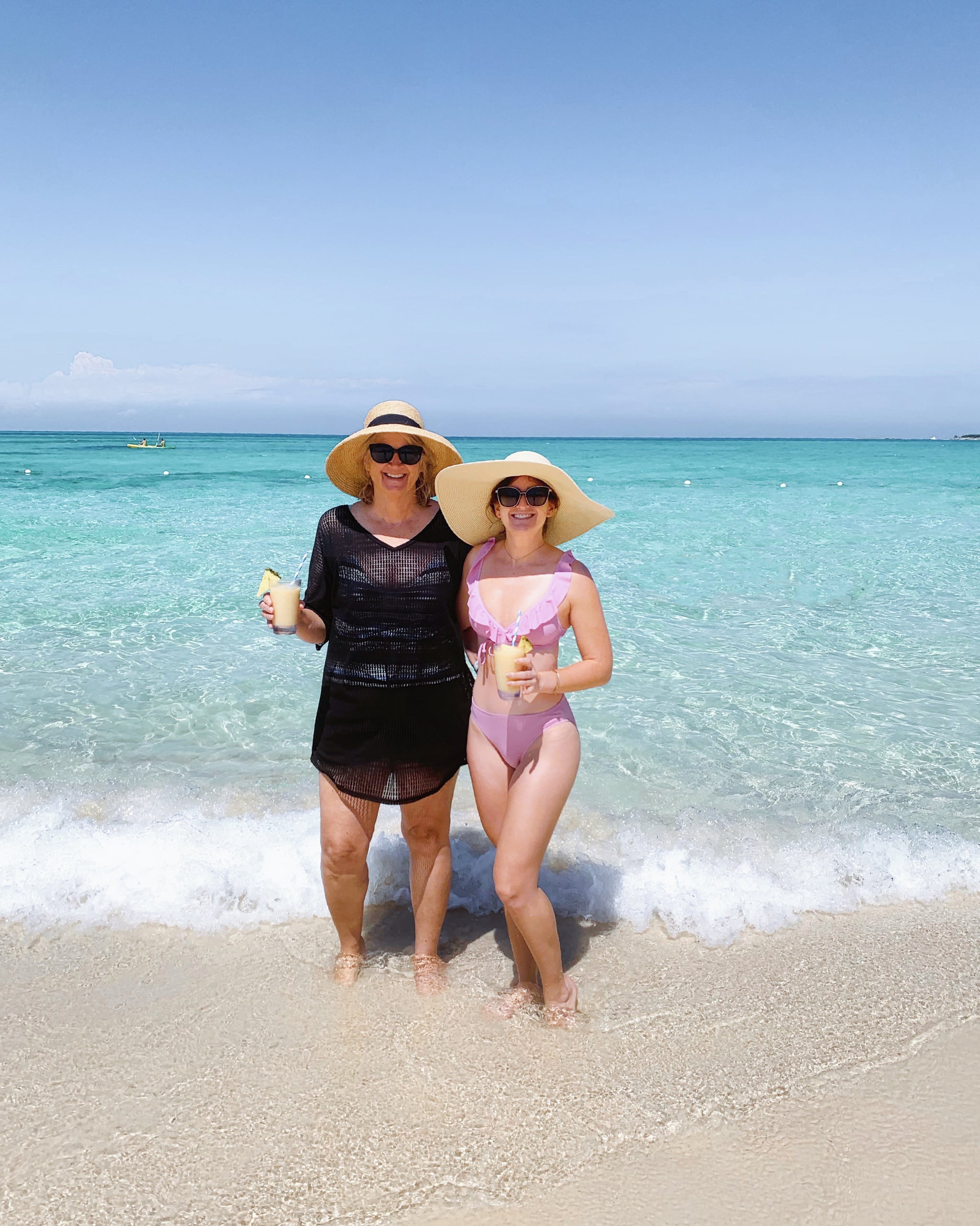 I always thought I'd go on a tropical honeymoon in my twenties, but I never thought it would be with my mum.
That's right. I went on a honeymoon. With my mum. It's OK, I'm laughing too.
Let's clarify a few things. I'm single (quite contentedly, thank you very much) and my mum is (somewhat) recently divorced. So when I got an invitation to Sandals Royal Bahamian — yes, the couples resort — I knew I'd extend my plus one to my ride-or-die, Alicia. My mum. Hell yeah.
Listen: My idea of improving emotional intimacy between my mother and I isn't necessarily listening to "Bump n' Grind" and "I'll Make Love to You" over a lobster dinner.
My mum never went on a honeymoon, and when I told her I could take a plus one on this press trip, she actually broke down in grateful tears. I've never seen someone express such unencumbered gratitude and appreciation for a holiday. I knew then that no matter what happened on this unorthodox and unexpected trip, it'd be one for the books.
Perhaps you might envision that a couple of single gals at a couple's resort would end up like that part in the Sex and the City movie where a devastatingly single and dejected Carrie goes on her honeymoon to Mexico with her three best friends and just cries a lot. I assure you, this was the opposite experience.
I feel that oftentimes we think of "intimacy" as something only to be experienced between romantic partners, but the more I connect with friends and loved ones, the more I realise how false that notion is. This idea of emotional intimacy transcending romance was cemented on this trip.
But like, listen: my idea of improving emotional intimacy between my mother and I isn't necessarily listening to "Bump N' Grind" and "I'll Make Love to You" over a lobster dinner in the Bahamas. Call me crazy! However, it was f*cking hilarious. As was the pink and red crystal design spelling "LOVE" on our bed every night. And the romantic outdoor bubble bath set up for us on the back patio, complete with Champagne on ice and strawberries. No, I'm not kidding. And we couldn't help but crack up when a woman from New Jersey asked if we were a couple (OK, maybe I was more horrified than amused with that one). Even though these weren't things that we thought would bring us closer together, they totally did.
A couples-centric environment lends itself to creating a sense of emotional intimacy, allowing two people to truly open up, regardless of relationship dynamic. You're able to focus on the present moment and really just be there with each other, whether it's your best friend, your sister, your mum, or your significant other. Whaddup, female friendships!
Of course we got a couples massage. We're not schmucks!
My mum and I have always been close; despite having fairly opposite personalities, we have an inexplicably solid bond and unconditional friendship. Just when I thought we knew everything about each other, a hilariously offbeat mother-daughter honeymoon proved me wrong. With the stress out the window and our minds fully in the present, we were able to talk about things we've never brought up before, learning more about each other and our fears, hopes, past experiences, and dreams for the future.
Let me tell you, I was not expecting these kind of breakthrough moments, particularly with Ginuwine's "Pony" playing in the background. What can I say, life is weird.
This trip was filled with enough laughter to last a year, and enough relaxation and restoration to power me through several work weeks. Thanks, romantic couples massage! (Yep. Of course we got a couples massage. We're not schmucks! We know how this works!) I would highly, highly recommend this type of experience to anyone looking to deepen their relationship with another person, particularly a mother and daughter.
As two single gals at a honeymoon resort in the Caribbean that primarily focuses on romantic love, we definitely could've gone the "let's drown our sorrows in rum runners" route. Instead we celebrated how strong we've become as individual women, and the love we have for each other. And what an exceptional gift that is.
Travel and expenses for the author were provided by Sandals Royal Bahamian for the purpose of writing this story.