Why I Don't Care About Screen Time During the Holidays
Why I Stop Caring About Monitoring My Kids' Screen Time During the Holidays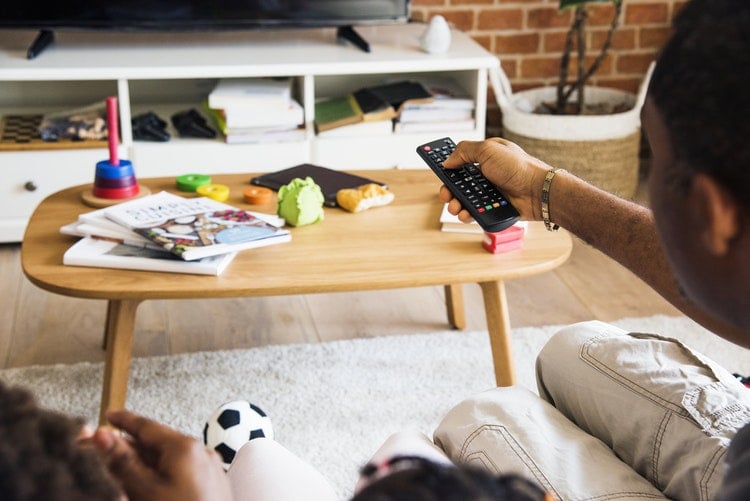 I've been known to be a little controlling about my kids' screen time. We don't own tablets (not even my husband and I), we don't have cable, and my kids don't own any gaming devices. I'm old school regarding technology and very proud of it. But during the holidays, I throw all of those rules out the window. A huge part of the holiday season is relaxing and spending time together as a family, which sometimes means lounging around the TV for long stretches of time. So, if that means my kids get an unlimited amount of screen time during the holiday months, so be it. I don't beat myself up over it.
One of my favourite things during the holidays as a child was sitting in the family room with my parents and three rowdy brothers. We'd watch tons of Christmas movies, eat holiday cookies, and just be together. Those memories are so special, which is why I forget about my strict rules for a little bit to do the same with my own kids. No, I don't let them watch TV all day and not interact with anyone, but I let their bodies and minds relax. And since we're stuck inside a lot of the time due to cold weather, screen time gives me a break, too. I don't feel the need to think of indoor activities or make sure they're stimulated and learning 24/7. Christmas movies marathons are just fine.
Last year, we loved watching Elf, A Christmas Story, How the Grinch Stole Christmas, and more together. We hunkered down in our pajamas, passed around the popcorn and cookies, and watched the classic Christmas tales unfold in front of us. My kids couldn't contain their laughter when Will Ferrell inhaled spaghetti mixed with syrup and candy, which made my husband and I burst out laughing, too. So while my kids were engulfed in a screen, we were also making precious family memories. And it's so worth it every year.
And if we head to one of our relatives houses for the holiday, I let my kids watch movies there, too. Nobody sits hovered over their own screens. We make sure that individual devices are put away, and we all enjoy something together. It's fun watching a movie with the family when the ages range between 83 and 4. When a grandfather and his granddaughter can laugh hysterically at the same Christmas joke, then the TV can be on all day long for all I care. These years with my kids and my parents are precious, and if movies are the thing that helps them create priceless memories, I'm all for it.
Sometimes I forget that movies and television help create some of the best family moments and memories, both during the holidays and after. It's the togetherness of the screen time that truly matters. Well, that and the 6-foot elf in green tights running around New York City.